OMsignal announces biometric shirts that track your fitness, connect to your phone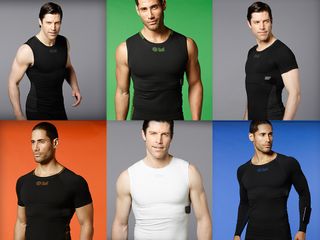 We've seen all kinds of connected accessories in the realms of smartwatches, connected eyewear and even smart appliances, but how about connected clothing? OMsignal today has introduced clothing that is able to track your performance, health and fitness thanks to embedded sensors within the shirts. The four styles of compression shirt all carry trackers and a Bluetooth relay to provide data tracking for your vital statistics.
Using the companion OM app on iOS, the sensors send signals with real-time data, helping you manage your health, gain actionable insight and meet your fitness goals. Each of the four available shirts tracks your heart rate, breathing rate, breathing volume, movement, movement intensity, heart rate variability and calories burned. A small black box is attached to each shirt, allowing it to transmit data over Bluetooth back to your phone.
The shirts are available now for pre-order for the hefty price of $199. While they do look enticing for health nuts, there are still a good number of fitness trackers that can do the same (if not more) for this price or less.
Source: OMsignal
By day, Adam is a writer for multiple Future Publishing brands with over fifteen years of experience. He's expertly researched and written hundreds of articles ranging from mobile phones to mobile homes to baby mobiles. By night, he's a gadget geek, avid disc golfer, 80s nerd, cord cutter, cook, husband, dad, and memory collector.
Get the best of iMore in in your inbox, every day!
Thank you for signing up to iMore. You will receive a verification email shortly.
There was a problem. Please refresh the page and try again.