Original Tomb Raider game swings into action on iPhone and iPad for a dollar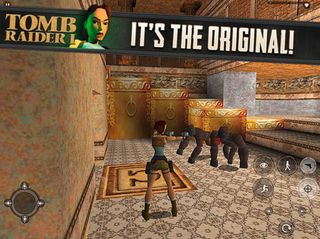 Tomb Raider has become one of the worlds best known gaming franchises, and now you can go back to where it all began on your iPhone and iPad with the release of the very first game to bear the name. Square Enix has today pulled the trigger and delivered us Lara Croft's first adventure for the low low price of $0.99.
Better still for anyone who owns, or is about to own an MFi game controller such as the Moga Ace Power, Tomb Raider has full support built in right off the bat. This release also sees two extra chapters not included in the original console release back in 1998, taking the overall game time to around 15 hours.
Hit up the App Store at the link below, and bathe in the warm glow of gaming nostalgia!
via Joystiq
Get the best of iMore in in your inbox, every day!
I haven't decided whether or not I'm going to enjoy this app... I would've liked for it to be more if a reboot then just a reissue, but i can understand not putting a ton of effort into it for $.99.
(That is a hard to beat price.) Sent from the iMore App

Thanks for the update! Sent from the iMore App

Just in case anyone hasn't REALLY noticed; they did put effort into it! They upgraded the textures throughout the entire game they even added the Unfinished Business levels from Tomb Raider Gold. SO the $0.99 to totally worth it!

*IF* I ever buy a "Made For iDevice" controller in the future, I'll buy this game. But these types of games (using a virtual joystick) always suck on a touch screen. So right now, I'll pass.

As a big fan if the franchise I'm really happy. Just waiting to update my debit card info tomorrow and I'm gonna buy it right away. Love the old Tomb Raiders! Sent from the iMore App

I wonder how the controls are. I remember some of the TR games I tried. The controls were just uhhh. But I guess learning it was part of the charm of the game.
Thank you for signing up to iMore. You will receive a verification email shortly.
There was a problem. Please refresh the page and try again.