Parallels 11 fully supports Windows 10, brings Microsoft's Cortana to the Mac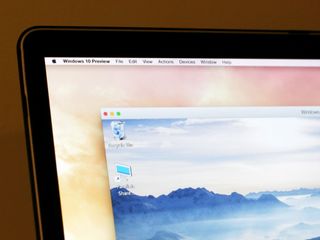 Microsoft's personal assistant Cortana is not officially available on OS X, but that hasn't halted Parallels releasing version 11 for the Mac, which not only includes full support for Windows 10, but also Cortana too.
With Parallels 11 installed and a copy of Windows 10 loaded, a simple "Hey, Cortana" will bring up the personal assistant. But what's more interesting (and a neat feature), is how you're able to activate Cortana even while using other Mac app. The assistant will appear on top of said windows and allow you to carry out searches.
Also included in Parallels 11 are performance improvements for booting up Windows and the whole experience should be a little lighter on your portable battery. Be sure to check the official blog post on the Parallels website for more details, as well as make a purchase.
Source: Parallels (opens in new tab)
Get the best of iMore in in your inbox, every day!
1. I'm baffled why Apple hasn't released Siri for Windows yet.
2. Knowing that there's a Cortana iOS app coming, I wouldn't be surprised if MS someday releases a native OSX Cortana app (that doesn't require Parallels). While I'm very happy with my MBP, Cortana is the one feature that makes Widows 10 look appealing.

Indeed! and W10 just overtaken the latest OSX for only 20 days.
people are noe thinking SP3 or MBP?

Errr, why would Apple release Siri on Windows when it's not even on Mac OS X yet?

Sorry, I meant Siri for OSX. Derp on my part.

OK, that makes a lot more sense. I'm baffled too. I was reading up on the Yosemite keynote, and was like, "Alright, they've finally added Siri for sure. Wait, no? Umm, ok..." Same thing with El Capitan: "Alright, this is it: Siri FINALLY comes to the Mac. Wait, no? Really? REALLY?" Apple could've beaten Microsoft to having a personal assistant on the desktop with their eyes closed, especially since all of Apple's apps have been built-in and integrated for years, long before Microsoft. I honestly don't know how they missed the boat on this one, I honestly don't.

I am an Apple and Windows Fan but saying Snapping and Split screen as inovation by Apple makes me unhappy!
It was first introduced by Microsoft before Apple.

I can't see where you got that from?

I watched all Keynotes from Microsoft (Build2015) and Apple (WWDC15)?
Inovation blah blah. apple says

I'm confused by Parallels. I got a email on July 30th saying I should upgrade to Parallels 10 and would get a free upgrade to the next Parallels Desktop as a bonus. So I got Parallels 10 on July 31st of this year. Now I see Parallels Desktop 11 is out but I keep checking my Parallels Desktop 10 for updates and nothing shows up. Keeps saying I'm running the current version of it. Doesn't even show I paid or registered for Parallels 10 when I log into their site either. But I have the email from them after I paid with my activation key. Don't know what's going on. I keep tweeting to them but no reply, I guess I will email them.

I finally got through to support and they said 24 hours after the release of Parallels 11, I should get a activation key in a email. I guess today is when Parallels 11 came out but I have no idea. I'll just wait for the email I guess.

This does not 'fully' support Windows 10 as bootcamp based VMs can't be activated properly.

I installed this today and couldn't be more impressed by how it all went. The upgrade from 8.1 to Windows 10 went without a hitch. Performance is excellent and as advertised, Cortana works perfectly when at the Windows desktop or while working in an OS X app. I'm on the latest El Capitan beta build as well and have not noticed any issues thus far.
Thank you for signing up to iMore. You will receive a verification email shortly.
There was a problem. Please refresh the page and try again.