Parallels 'applifies' Mac and Windows apps onto iPad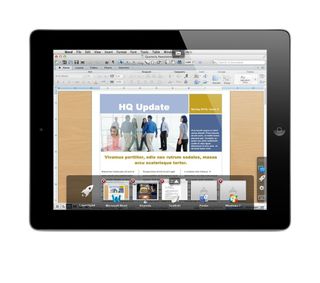 Almost since Apple turned to Intel for Mac microprocessors in 2006, Parallels Desktop has been a mainstay for Mac users wanting to run Windows alongside their Macs without having to reboot first. Now the company is turning its spotlight on the iPad with a new app called Parallels Access (opens in new tab), which enables you to operate Mac (and Windows) apps from your iPad, as if they were running locally.
Features include the ability to launch apps; switching between desktop apps; iPad-native select and drag, scroll and copy and paste; "SmartTap" and magnifying glass; and full screen support on the iPad.
Parallels is offering Access as a service that costs $79.99 to use. Each Mac or PC being used requires its own subscription, and is accessed using an "Agent" app that is installed locally on that machine. The Access app for the iPad is downloaded through the App Store. It wasn't available for download as iMore posted this article.
If you also use Parallels Desktop on your Mac, Parallels Access with "applify" your Windows virtual machines so you can access them on your iPad, similar to how the discontinued Parallels Mobile software worked.
I guess this helps to minimize an advantage Windows Tablets might have had on IPads?

Certainly demonstrates the upcoming demise of the desktop/notebook computers. Just one month at a time.

Not at all, people who actually do real work will continue to use laptop & desktops regardless of OS.

".... similar to how the discontinued Parallels Mobile software worked." Yes, this one shall be discontinued. WTF??? $79.99 per year per MAC/PC?!!! What do these guys smoke? FWIW, I've been using this thing http://edovia.com/en/screens.html since forever. Love it and it just works. I've been also a big fan of Parallels on Mac but with their crazy pricing and Ads on already paid version, I will certainly switch to VMware Fusion and very very soon .....

I have to agree, the price is much too proud. I downloaded it because I thought it was free (yes I am cheap). Granted, I'm not managing servers so maybe there is some content that is easier to access with this than with VNC, but I still can't see this being worth $79.99. Really $7.99 seems to be a bit more reasonable for the occasional, special use tool. It seems to work very well. The UI is responsive and easy to navigate. But I just don't see the value for this other than paying a single price for using existing software on a mobile device....Autocad, Photoshop, Office, etc. But then you are still stuck with the iPad interface which is really not the best choice for extensive work with the afore mentioned applications. To me these sorts of things work better for remote enterprise management. Perhaps that is their target, but the ads make it look as if they are targeting the general consumer.

Struggling to see the advantage over something like LogMeIn Sent from the iMore App

Ummm .. I logged in, downloaded.. didn't cost me ANYTHING. Works fine.. I do own Parallels for Mac.. and have an account.. Could this be you just need to own a copy of Parallels?

The Mac agent is available as a 14-day trial. The PC agent is being floated as a free beta.

I routinely use Slashtop 2 which I got on sale for free and it does basically the same thing, including Windows 8 gestures, but fair enough, if you need remote access you have to buy a $16.99 yearly subscription.

I think this would be a great thing to bring to other Mobile OS's, as you could do iMessage appified.
Get the best of iMore in in your inbox, every day!
Thank you for signing up to iMore. You will receive a verification email shortly.
There was a problem. Please refresh the page and try again.