Project Fi vs. Sprint: Which should you buy?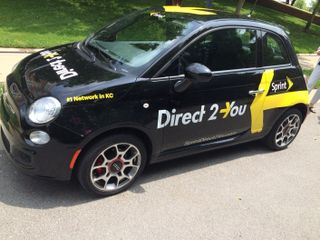 Sprint and Project Fi are both network providers, but have very different strategies and sets of operations. Sprint is a company that owns its own equipment and everything required to build a nationwide LTE network in the U.S., complete with voice calls and messaging service. Project Fi is an alternative carrier, or MVNO (Mobile Virtual Network Operator). That means it buys service from companies like Sprint that have the physical network in place, then re-sell it under its rules.
There are advantages and disadvantages for both. Sprint controls the equipment, which means it can make business decisions that are best for Sprint. It also has to pay to maintain that equipment and expand the network. Google (which owns Project Fi) only has access to a network another company built and maintains, but in doing so doesn't have the huge overhead needed to keep the equipment running.
For us, all that really matters is we have good service where we need it at a price we're willing to pay.
Let's compare Sprint and Project Fi to see how they stack up against one another.
Advertisement
Sprint background
Who owns it? Sprint Corporation (as part of the SoftBank Group Corp.)
Which network does it use? Sprint maintains its own LTE network
How long has it been around? 1899 (as the Brown Telephone Company), 1987 (as the Sprint Corp.)
Tethering allowed? Yes.
Cheapest plan: $40 for one month: 2GB 4G LTE, unlimited nationwide talk, text, and 2G data
Project Fi background
Who owns it? Google
Which network does it use? Sprint CDMA and LTE, T-Mobile 4G LTE, U.S. Cellular CDMA and LTE
How long has it been around? Since 2015
Tethering allowed? Yes
Cheapest plan: $20/month: Unlimited nationwide talk and text, unlimited international text
Advertisement
Sprint plans
Sprint is all about its unlimited plan. It sells prepaid service and offers a monthly 2GB plan, but it is focused on giving unlimited everything at a good value. Its best value is in its family bundle, with a current (expires September 2018) promotion for free lines after you buy two.
Swipe to scroll horizontally
| Header Cell - Column 0 | Price | Data |
| --- | --- | --- |
| Row 0 - Cell 0 | $40 | 2GB LTE data |
| Row 1 - Cell 0 | $55 | Unlimited LTE data (may be throttled at 22GB in a single month) |
Swipe to scroll horizontally
| Header Cell - Column 0 | Data | Price |
| --- | --- | --- |
| First line | Unlimited | $55 |
| Second line | Unlimited | Additional $40 per month |
| Third line | Unlimited | Free |
| Fourth line | Unlimited | Free |
| Fifth line | Unlimited | Free |
The promotion for a free third, fourth and fifth line ends September 2018. Afterward, prices are set as $60 per month for line one, $40 per month for line two and $30 per month per line for three, four and five.
Sprint offers extras like an Amazon Prime membership ($10.99 per month) or security services. See all its offerings.
International use:
Sprint offers per-call billing to anywhere. It also has three international monthly plans:
Sprint International connect: $15 per month
Sprint Cuba 20 Plus: $10 per month
Sprint Mexico Canada Plus: $5
See all the details about Sprint's international plans.
Project Fi plans
Project Fi offers two types of plans: family and single. What you get with each plan is the same, but you'll save money on each additional family plan line (up to 5 lines).
Swipe to scroll horizontally
Header Cell - Column 0

The Basics
1GB LTE
Price
$20/month
$10/month
Free Extras
Unlimited international texting
Call and text from any Android or iPhone

Row 1 - Cell 2
Swipe to scroll horizontally
Header Cell - Column 0

The Basics
1GB LTE
Primary line price
$20/month
$10/month
Secondary lines (up to 5)
$15/month
$10/month
Free Extras
Use your data in 135 countries at no extra charge
Unlimited international texting
Call and text from any Android or iPhone

Row 2 - Cell 2
Note: Google calls the base Project Fi plan "The Basics." No data is included and must be purchased at the rate of $10/GB. Data is not shared between lines on a family plan. Each line pays the same $10 per GB of data (domestic and international in 135 countries) with the cost of any unused data refunded at the end of each month.
Data-only SIM:
Google offers a data-only SIM card to use in any compatible LTE device. It shares data with the primary line at the same $10/GB rate. You need to have at least one line of service and purchase a minimum of 1GB of data to use the data-only SIM card.
Data pricing:
Phone Insurance:
$5 per month per device covers accidental damages and device malfunctions. You can make one in a 12-month period. Deductibles are $79 for Pixel, $99 for Pixel XL, $69 for Nexus 5X, $99 for Nexus 6P. When you make a claim Google will ship out a replacement device the next business day.
International add-ons:
International cellular calls cost $0.20 per minute.
Google Wi-Fi services:
Your Project Fi phone service includes Wi-Fi calling and texting anywhere in the world. In addition, Google VPN services are available and allow you to connect to open Wi-Fi hotspots safely and securely.
Project Fi and Google Hangouts apps:
The Project Fi app is tied to your Google account and can be installed on any Android or iPhone. You can pay your bill, check account balances and talk to customer service through the app at no cost. The Google Hangouts app allows calls and texts using your Project Fi number on any Android or iPhone.
Project Fi phones
Project Fi only supports phones from Google. That means your selection is currently limited to:
Nexus 5X
Nexus 6P
Google Pixel
Google Pixel XL
Note: While it's possible to enable Project Fi on unsupported phones, this is against the Project Fi terms of service. That said, it's fairly easy to get it working on an iPhone.
A data-only SIM is available and can be used in any compatible LTE device as long as at least one line of Fi service is active.
Advertisement
Which should I go with?
Start with the phone you use or want to use. If it's not a late-model Nexus or Pixel phone from Google, you can't use Project Fi. Google might be adding other phones to Project Fi in the future, but right now only those phones are supported.
Otherwise, the choice comes down to one thing: How much data will you use?
Of course, you need to make sure the coverage is sufficient in your area, and you have the service you are paying for in the places you go. If Sprint's coverage doesn't cut it, maybe Project Fi (which uses T-Mobile and US Cellular's network in addition to Sprint) can cover you. Coverage should always be your first consideration.
Once you have that sorted, ask yourself if you'll use more than 3GB of data per month. If the answer is yes, you should get a plan from Sprint. If the answer is no, you should use Project Fi.
Project Fi offers one of the best mobile experience possible. Google offers some great services in addition to talk, text and data, and some of them, like the free VPN that connects you to open WI-Fi hotspots and no fee for using your data plan in 135 countries can't be overlooked. Nor can the excellent coverage map Project Fi offers through the combined network of T-Mobile, Sprint, and US Cellular and Wi-Fi services.
But if you need to use more than 3GB of data per month (or if you're setting up a family plan with three or more lines) Sprint is the better value. You get unlimited calling, texting and data (which can be slowed down if you use more than 22GB in a month) for $55. A basic plan with 3GB of data from Project Fi costs $50. Both services offer things like visual voicemail or tethering so that's mostly a wash.
If Sprint's coverage works for you and you use a lot of data, its plans — especially its deal on family lines — are some of the cheapest in the industry. If you have the right phone and keep your data use under 3GB per month, Project Fi is a superior experience with higher rates for pure data.
Both services have some extra baggage to consider. But for many people, the coverage from Sprint is great or they don't need unlimited amounts of data for their Nexus or Pixel. If you fit into either of these, you have two great choices for carriers with Sprint and Project Fi.
Get more iMore in your inbox!
Our news, reviews, opinions, and easy to follow guides can turn any iPhone owner into an Apple aficionado
I'm an RHCE and Electrical Engineer who loves gadgets of all kinds. You'll find my writings across Mobile Nations and you can hit me on Twitter if you want to say hey.