Records is a powerful, customizable database app for Mac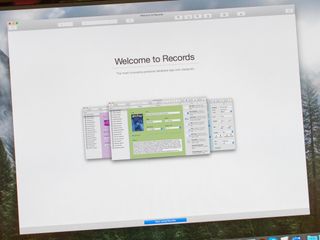 Records is a new, powerful database app for the Mac that lets you collect and organize all of your important information in one place. You can keep an inventory of items in your home, a recipe collection, and much more using the app's templates. Records is designed and built exclusively for OS X Yosemite.
Records allows you to create a number of different types of databases. Drag-and-drop editing is available in each form, letting you easily add data to your collections. The visual editor lets you customize the layout of your forms, with alignment guides helping you keep them visually impressive. Records is scalable, and supports databases with tens of thousands of records.
You'll find 14 configurable form fields that you can put in your databases. You can choose custom colors for your forms, and insert text fields, pop up buttons, images views, and more. You can also import different templates to use, and share your own custom templates with others.
Records is available for purchase in the Mac App Store right now.
Get the best of iMore in your inbox, every day!
Joseph Keller is the former Editor in Chief of iMore. An Apple user for almost 20 years, he spends his time learning the ins and outs of iOS and macOS, always finding ways of getting the most out of his iPhone, iPad, Apple Watch, and Mac.
No thanks. I scored iWork suite for free.

iWork doesn't include a database app. This app will fill a need for some folks, as Bento was discontinued in 2013.

Exactly right. This fits a gap that's been missing ever since Filemaker discontinued Bento. This is a very exciting app release.

How does it compare to Filemaker pro and discontinued Bento?

How does this compare to Tap Forms? http://www.tapforms.com

Well, Tap Forms costs less and offers more features. You can download a non-expiring demo version from my home page and try it for yourself. It offers record list views, iOS companion apps, barcode printing (Mac), barcode scanning (iOS), relationships for linking forms together, calculation fields, aggregate calculations, a layout designer to build one or more customized layouts per form, saved searches for filtering your records, iCloud sync (and soon Dropbox sync) for syncing to the iOS version, import and export of CSV and XLSX files, and many more features. It's $34.99 USD on the Mac App Store. Full disclosure, I am the author of Tap Forms. But don't take my word for it, try it out yourself for free with the Mac demo.

Also Tap Forms has a built-in Bento template importer. It makes migrating to Tap Forms from the discontinued Bento a piece of cake.

Thanks! I am looking at expanding my small business and will need to improve record keeping on my clients. I will give this a look.

If you using it for a business, you might want to consider Filemaker Pro. It is more expensive, but it has much greater flexibility. It is a steeper learning curve, but once you learn it is much better. The only reason I use Taps (which is a great little database for personal use) rather than Filemaker is the cost ($300 or more). That said, Taps is a great little database. If it had a better way of linking the information in records from different databases (it can do it but is very limited) then I would not be missing filemaker that much. Filemaker has a free demo (one month I think) so it would be worth checking out to see if it is worth the money for you.

From what I can see its incomplete, can't produce simple list of records can't produce reports and from the complaints it looks like they lowered the price to $29.99. I really don't want to pay for alpha or beta software and from where I sit I can install my old copy of Bento and still have more functionality, problem is I need more than what Bento offered as far as more flexibility but not as complex as Filemaker Pro and not as expensive.

Have you considered Tap Forms? www.tapforms.com

I've been using Tap Forms since Bento was discontinued. Until recently it worked pretty well. There has always been difficulty syncing between the Mac and mobile devices but most of it was the size of a database with pictures that took forever to upload and download or was difficult for the RAM on the devices to process.
This changed with Yosemite and El Cap. According to their support pages, Apple made some changes (moving from iCloud to iCloud Drive) that they were scrambling to work with.
Earlier this week all my mobile devices lost the ability to download the synced files from the Mac on both iCloud and Dropbox.
The drawback to Filemaker is they require you to use the separately purchased Server program to sync to the FREE mobile apps... a huge investment for a small business person. The biggest drawback to Records at this point is the lack of a mobile client. I really want access to my database on my mobile devices.

I am working on a new version of Tap Forms with improved syncing.

As a followup- TapForms support is responsive but better yet, they upgraded the Mac version this morning. Reset all the syncs, moved back to iCloud from Dropbox (it clears your files off the old service for you) and now I have a dynamic sync between the Mac and the iPad again. Thank you TapForms!