The iPhone 5, repairability, and future product design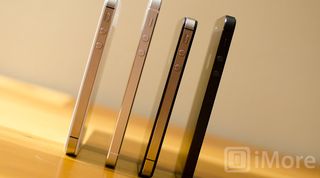 Now that we've seen some complete teardowns of the iPhone 5, we can better judge what it'll be like when it comes to repairability. More than that, the changes shown in the iPhone 5 design may shed some light on where Apple's heading with the future of iOS product design.
Back when the iPad 3 was released, many DIY'ers, including myself, were let down when it came to repairability. I expressed my concerns over the new iPad's design and how it would effect repair cost and replacement. While the iPhone 4 and iPhone 4S weren't the easiest of devices to repair from the user end, everyone who's read and followed our DIY repair guides knows it is more than possible to replace almost every component.
The iPhone 5 represents another change in form factor for Apple, and a return to the iPhone 3G/iPhone 3GS front-opening design model. What this means for end users is that, if you break your screen, the repair is actually less time consuming and easier to perform than both the iPhone 4 and iPhone 4S. It also makes it possible for Apple to more easily repair them in-store. We've already heard that Apple Retail will perform screen replacements in-store on the iPhone 5, similar to how they did for the iPhone 3G and iPhone 3GS. It's unclear what price points they'll be charging for a screen repair, or if they'll be different than what they charge now for a replacement device and how AppleCare+ users will be handled, but the fact that they'll be doing it at all is important.
Whether or not this change in direction will carry over into other devices is yet to be seen. The 3rd generation iPad is also rumored to get a hardware revision sooner or later that will add a Lightning connector to replace the 30-pin dock, and perhaps update some other components as well.
The third generation iPad took most of its design cues from the iPad 2 because the iPhone 4 and iPhone 4S design wasn't practical for a tablet. Elements of the iPhone 5 design may be. While we can't be certain how these design changes will affect the iPad line in the years, I think there are a few things we can plan on seeing in the near future.
The iPhone 4 and iPhone 4S already combined the digitizer and LCD together in one unit through a bonding process. The iPhone 5 merged the two together into a single in-cell display to make the device thinner yet. This isn't currently the case with the iPad line. The LCD and digitizer are still two completely separate components. They aren't bonded together in any way and there is still quite a large gap between the two.
The space between the LCD and digitizer on the iPad could be completely eliminated, and Apple could stay on the same track they did with the new iPod touch, which wouldn't increase repairability at all. Or they could also go the way of the iPhone 5 and allow easier access from the top panel without using adhesive.
Apple has never been about making a radical change just for the sake of doing something different. Jonathan Ive, Apple Senior Vice President of Industrial Design, put it best when introducing the iPhone 5.
So what Apple has done with the iPhone 5, and what they will do with future products like the iPad mini and, one day, the iPad 4 and iPhone 5s, aren't choices taken lightly.
That's how we've grown to know what to expect from Apple --- better, more finely crafted devices that are familiar and comfortable yet new and exciting at the same time. The next device Apple releases will give you the same feeling you got when you picked up an iPhone 5 for the first time. You'll feel right at home but it'll somehow feel better to hold and more enjoyable to use.
Apple has never made user serviceability and repairability a priority, and I don't expect that to change. But sometimes, Apple's priorities just happen to align with those of do-it-yourselfers.
The iPhone 5 is a great example, and hopefully there'll be more to come.
Master your iPhone in minutes
iMore offers spot-on advice and guidance from our team of experts, with decades of Apple device experience to lean on. Learn more with iMore!
iMore senior editor from 2011 to 2015.