The Rock's new motivational alarm app will help you crush your day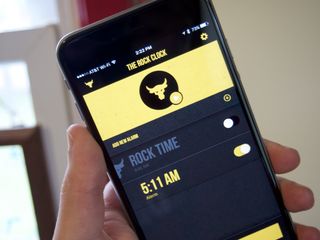 Have you ever wished you could wake up to the smell of whatever The Rock is cookin'? Well, while it doesn't contain any smells, Dwayne "The Rock" Johnson's new alarm app (opens in new tab) can bring you one step closer to that dream.
Called The Rock Clock, the free alarm app is billed as a "motivational alarm clock from Project Rock." To help you cut down on excuses and stay motivated, the app lets you set goals that are intended to keep you on track. And if that doesn't work, you can look forward to new messages from The Rock every morning to kick your butt into gear. Oh, and there is no snooze button, so don't even think about it.
As if that weren't enough, the app also includes 25 ringtones created by The Rock himself. And yes, they do get ridiculous (think The Rock personally serenading you to guitar-laden tunes). To top things off, you can even set yourself to "Rock Time," which will sync your alarm with The Rock's own so you can wake up together.
If you're smellin' what The Rock is cookin', you can go ahead and grab the app from the App Store link below.
I thought my grammar was bad Sent from the iMore App
Thank you for signing up to iMore. You will receive a verification email shortly.
There was a problem. Please refresh the page and try again.