Rogers vs. Bell vs. TELUS: Which Canadian iPad Air or Retina iPad mini carrier should you get?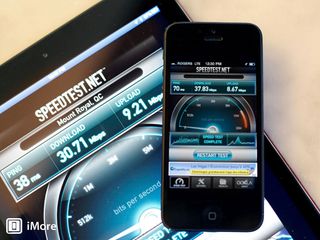 Once you've decided you're getting a new iPad Air and picked your capacity and color, now you have the option of picking a carrier if you want wireless data. The vast majority of users just stick to Wi-Fi networks for their fix, but you can also get data over cell towers. If you're in Canada, that means going with one of the big three carriers: Rogers, Bell, or TELUS, or one of their lower-price subsidiaries. All of the big three have confirmed that they'll be offering the latest and greatest iPads and Apple announced the iPad Air with cellular connectivity would start at $649. So which carrier should you go with? We've chewed through the plans and coverage, and here's what we've found!
The big three: Rogers, Bell, and TELUS
Across the board, the 16 GB iPad Air with cellular costs $649, the 32 GB model is $749, the 64 GB iPad Air is $849, and the gigantic 128 GB iPad Air with cellular is $949.
Plans differ a bit depending on if you're getting a stand-alone plan or if you're attaching it to an existing account. Unlike smartphone plans, iPad data plans don't have to be on contract, though you can sign up for two-year plans to save a little bit. Exact pricing details on that front aren't yet solidified.
Bell and TELUS share the same towers for their GSM/LTE network but have different back-hauls (different connections to the internet from the towers). That means the Bell/TELUS tower near your home, school, or work could still provide better speeds on one or the other networks. For a comprehensive look at speed and network quality, be sure to check out PC Mag's in-depth study.
The budget carriers: Fido and Virgin Mobile
Each of the big three carriers owns a subsidiary that typically offers lower-cost options by way of a tab system. Rogers owns Fido. Bell owns Virgin Mobile. TELUS owns Koodo. When it comes to the iPad Air, these don't offer much beyond what you'll get on the primary carriers, since they're all on the same network, and you aren't getting a contract with device subsidy anyway. Koodo doesn't even have a tablet plan - they suggest you just use your existing smartphone line as a portable hotspot if you want your iPad to have connectivity - but Fido and Virgin will be supporting the iPad Air.
Who should get their iPad on Rogers?
Rogers is the big boy on the block. Since the spring, Rogers has spread to Manitoba, offering LTE coverage to Winnipeg and other nearby areas. Of course all of the major centers are covered with LTE, including Toronto, Vancouver, Montreal, Ottawa, Calgary, Regina, Edmonton, and lots of others.
This is going to get repetitive, but if you're in those areas and speed matters more to you then money, go with Rogers. All of their tablet plans are "Flex Rate," which means simply that they'll bump you up to the next tier after you've gone through the cap of your original one. For some reason, you get half as much data on their $20 plan compared to the other guys, but that may get amended prior to launch. If you already have a Rogers line, you can share you data bucket with your iPad for an extra $10/month on select Share Everything plans. You can also use mobile hotspot on your phone so long as your plan is over 1 GB.
$5 - 10 MB of data
$10 - 100 MB of data
$20 - 500 MB of data
$40 - 5 GB of data ($10/1 GB overage)
Who should get their iPad on Bell?
For coverage, you'll see that there are a few areas where Bell reaches that others don't, namely up north. Bell regularly boasts to having Canada's largest LTE network, but take that claim with a grain of salt. When it comes to speed, Bell has the same kind of 150 Mbps LTE as Rogers in the Greater Toronto Area, Cambridge, and Kitchener-Waterloo.
Bell has Flex Plans like Rogers, and provides a lot more data at the $20 tier. Bell also has the best overage rates beyond the 5 GB limit at a cent and a half per MB. As an alternative to the Flex rates, Bell also has fixed 30-day passes, but the only real appeal there is for their 5 GB package, which is $5 less than the Flex plan. Apparently this is still active, and may be worth your while. If you're a lighter user, you can also use mobile hotspot on any smartphone plan. If you already have a Bell line, you can share your data bucket to your new iPad for $10/month. If you end up getting a new data plan with Bell for your iPad Air, you'll get access to some popular public Wi-Fi hotspots, including McDonald's Tim Hortons, and Chapters. They'll also toss in 10 hours of tablet TV per month for the first two months, which doesn't count towards your data cap. After that two months, Tablet TV costs $5/month. All in all, Bell is looking like a very attractive offer, assuming they provide coverage in your area.
$5 - 10 MB of data
$20 - 1 GB of data
$40 - 5 GB of data ($0.015 / MB overage)
Who should get their iPad Air on TELUS?
I've always been a big fan of TELUS, mainly because among The Big Three, I find it's easiest getting plan information from them. Also, the cute branding and nice-looking stores help too. You can see from the coverage map that the Ontario corridor is well covered, as well as the Maritimes. Alberta's also looking pretty good, and it looks like there's even some decent service in the Northwest Territories. I've generally been happy with the speeds I get on TELUS, though I haven't spent too much time on their LTE.
Like Rogers, the TELUS iPad plans are all Flex plans, so they automatically get bumped up when you exceed your cap. Beyond the top tier, it's $0.05 / MB. The $20 plan on TELUS is much better than Rogers, and the overage rate beyond 5 GB is also half (though not as good as Bell). If you want to get your iPad on your existing TELUS smartphone plan, it would costs an extra $10/month, or you can use mobile hotspot on any plan.
$5 - 10 MB of data
$10 - 100 MB of data
$20 - 1 GB of data
$50 - 5 GB of data ($5 / 1 GB overage)
Who should go with a discount carrier?
Even the discount carriers like Fido and Virgin Mobile offer data plans for tablets, though Koodo doesn't. T-Mobile also getting the iPad Air, so you can expect a version that works on WIND or Mobilicity. Though the rates at WIND and Mobilicity are great for mobile internet, you'll be taking a hit in coverage - make sure they can keep you covered in the important places.
iPad plans at WIND Mobile
iPad plans at Mobilicity
Still undecided?
If you're still not sure about which Canadian carrier to get for your iPad Air jump into our iPad discussion forums and the best community in mobile will happily help you out, or hey, maybe Wi-Fi-only is good enough for you. Let know in the comments - which one did you go with and why?
Master your iPhone in minutes
iMore offers spot-on advice and guidance from our team of experts, with decades of Apple device experience to lean on. Learn more with iMore!
Editor-at-very-large at Mobile Nations, gamer, giant.