Once your new iPhone is out of the box and in your hands, there's no telling what might happen to it. Before anything has a chance to go wrong, make sure to get a screen protector on your new device. They're normally pretty affordable and can save you from having to completely replace your iPhone's screen in the future. Today, you can even snag a three-pack of iPhone 11 Pro Tempered Glass Screen Protectors for just $1.99 at Amazon when you enter promo code JS5I7YBJ during checkout. That saves you $4 off their cost otherwise.
Saving your phone's screen from scratches and accidental drops for just $2 can't be beat. This pack of tempered glass screen protectors comes with an installation guide frame that makes it much easier to apply one of these screen protectors to your device properly.
Don't Wait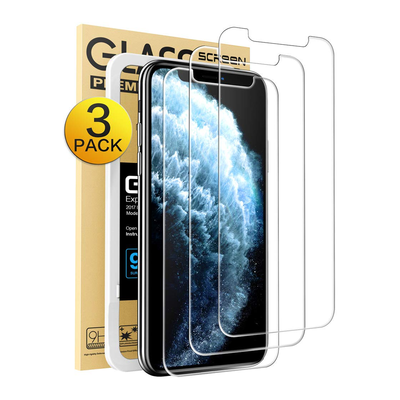 iPhone 11 Pro Tempered Glass Screen Protector (3-pack)
Every smartphone should have a screen protector on it, but especially those that are as delicate and expensive as the latest iPhone models. This pack of tempered glass screen protectors is a perfect fit for the iPhone 11 Pro, iPhone XS, and iPhone X.
$1.99 $5.99 $4 off
These screen protectors are a perfect fit for the latest iPhone 11 Pro, as well as the iPhone X and the iPhone XS. You won't have to worry about the screen protector affecting your phone's touchscreen sensitivity either. They're also compatible with 3D Touch. Plus, Mkeke includes a lifetime warranty with the purchase. At Amazon, more than 400 customers have left reviews for this 3-pack resulting in a rating of 4.7 out of 5 stars.
To make sure your device is protected all the way around, be sure to purchase a case for it too. Our guide to the best iPhone 11 Pro cases has a wide selection to help you find one worth the cost.
We may earn a commission for purchases using our links. Learn more.