Shine bright with this fireworks-filled Wallpaper Wednesday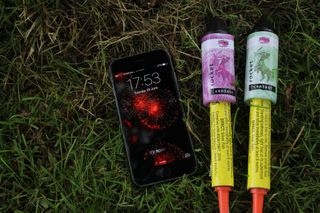 Wallpapers are important. They can give our phone a new feel, even if only for a little while. Some of us change wallpapers as often as we change shirts (sometimes to match), while some of us set one wallpaper and forget it, and that's a shame. A good wallpaper can be a pick-me-up, can remind us of better times (and upcoming times). They can show off what's important to us, be it a picture of the grandkids or an emblem of your favorite house in Game of Thrones. In an effort to brighten your screen, and maybe your day, we present an offering of wonderful wallpapers to grace your smartphone.
If you've got a wallpaper you use everywhere, share it in the comments below! We're always looking for something new. Now get your wallpaper picker ready and see what's in store this week.
When there are fireworks displays going on all across the country on one night, places that normally have fireworks have to step it up. Take Illuminations at Epcot. They kick things up after their unity-focused fireworks, with a five minute finale of — I kid you not — solid pyrotechnic booms. I thought I was gonna go deaf at one point. And while the booms in this lovely image are significantly less eardrum-bursting, they're nonetheless beautiful.
This weekend Americans will be shooting off fireworks by the bushel, but fantastic firework displays are found all over the world. This show in Singapore is magnificent, and while most of us might never see their National Day display, wallpapers like these can remind us of the spark of adventure… and phosphorus.
There are many different kinds of fireworks and while most of them get macho, patriotic names, some are more whimsical. Take this impressive display right here, with a name Roger Rabbit could get behind: Exploding Flower Bed fireworks. They do kinda resemble a bed of exotic fire-red flowers… expect that picking one would probably lost you some bones...
Fireworks come in just about every shape and size imaginable, and the level of chemistry and artistry that goes into crafting their colors, shapes, and type of burn is quite impressive. Each color here requires a different metal or metallic compound to achieve its particular hue, from Stronium red rockets to Cesium blue bombshells.
While there are fireworks that fizzle, sparkle, and look like honest to Merlin magic, the firework we all still think of when we think of fireworks are these, the circular fireworks that go up and explode in an orb of bright colors. And these brilliant ruby jewels are indeed worthy of our love and affection. They make our hearts jump in our chest, or outright skip a beat sometimes. BOOM.
Awesometacular Disney Fireworks
Fireworks are fantastic, but without people to enjoy them with, it's just a quick burn and a loud bang. People (And music) can turn fireworks from a noise complaint into a full-fledged show, and no one puts on firework shows quite like Disney. As one of the largest fireworks purchasers in the world, it should be no surprise that the mouse puts on quite a show for its guests… and everyone within a few miles of the property.
Get more iMore in your inbox!
Our news, reviews, opinions, and easy to follow guides can turn any iPhone owner into an Apple aficionado