Sparrow for iPhone updates with iPhone 5 and Passbook support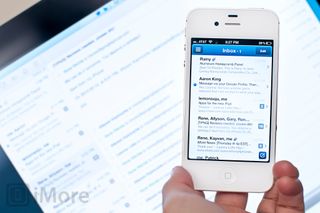 Sparrow, the email client for iPhone that was recently acquired by Google, surprisingly received an update that includes support for the iPhone 5's larger display and the ability to open Passbook attachments. The is surprising because with the acquisition, the developers said that there was no plan to release new features to the Sparrow apps.
Now, iPhone 5 and Passbook support aren't exactly huge new features, but still more than I was expecting. However, there are many reports of this new version causing the app to crash and be unusable, so if you use Sparrow as your primary mail client on your iPhone, you may want to stay clear of the update for now.
Do any of you still use Sparrow? How's the update working out for you?
$2.99 - Download Now
(opens in new tab)
Get the best of iMore in in your inbox, every day!
Former app and photography editor at iMore, Leanna has since moved on to other endeavors. Mother, wife, mathamagician, even though she no longer writes for iMore you can still follow her on Twitter @llofte.
Guys like the Sparrow devs are hurting the industry imo. I'm now hesitant to buy into anything and change my workflow outside of cheap apps because i'm not sure if it's going to be around if it gets bought out. I was a huge fan of Sparrow and am so glad I held off on purchasing the desktop client. It's almost like stealing our money when they take it and bail. I def won't buy another app from those developers. OK, rant done.

I paid $2 for the sparrow app 18 months ago. I've had excellent use out of the app since then. All for the princely sum of TWO DOLLARS! The sense of entitlement people have beggars belief. "Hurting the Industry" - Get over yourself!

I think your wrong Steve. They sold out. Just like Instagram. They get bought because their users attract action, and the end result is the users are kicked to the curb. It's high time we had more companies like Apple, who actually stand for something.

<sarcasm> YEAH! You're right. If myself and a friend started a company and then someone wanted to give me millions or billions for the work I did I would tell them to shove it.</sarcasm> They made a great app. Someone big noticed and now they've been paid for their hard work. Good for them. Seriously?

Well it depends on the goal these developer were trying to reach. Did they have a passion for the apps they created? Were they hemorrhaging money to support their apps? or were they trying to support themselves and maybe their families. People very seldom open their eyes and their minds and thats why we have alot of assumptions to scenarios like this.....

Why don´t Google pay up for push notifications on this client? Couldn´t the devs and Google just make this the official gmail-app?

The update is working fine for me on iPhone 5. I was also surprised by the update because they claimed there wouldn't be any. In the App and in the description in the App Store it says push is coming. For now, I use boxcar which alerts me of a new email, I click on the notification, and it opens Sparrow. Very simple and ensures I get all emails on time. This will hold me over until they give actual push.

I really like this app and happy to wait until push arrives (as above, boxcar does that for now). Oh, and by the way up it's not a free app as mentioned just below the article ( Free - Download Now) - thought you should know.

I see this article went up round 1 in the am. It says free but the store now says 2.99. Did it get switched back to pay price so quickly?

I happily paid for both Sparrow on Mac OS X and iOS. Both were cheap. I liked them better than what Apple is offering as far as email. It was a sad day for OS X and iOS users when Google bought them. I would have gladly paid for any upgrades for Sparrow. I really wish Apple would have acquired them instead. I just hope Jonny Ive can bring things like email up to 2012/2013 expectations. Apple Mail on ML is very dated (still doesn't archive well with Gmail...really Apple?). Sparrow made email fun to use again. I will keep using it until Apple breaks it.

I agree wholeheartedly - Apple Mail is terrible when it comes to archiving and I hope we get that corrected soon. It mystifies me that there are so few mobile and desktop mail clients for the Mac.

Just bought it because I prefer the UI to that of the Gmail app and it crashes immediately on start on my iPhone 4. Would like a refund.
Thank you for signing up to iMore. You will receive a verification email shortly.
There was a problem. Please refresh the page and try again.