T-Mobile added 8.3 million customers in 2014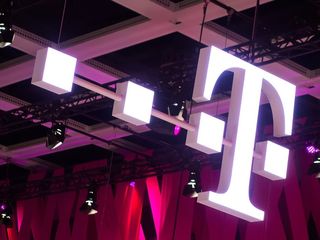 Prior to their upcoming Q4 financial call, T-Mobile has released a batch of preliminary results summing up their 2014. They managed to add 8.3 million total net customers, which is the most they've done annually ever. 2.1 million of those were added in the last quarter. T-Mobile LTE is now accessible to 265 million Americans.
Here's what CEO John Legere had to say about the results.
Here's a quick breakdown of 2014's and Q4's highlights.
Preliminary Full Year 2014 Customer Highlights:
8.3 million total net customer additions
4.9 million branded postpaid net customer additions
4.0 million branded postpaid phone net customer additions
265 million people now covered by the nation's fastest 4G LTE network
Preliminary Fourth Quarter 2014 Customer Highlights:
2.1 million total net customer additions
1.3 million branded postpaid net customer additions
1.0 million branded postpaid phone net customer additions
266,000 branded prepaid net customer additions
How many of you guys switched to T-Mobile this year? Are you happy you did?
Source: T-Mobile (opens in new tab)
Get the best of iMore in in your inbox, every day!
Editor-at-very-large at Mobile Nations, gamer, giant.
I switched to their $30 plan and I'm truly happy. I love that I only pay each month and that I didn't have to pay while traveling to Europe over Christmas. Sent from the iMore App

I switched in 2013, and have been pretty happy. Still have occasional coverage issues when traveling through rural areas, or sometimes inside a thick walled building, but I know they are working on upgrade the 2G to LTE and implementing the 700Mhz spectrum, and I only pay half of what I was paying for AT&T, and getting more for it. So, it's completely worth the occasional hiccups! Very glad I switched, and I can't wait until they get the spectrum upgraded more. Keep up the good work, TMob!

I did and love it! Sent from the iMore App

I didn't switch. I've been a loyal customer for just shy of 13 years now and I'm loving everything they've done in the past two years!

I got an iPad with T-Mobile as my service provider. Best thing I could have done. Used it on a road trip so the kids could stream Netflix. Kept having to reload the Verizon iPad account ($45 for 4GB over 10 hours). But the $10/5GB plan from T-Mobile has been great. So much so I used some of it for the trip back for both iPads and I still have at least 3GB left. They also give you 200MB/month for the life of the device. I wish I could switch the other iPad from Verizon to T-Mobile.

Switched to them from Verizon and couldn't be happier! Sent from the iMore App

T-Mobile customer with sick download speeds. Out of all the Carriers in my area (suburb of Boston) T-Mobile is the fastest, 3 times faster than the closest Carrier, most reliable and best value. I didn't go to T-Mobile because of cost, the service was the best in my area. I have real unlimited data without speed throttling, free data for life for my iPad, and throw in free tethering. Can't beat that with a stick. Thank You T-Mobile, Thank You John Legere.

Switched from iPhone 5S with Sprint to a 6Plus with T-Mobile in late December. Very happy so far. T-Mobile coverage in the South Bay LA beach cities seems better than other carriers.

Add me to the chorus. I switched because of their free international roaming (after just paying > $100 to visit Canada in summer while on Verizon), and the WiFi Calling, and just to support the only carrier that's doing right by the customer. It's true, their coverage here in southern California is a little spottier than Verizon's, but never having to deal with Verizon billing again is worth it.

Good for Tmobile, hopefully they can keep this up and up their coverage outside of large cities.

I switched from Sprint (also stopped working for them...that was a plus) to T-Mobile and I haven't had such good service in a long time. My LTE speeds frequently beat out my Comcast speeds. Sent from the iMore App

I switched to TMobile January of 2014 - from Verizon. T-Mobile coverage has improved steadily all year. We saw our city get wide-band LTE with ludicrous speeds. We have seen 4 small communities and a few rural highway corridors in our region go from 2G Edge with non-functional data to LTE with reasonably quick data. TMobile has a long way to go - must of our region is still on 2G Edge with completely non-functional data (not slow data - but non-functional flat out doesn't work data). So 2015 should be a big year for us on TMobile. But the TMobile unlimited data plans save us $150 a month compared to Verizon plans we had with caps... I just simply know that when we go camping now we have no chance of service - but that's OK, it's kind of why we go camping... (Not even Verizon covers most of our extremely rural areas anyway - so it's only really the rural areas near cities where Verizon beats TMobile):

If only the iPhone supported their band 12 frequency. Sent from the iMore App

Great to read all these positive reviews. I tried their 5GB/5mos plan on my new iPad recently and it's been great so far, tethering came in handy a couple times too which is a nice ability to have that AT$T never gave me... Sent from the iMore App

I've been generally happy, but I do live in a city in the southeast. Thankfully, I get great signal. Not so much when I travel to rural areas Sent from the iMore App

I switched from AT&T and I'm glad I did. I have much more for half the price. I'm loving it with my iPhone 6. Sent from the iMore App
Thank you for signing up to iMore. You will receive a verification email shortly.
There was a problem. Please refresh the page and try again.