T-Mobile no longer charges you for using your phone in Mexico and Canada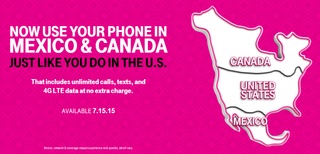 T-Mobile is not finished with the media this morning. The US carrier has just unveiled Mobile Without Borders. This new Un-Carrier Amped move sees the company allowing customers to travel across the border into either Mexico and Canada and use their mobile phone without charge. T-Mobile's Simple Choice plans are affected, meaning those on said plans will be able to text, call and surf the web without extra charges.
John Legere made the announcement in a video (shown above), throwing yet more digs at other carriers. Stating that over a third of all international calls are made to Mexico and Canada, this move will surely please those who find themselves visiting the two bordering countries. Mobile Without Borders not only covers calls from the US to the neighboring countries, but also vice-versa, and will be available on July 15.
Find out more on T-Mobile's website (opens in new tab).
This guy is one of my favorite people ever, right after Steve Jobs.
He innovates in the wireless industry in ways that should have been done decades ago.
Proud to be on T-Mobile fast nationwide coverage. Even in my border town T-Mobile is the best.
Sprint and At&t claim to be faster, but theird only works in one dmall area of town, the rest says "lte" but speeds drop way down (2-5) while my TMobile gives me 10-25 in any part of town. I do admit i have trouble on the road here in Texas, but with the new spectrum that will change in the next couple of years. Sent from the iMore App

At the very least, this will put pressure on the other carriers to keep up. Maybe even jump ahead. Like include the Caribbean. Turks & Caicos, Aruba. Just sayin. Sent from the iMore App
Get the best of iMore in in your inbox, every day!
Thank you for signing up to iMore. You will receive a verification email shortly.
There was a problem. Please refresh the page and try again.