T-Mobile is now the largest provider of prepaid phone service in the U.S.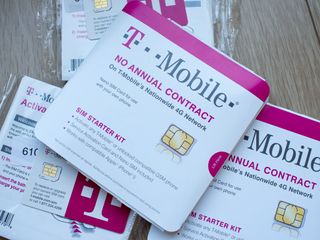 T-Mobile has announced today that it has overtaken Sprint to be the largest prepaid service provider in the U.S., with a total of 15.64 million prepaid subscribers on the network. That's dramatically past the other big rivals AT&T and Verizon also, who have 11.34 and 6.04 million prepaid customers, respectively — and T-Mobile shows no signs of slowing down.
While prepaid offerings are often pared-down and limited on other carriers, T-Mobile's pretty directly mirror its postpaid options, simply offering fewer extra "features" of the postpaid side like device financing and international roaming. Add in the wide availability of its prepaid SIM cards and phones in retailers and through its website, and you can see why so many people use T-Mobile prepaid.
Doubling up on its prepaid customer numbers, T-Mobile's recently-acquired prepaid brand MetroPCS has also surpassed the 10 million subscriber mark, adding 1.2 million customers in the last year — a rate of one customer every 27 seconds. T-Mobile CEO John Legere had this to say on the news:
Legere is known for his bold statements, but this doesn't seem all that lofty. At the rate T-Mobile is moving, there's indeed a good chance it passes Sprint in terms of total subscribers as it continues to leave the others in the dust in terms of prepaid subs as well.
Source: T-Mobile (opens in new tab)
Keeping you up to date with mobile news and analysis since 1989.
I have Sprint and it's very likely I will switch to t-mobile when the iPhone 6 launches.

T-Mobile have been smart. They offer that option of no credit check and pre-paying your service each month. If you don't pay you don't get service. For those that have been hit by poor credit this has been a boon. When I moved from Verizon to T-Mobile I had the choice. I've always had post-pay and I did the credit check and I'm happy though I am sure that there are those out there, especially younger people that this is the only way to get service with a carrier and T-Mobile has so many options. Not to mention the way he turned around customer service. Everyone said that Verizon had good customer service, T-Mobile leaves them standing in the dust. If you go through a Walmart you can get a good plan with a 4 or 5 GB of data but with a limit of 100 minutes on the voice calls for $35 a month. That's perfect for many people especially younger people that tend to talk less on the phone and communicate in electronic forms instead. I wouldn't go back to any of the other companies though I did have a contingency plan if Sprint did buy T-Mobile and I wasn't looking forward to it. When the iPhone 6 launches I will very likely go back to it rather than continue using the Nexus 5. I just miss having the iPhone.

I've been with T-Mobile since when they were still VoiceStream and I am telling you Legere never turned around T-Mo USA's customer service. It has always been great; he never had to. Sprint wanted to acquire T-Mo but it's safe to assume they wanted to integrate into T-Mo rather than have T-Mo integrate into them. That's why they announced Legere would be the CEO of the combined carrier if the acquisition was successful. Thus, even though I oppose it and am glad that it didn't happen, I would have stayed with T-Mo if the acquisition went through.

It's been pretty plain and simple since June 2012 nothing beats Tmobile period they are pacing and kicking carrier butt From my Galaxy Note 3 via iMore App

It you want great service in one spot, one of the Top 100 major cities in the country, and you never go anywhere or never travel by land and need data anywhere in between those cities where they have that great service, they are a great deal with wonderful LTE. But it's a have or have-not situation, because outside those LTE spots you immediately drop to EDGE or GPRS and have no usable data service at all. There is no in-between or gradual drop-off. If that's fine for you, go for it.

Yup, that is T-Mo's one weak spot and I hope they fix it because for a lot of people, it's the only thing stopping them from migrating. But I suspect there is no hurry for now because they're still experiencing subscriber growth that's the envy of the industry. There is such a thing as too many new customers signing up than your systems can smoothly absorb.

I have verizon and I'm changing to t mobile this fall. Recently I traveled on the easy coast and barely had any service I even went through small towns of about 15000 people and I didn't have coverage at all. So whatever t mobile gives me can't be much worse. Sent from the iMore App

I was in Myrtle Beach, SC, and my friends who had Verizon and ATT had zero service. I have Tmobile and I had service EVERYWHERE in Myrtle, not only 4G BUT 5 bars (my cell is restricted to 4G, which I'm fine with). I was shocked, but they were more shocked than me since their bill is $150+ and mine is $30. Tmobile will not disappoint you... I can't speak about reception anywhere else on the East Coast but I was fine in SC. Just thought I'd let you know... I could not possibly be happier with Tmobile!

Ok Sent from the iMore App

Their cell phones literally said "no service" while mine had 5 bars and 4G. I figured going to the east coast would be a major tmobile test and I am happily and very highly satisfied!

Okkkk Sent from the iMore App

Jh Sent from the iMore App
Get the best of iMore in in your inbox, every day!
Thank you for signing up to iMore. You will receive a verification email shortly.
There was a problem. Please refresh the page and try again.