T-Mobile's Un-carrier X move brings free unlimited video streaming, doubles data for Simple Choice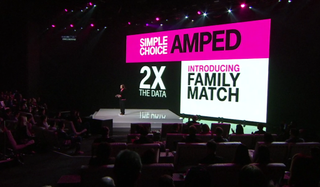 T-Mobile's latest Un-carrier move, Un-carrier X, brings the arrival of "Binge On", the company's video version of its Music Freedom initiative. Announced on stage today, Binge On is similar to Music Freedom in that T-Mobile has partnered up with several streaming video providers to offer free, unlimited streaming video to customers. In all, there are 24 partners to start, including Netflix, Hulu, HBO, Starz and more. And just like Music Freedom, T-Mobile will be adding more streaming partners as time goes on. To power all of this, T-Mobile says it has optimized video streaming on its network to deliver the highest quality possible. Binge On will kick off for all customers starting on November 15. You can head to T-Mobile's website now to check out more about Binge On, along with the full list of streaming partners.
In addition, with changes to Simple Choice and a move called Family Matched, CEO John Legere announced that the carrier will now offer everyone, including families twice the amount of data without adding any additional cost to your plan. Additionally, T-Mobile is starting a new limited time promotion this Sunday that will make the fourth line free for families.
Finally, for unlimited data customers, T-Mobile has doubled the tethered data limit to 14GB while also dropping the unlimited plan price for families to $180 per month. Additionally, the carrier has teamed up with Vudu to offer one free movie rental every month in 2016 to unlimited customers.
Press Release:
Los Angeles, California — November 10, 2015 — At an event held today in the entertainment capital of the world, T-Mobile [NASDAQ: TMUS] announced its landmark 10th Un-carrier move and responded directly to Americans' surging demand for mobile entertainment by—of all things—unleashing mobile video. Beginning this Sunday, video streams free at T-Mobile for subscribers of HBO, Hulu, Netflix, SHOWTIME, Sling TV, STARZ, WatchESPN and more—with more streaming services on the way—without ever burning up customers' high-speed data. And it's available to all current and new Simple Choice customers on qualifying plans—at absolutely no extra cost.
On top of that, the Un-carrier today also amped up its flagship Simple Choice plan—in the biggest update to Simple Choice ever—by doubling the data at every level and cutting the cost of extra gigs. On top of that, families can now get twice as much high-speed data as before—at no extra cost— when everyone gets extra 4G LTE data. And that's all on the nation's fastest 4G LTE network, now reaching 302 million Americans and counting.
Taken together, today's moves give Un-carrier customers far more data that lasts far longer – prompting T-Mobile President and CEO, John Legere to declare today "Data Day" – the day the company took its Un-carrier movement to the next level.
"Un-carrier X marks the next step in this revolution, and it is massive," said John Legere, President and CEO of T-Mobile. "Today, we're not only doubling your data in Simple Choice, we're making your data work a lot harder for you! With Binge On, video streams free from 24 streaming services to start, and more to come! Only T-Mobile would find a way for customers to watch unlimited HBO, Hulu, Netflix, Sling TV and more…without eating into their LTE data, while the Duopoly is squeezing consumers with overage fees and over-buying! T-Mobile is un-leashing entertainment and giving customers exactly what they want!"
Binge On − Watch your shows, not your data
With Binge On, video now streams free for viewers and subscribers of Crackle, Encore, ESPN, Fox Sports, Fox Sports Go, HBO Now, HBO Go, Hulu, MLB, Movieplex, NBC Sports, Netflix, Sling TV, Sling Box, SHOWTIME, STARZ, T-Mobile TV, Univision Deportes, Ustream, Vessel, Vevo, VUDU—with more streaming services on the way—without ever touching their 4G LTE data on Simple Choice plans with extra data. T-Mobile is also including Verizon's Go90 and AT&T's DirecTV streaming services in Binge On, so even the Duopoly's video services stream without fear of overages.
Binge On is open to any streaming video provider who meets the technical requirements, which are available online at www.t-mobile.com/bingeon. And it's completely free for video streaming providers to join.
"With Binge On, no one pays—not the customers, not the video streaming services—and everyone wins," said Legere.
Powered by new technology built in to T-Mobile's network, Binge On optimizes video for mobile screens, minimizing data consumption while still delivering DVD or better quality (e.g. 480p or better). That means more reliable streaming for services that stream free with Binge On, and for almost all other video, it means T-Mobile Simple Choice customers can watch up to three times more video from their data plan. And, as always, T-Mobile has put customers in total control with a switch to activate or deactivate Binge On for each line in their My T-Mobile account. Binge On is all about customer choice.
In addition, T-Mobile is celebrating the launch of Binge On with an exclusive offer of 30% off a full year's subscription to Sling TV's "Best of Live TV" package available to all Simple Choice customers. And those T-Mobile customers with Unlimited smartphone LTE get a free streaming movie rental every single month in 2016 with Binge On.
With mobile video now the #1 way Americans use smartphone data, Binge On is the Un-carrier's answer to what today's customers clearly want most from wireless. Customers are using nearly two-and-a-half times more of their wireless data for mobile video in the last two years. But that's nothing compared to where we're headed. According to forecasts, mobile video usage is poised to surge more than 400% by 2020.
The old carriers are trying to exploit this trend − and their customers − to line their pockets. For carrier customers, the surge in wireless video has translated directly into an unprecedented surge in overages. Together, the carriers are projected to rake in a record $2.4 billion this year from overage penalties—up a staggering 60% from $1.5 billion just last year. Roughly one quarter of AT&T and Verizon customers say they've been hit by overages in the last 6 months – that's twice as many Verizon customers getting billed for overages compared to just two years ago. Worse still, the carriers' overages scare customers into buying more data each month than they need—only so Verizon and ATT can repossess it after 30 or 60 days. American wireless customers waste an estimated $45 billion annually overbuying wireless data they don't use.
With T-Mobile, on the other hand, Binge On now unleashes customers to watch what they want, when they want and on any device they want—without watching their data.
Simple Choice − Now with double the data
With this explosion in data usage, a few gigs is just not enough anymore. So, in the biggest update ever to the company's wildly popular Simple Choice plan, T-Mobile is giving families and businesses what they want most by doubling their high-speed 4G LTE data when everyone gets extra data.
Simple Choice customers still start with one line at just $50 a month for unlimited data, talk and text on T-Mobile's nationwide 4G LTE network. But you'll now get a full 2GB of 4G LTE data—twice the previous amount—on each line. As before, customers can still add a second line for $30 a month−but now with 2GB of 4G LTE data. Additional lines up to 12 are still only $10 per month—but each now come with 2GB of 4G LTE data.
Of course, Simple Choice customers can add even more 4G LTE data. And now, when everyone in the family gets extra 4G LTE data, families can save even more with T-Mobile's new Family Match. Everyone will get twice as much data as before at absolutely no extra cost. They can add an extra 4GB of 4G LTE data (on top of the 2GB included), including mobile hotspot data, for just $10 more a month on each line, up to a total of 10GB per line. For families who'd rather customize their data by line, extra data is just $15 a month for each 4GB—compared to $20 a month for 4GB before—a savings of 25% per GB of high-speed data vs. before.
While the Duopoly continues to punish customers on their legacy unlimited LTE plans, the Un-carrier announced it is doubling down on Unlimited Smartphone LTE data by doubling the amount of tethered data included from 7GB to 14GB. And with Binge On, streaming video from participating services won't eat into that tethered data.
For businesses, the pain is even worse. Nearly two-thirds of small businesses (63%) say they're now being charged overages, and more than half (52%) of small business limit their employees' smartphone usage to prevent overages. With the Duopoly, giving employees a smartphone is like creating an open-ended tab where employees can run up insane overages the company has no choice but to pay. With the new Simple Choice plan unveiled today, businesses get double the LTE data at no extra cost at T-Mobile, up to a thousand employees. An average small business with T-Mobile can save 40% compared to AT&T and a full 50% compared to Verizon for similar services.
And, as always, Simple Choice customers have no annual service contracts, no domestic overages and no sharing, and they get all the Un-carrier value the company keeps pouring into the plan – from Simple Global, Music Freedom and Data Stash to Mobile Without Borders, Wi-Fi Un-leashed and Binge On.
To celebrate today's news, T-Mobile is making the fourth line free. Now, for a limited time, a family of four can get four lines for $120 with 6GB per person (24GB total) – no sharing – at just $30 per line. That's an incredible four times the high-speed data you get at Verizon who'll charge you $20 more, and almost five times the data at AT&T where you'll pay $30 more—$150 for just 5GB your whole family's gotta share. And now with Binge On, T-Mobile customers don't just get 6GB each, they get unlimited video streaming from popular sites as well.
Binge On and the new Simple Choice plan will be available starting Sunday, November 15. Existing T-Mobile customers will get Binge On starting Thursday, November 19. For more information on Binge On, see www.t-mobile.com/bingeon. For more information on Simple Choice, see www.t-mobile.com/SimpleChoiceplan or for Simple Choice for business, see: www.t-mobile.com/BusinessSimpleChoicePlan.
Master your iPhone in minutes
iMore offers spot-on advice and guidance from our team of experts, with decades of Apple device experience to lean on. Learn more with iMore!
Jared started off writing about mobile phones back when BlackBerry ruled the market, and Windows Mobile was kinda cool. Now, with a family, mortgage and other responsibilities he has no choice but to look for the best deals, and he's here to share them with you.