Inventory, spreadsheets, and transactions: A business in your pocket - Talk Mobile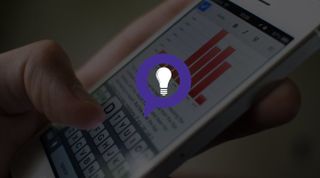 Presented by BlackBerry
Talk Mobile Creativity
Inventory, spreadsheets, and transactions: A business in your pocket
It used to be that the Dells, ThinkPads, and BlackBerries ruled the business world, and your average road warrior carried a business-issued tablet and smartphone to get things done. Today, things are looking different. Not only have Windows Phone, Android, and iOS smartphones found their place in the boardroom, on the factory floor, in the cubicles, and out in the field, they're more capable and more connected than ever.
Does all of that mean that mobile can be better for business? Is having a smartphone or a tablet all the computing power you need to start and run a business, or do you need a laptop or desktop computer to do serious business work?
With mobile can we finally move to a cashless society? And can we do all of our business things like inventory management, document editing, spreadsheet data entry, and everything else on a mobile device, or is it just too much of a pain?
Let's get the conversation started!
by Rene Ritchie, Daniel Rubino, Kevin Michaluk, and Phil Nickinson
Mobile business
Rene Ritchie iMore
Mobile is enabling a new generation of business
Now things are different. Sure, you can still get the big, old productivity applications on the desktop, but thanks to Google, Apple, and any number of hot young upstarts, you can get great "office" apps on the cloud and on mobile, and any number of better priced, more accessible business services and apps as well. From account management to invoicing to shipping, all of it is now available online and/or on mobile. As an added bonus, these capable mobile office apps are typically much less expensive than their desktop counterparts, if not completely free of cost.
When it comes to document editing suites, none approach the success or ubiquity of Microsoft Office. Microsoft's Office suite was first introduced in 1990 for Windows 3.0 as Word for documents, Excel for spreadsheets, and Powerpoint for presentations. Office was updated several times over the following years, during which time it expanded to include apps like the database manager Access and Outlook for contacts, calendars, and email.
Office made the leap to mobile in 1996, bundled as a part of the mobile Windows CE 1.0 operating system for Pocket PC devices. The Pocket PC version of Office launched with Pocket Word and Pocket Excel, with PowerPoint, Outlook, and Access joining the party later. Through 2009 Office remained exclusive to Windows Mobile devices, until Microsoft signed a deal with Nokia to bring Office to Symbian devices.
Office tagged along with Windows Phone 7, with a completely new interface and code base. Microsoft was long reported to be negotiating with Apple to allow their Office 365 subscription service on iOS without paying Apple's 30% cut, though in July of 2013 Microsoft relented and released Office for iPhone and Android.
Transaction processing has undergone a similar transformation. You can make and receive payments through online services now, and you can even swipe real-world credit cards with real-world dongles attached right to your real world mobile device.
Gone or going away are the expensive telephone systems that kept everyone trapped at their desks. Mobile devices, after all, were born from communication. Calls, messages, emails, even full on video calls and conferences, are where mobile lives.
And if you use online marketplaces to sell your wares, be they crafts or collectibles, or even software of your own, there are mobile tools to let you keep up on your listings and your sales, your advertising and your customer service.
Mobile, in so many ways, not only lets people have a business, but be in business, everywhere and anywhere. It's removed almost all the traditional barriers. Now all that's required is a dream, and a tremendous amount of hard work.
- Derek Kessler / Managing Editor, Mobile Nations
Talk Mobile Survey: The state of mobile creativity
Phil Nickinson Android Central
Cashless is king
What kind of business doesn't take credit cards? The kind that doesn't get my business. That's what.
Sure, there are perfectly awesome establishments in any city that don't take credit cards. You might even consider it quaint — a throwback to a simpler time. Your favorite burger joint. A tiny bakery that's so good you pray nobody else discovers it. A dive bar that stays open a wee bit later into the small hours than it's supposed to.
It was nice knowing them.
The simple fact is that we're increasingly moving toward being a cashless society, and that's a good thing. Physical currency is dirty. It's bulky. It often costs more to make than it's worth. Good riddance, I say.
The king of mobile payments
While a unifying cross-platform multi-retailer payment system has failed to take off in the US, individual retailers have had more luck with their own systems. The king of mobile payments, though, is the Starbucks chain of coffee shops.
Starbucks' mobile app for Android and iOS has long supported mobile payments by way of a server-based credit card transaction system that can be set to automatically refill a Starbucks card (available simultaneously in virtual and physical forms) once it drops below a specified threshold. Payments are handled via a simple barcode scanner, reading a code displayed on the device's screen.
In early 2013, mobile payments accounted for a full 10% of Starbucks' transactions, with customers using a combination of Starbucks' mobile app and Square Wallet.
The good news is that it's easier than ever to accept credit cards. There are a number of systems that simply plug into a smartphone or tablet, Square being chief among them. You swipe, and the deal is done. Quick, simple and effective. But that method in and of itself isn't really changing anything. You still have the same privacy and security concerns — only multiplied because of the simplicity.
No, what we're still waiting for is a true digital revolution when it comes to the way we use our credit. Apple paved the way with the App Store and iTunes. You can buy music and apps anywhere, anytime. But Apple's iTunes + App Store ecosystem is currently only useful for digital goods. Google is trying to make the physical wallet obsolete — or, to look at things more realistically, at least a little bit thinner — but has hit any number of walls in its attempt to turn your smartphone into a virtual credit card.
It'll come. The little plastic cards aren't going anywhere, though. The same can't be said about those little pieces of paper and discs of metal. We're not yet at a cashless society, but we're getting there. It's absolutely possible to fly across the country — or the world for that matter — and not carry a cent on you. And that's the way it should be.
Do you use your smartphone to pay for transactions?
876 comments
Kevin Michaluk CrackBerry
Breaking old practices to embrace mobile business
It really is possible to keep your entire business in your pocket. In fact, it's easier than you might think. I'm not saying that you should miniaturize your business to make it literally pocket-sized (as awesome as that would be), but it is entirely feasible to access all of your pertinent data, engage in active communications, make transactions, and do other business things, all from your mobile device.
The sad truth is, however, that it's much easier to start your business with mobile in mind than it is to adapt an existing model to fit mobility. Of course, it's most difficult to transition a paper-based business to mobile, but even a business with a strong digital support system anchored in traditional desktop computing can face major hurdles in getting itself online and mobile.
While the big information technology players like IBM and Oracle offer comprehensive end-to-end inventory management systems that incorporate mobile apps, these expansive systems are often far too expensive and complicated for a smaller business, especially one just getting off the ground.
There are a number of smaller inventory management systems available, including many standalone apps and databases for those looking to build a piecemeal system. Business that want an integrated inventory and transactions system, however, can turn to Intuit, whose QuickBooks suite incorporates apps for point-of-sale mobile registers (GoPayment), inventory management, and of course, QuickBooks' classic financial bookkeeping services.
QuickBooks' ecosystem can even be expanded with third party apps and services, including ProOnGo Expense for managing employee expenses, Method CRM for customer relations, and BodeTree for visualizing the data from QuickBooks' bookkeeping database.
As much as we argue for embracing the cloud in all its permutations, it can be a daunting transition for a business. Smaller businesses are easier to make that transition, but even then it can be an overwhelming proposition. Because their cash flow, accounts, and customer satisfaction depend on the reliability of their processes, businesses have a tendency to not update their software and systems on a frequent basis. There are exceptions to that rule, of course, but we all know that guy who is stuck with a corporate-issued BlackBerry OS 6 smartphone.
With the right mix of apps and services it is entirely possible to have the entirety of your business addressable from a device you can fit in your pocket. Generally that also means you'll have the entirety of your business addressable through the cloud, which opens up a whole new range of working options, including easier bring-your-own-device acceptance and working from home on personal computers.
There are, of course, risks inherent in having your business in your pocket. There are the obvious security risks, which take us back to our week of harping on passwords and personal diligence in making sure you're a responsible user. There's also the risk of work following you everywhere because you're taking that device everywhere. As I said above, that approach opens up new avenues for working away from the office, but it also means the office can follow you into inopportune places.
But in the end, it's still a marvel that everything from a small one-person startup to a multinational multi-billion-dollar corporation can be run from a device in the palm of your hand.
How do you use mobile devices in your work?
876 comments
Daniel Rubino Windows Phone Central
Documents, spreadsheets, and presentations on the go
The problem with trying to bring the office to mobile is the same as all efforts that require productivity: data entry and distractions. That is, no matter how good things get, working on a spreadsheet a 4-, 5-. or even 6-inch smartphone is still not as efficient as typing on a PC or laptop. Touch is awesome for a lot of things and great for many, but long-form text composition and spreadsheet management aren't among them.
Mobile devices pose the same distraction threats as a PC, only amplified. While you might be able to dump hours into browsing Reddit or trawling Facebook on a computer, with the nature of notifications on our communications-oriented smartphones those distractions can reach right out with a ring or a buzz and pull you away from your work in an instant. Though there's an argument that this is more a matter of your own self discipline than smartphones being too distracting for work.
That's not to say though that mobile is doomed to fail at documents, spreadsheets, and presentations. Instead, we've seen a steady rise of the ability to view documents on the go, and an expanding ability to create and edit them.
Each platform has at least one solid "office" suite, be it the eponymous Microsoft Office on Windows Phone, the iWork apps on iOS, Google Drive for Android, or BlackBerry-owned Documents To Go. Key to the success of most every mobile documents solution today is integration with cloud services to sync your files and edits to the server and to your devices.
One of the earliest and most successful mobile document editing applications was the Documents To Go suite. Built by DataViz, Doc To Go was the dominant office-style app for Palm OS, Symbian, and BlackBerry OS, and held a strong position on even Windows Mobile. The implementation included a syncing conduit for use with desktop computers, allowing users to manually sync their changes made on one device to the other.
The basic version of Documents To Go allowed the user to edit Word and Excel documents. A Professional edition added in PowerPoint editing and was bundled on most Palm OS devices, while additional tiers offered support for image viewing, and Outlook synchronization.
DataViz eventually produced versions of the Documents To Go suite for the modern Android and iOS platforms, but struggled in competition with offerings from Google and Apple. In 2010, DataViz sold Documents To Go to BlackBerry for $50 million. The Docs To Go app now comes bundled on all BlackBerry 10 devices.
While you certainly wouldn't want to write a complete business proposal or craft a lengthy slide deck on a smartphone, you could if you had to. Or you could write it on a traditional computer with a traditional computer and fine tune it with edits on your smartphone on your commute. For many that ability to engage in real-time editing and collaboration opens up a whole new avenue of productivity.
Mobile on smartphones and tablets won't replace the full office setup anytime soon, but it will certainly augment and enhance an employee's potential by allowing them to work more productively while on the go. The advent of cloud computing, storage, collaboration, and communication is really ground breaking work that is happening in enterprise these days and the smartphone/tablet is but one tool in that arsenal.
How do you deal with documents on your smartphone or tablet?
876 comments
Conclusion
It really is possible to build and run a business on mobile, though it can be much harder to transition a business to mobile. But the benefits of doing so are too tempting to ignore - with mobile there's so much to gain in terms of flexibility.
Fully embracing mobile for businesses means embracing the cloud for accessing computers back at the office, for managing documents and spreadsheets, and for practically everything you're going to want to do while mobile. If you're in retail, it means embracing mobile payments and cashless transaction systems. It means that you might have to change some of your business practices to fit in the restraints of mobile devices, apps, and services.
Thankfully, those restraints are loosening with each passing day. Mobile devices have required a rethink of some aspects of how we do businesses, but they're aspects that were overdue for a reinvention anyway.
Mobile has and is changing the way we do business, and that's a good thing.
Get more iMore in your inbox!
Our news, reviews, opinions, and easy to follow guides can turn any iPhone owner into an Apple aficionado