Talk Mobile Social Week Recap: The best things you said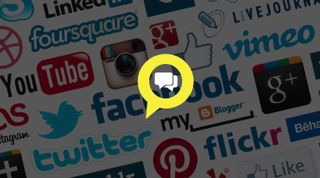 Presented by Blackberry
Talk Mobile Social
Talk Mobile Social WeekThe best things you said
Possibly our most contentious week of discussion yet, the third week of Talk Mobile 2013 was all about social networking and communication, and some great discussion came as a result. Read on for a hand-picked selection of your best comments of the week.
Social Week Recap
Social Week Recap
Social networking and communications proved to be one of our broader topics thus far. Tackling everything from who you should follow online, why we post status updates in the first place, protecting our online privacy, and what kind of keyboard is the best, week three of Talk Mobile 2013 ran the gamut. And true to our goals with Talk Mobile, little time was spent talking about specs and stats - the discussion revolved around higher concepts of how we use these devices to begin with.
As always, we're wholly interested in your feedback and are constantly tweaking Talk Mobile to be the very best we can make it. So feel free to sound off in the comments about what you think of Talk Mobile so far.
Our goal with Talk Mobile has always been to generate a discussion in the community, and we're thrilled with the comments and deep discussions that have come as a result. There are a lot of great comments, and we'd like to take a few minutes here to highlight what we think to be the very best. You'll find them below, and those we've picked as winning comments will be receiving some awesome prizes - so be sure to watch your email.
We're also happy to have a reader survey for social and communications week, and by simply filling it out you can be entered to win a $100 gift card to Best Buy. Incentive? You betcha.
Talk Mobile 2013 Week Three: Mobile Social
Day 1: Why should anybody care about your social status?
Day 2: Messaging Overload: Why have we let notifications rule our lives?
Day 3: Would you want your mom to see this?
Day 4: Just because you can reach me 24/7, doesn't mean you should!
Day 5: Pushing buttons vs. Tapping pixels: The Great Keyboard Debate
Day One Winning Comment!
Day Two Winning Comment!
Day Three Winning Comment!
Day Four Winning Comment!
Day Five Winning Comment!
Conclusion and what's next!
Social networking and instant messaging have opened up a wide new frontier of communication. Never before have we been so connected to people around the globe. But yet we're also isolated, more and more interacting with people through a keyboard and a sheet of glass, and letting the lights and sounds that sheet of glass makes interrupt and redirect our lives.
We're in the early years of this online social networking. We have to learn how best to utilize it so it's not just a time sink, and how best to manage it so even when we're using it right it doesn't consume our lives. It's a fine line, balancing our real and online lives. And is there a point where online life will become as real as "in real life"? Social week might be wrapped up, but the discussion doesn't have to and shouldn't stop.
Next week on Talk Mobile 2013 we'll be tackling platforms. And this isn't going to be a discussion of how one platform is better than another. We're stepping above that fray, remember? No, we'll be talking about managing your personal and device security, software and services and software as services, ecosystems and much more. It's a whole new conversation, and we'll be starting it right here on Talk Mobile!
Now it's your turn again -- what did you think of Talk Mobile Social and Communications week? Tell us what you loved, what you hated, what you'd like to see more of, what you'd like to see changed, and what you're looking forward to next! The comments are yours!
Get more iMore in your inbox!
Our news, reviews, opinions, and easy to follow guides can turn any iPhone owner into an Apple aficionado