Verizon's backing away from Canada, but are we really missing out?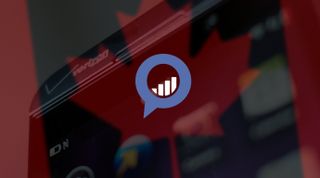 There's been a big to-do lately up here in Canada about Verizon crossing the border by snagging local carriers WIND Mobile and/or Mobilicity. A lot of people were optimistic that they could bust up the oligopoly established by Rogers, Bell, and TELUS, but following their $130 billion Vodafone buy-out earlier this week, Verizon said they weren't interested in entering into Canada. So we're back to square one with three intractable providers and two struggling ones, but I'm not convinced things would have been an amazing wireless wonderland up here if Verizon had followed-up on their Canadian ambitions.
First, some background. WIND came on the scene in 2009. They had a bit of a hurdle to overcome right off the bat because the primary investor, Orascom, was based out of Egypt. Not too much earlier, foreign ownership laws were in place that required 80% of a telecom to be controlled by Canadians, though it had been relaxed down to 53%. WIND's Egyptian financier specialized in setting up shop in incredibly difficult markets like North Korea.
Orascom's CEO was also a little crazy, but I guess you have to be to do stuff like that. Ultimately, he regretted trying to get into Canada, which, come to think of it, foreshadowed Verizon's decision to not cross the border. It was startling to have Canada put on the same page as North Korea, but it wasn't an unfair comparison given the amount of red tape the government imposed at the time.
Despite some kicking and screaming from the Big Three, Canadian regulators exempted foreign ownership rules for anybody with less than 10% market revenue share. On top of that, Rogers was forced to allow WIND customers to roam on their towers wherever WIND's nascent network couldn't reach. Straightforward terms of service, no long-term commitments, and highly competitive monthly rates were all on WIND's side. Mobilicity, a more homegrown affair, launched a year later under the same conditions. On the whole, things were looking up in Canada. We just needed these little guys to build up their networks to improve coverage.
Fast forward to 2013 and things aren't looking so great. The original CEOs for both companies are long gone, WIND has already been acquired by VimpelCom, and Mobilicity is shopping around for a buyer. Both companies left the Canadian Wireless Telecommunications Association when it became clear to them that the industry body was just a mouthpiece for The Big Three.
Canadians have spoken with their wallets and sadly these plucky little underdogs aren't making it through the long haul. Though TELUS has been sniffing around Mobilicity and Rogers around WIND, they may be out of luck because the AWS spectrum WIND and Mobilicity use was set aside during their sale specifically for new entrants, and still unusable by an incumbent carrier (like Rogers or TELUS) in an acquisition scenario for five years after the original spectrum purchase. Well, more Canadian spectrum is going up for auction this January, again with bidding priority given to smaller players in the name of promoting competition. This time, we were hoping to have a more prominent buyer coming to the table: Verizon.
We all know Verizon as a heavy-hitter in the American wireless marketplace. Moving into Canada would have been an attractive option for Verizon, since they have more resources than the entire Canadian wireless industry combined, there's an opportunity to snag fresh spectrum unopposed, and face an easy transition for customers roaming across the border. They wouldn't even see any boundaries with the 10% revenue share limit, provided they got there without acquiring any other service providers. The path for Verizon to buy into Canada had been paved by WIND's foreign ownership history. Such a move would have provided Verizon with a working network, retail locations, a few customers (less than a million), and front row seats for the upcoming spectrum auction.
Now, a lot of Canadians were really excited about a new entrant with enough money to push hard against Rogers, Bell, and TELUS. Keep in mind that these three have been vilified by Canadian consumers for some time, and in many cases, with good reason. Those three have been wailing in unison at the mere prospect of Verizon coming north. Meanwhile, WIND and Mobilicity customers just want to hang onto their absurdly cheap promotional plans for as long as possible. I think many Canadians have become too comfortable with associating "new entrant" with "desperately low prices", however.
In order to make the teeny, tiny dent in the market share held by Rogers, Bell, and TELUS, WIND and Mobilicity have had to make some significant sacrifices, namely in terms of not locking customers into long-term contracts. There's a good reason these two are on the auction block: nobody's biting at unsubsidized devices, even if customers save money over the long term. WIND eventually buckled and launched a tab plan. To those that expected more of the humane standards WIND and Mobilicity introduced to Canada, I ask this: if Verizon had decided to set up shop in Canada, what good reason would they have had to adopt the business model of the two failed companies that came before it?
Canadian prices are high, regardless of what the Big Three might say, but Verizon's prices in the US aren't that much lower, and in some cases identical. For $80/month on both Verizon and Rogers, you get 500 MB of data and unlimited nationwide talk and text. Then there are two-year contracts; those had to be federally mandated in order to get Rogers, Bell, and TELUS to adopt them, but for Verizon it's old hat. It would have been easy for Verizon to be competitive simply by replicating the U.S. model in Canada, or (and this sounds more likely) they could have cashed in and played by the precedent set by Robellus.
Even if they had made it up here, I don't see a Verizon-led Canadian wireless future as the consumer-friendly utopia that WIND and Mobilicity have envisioned and marketed. As is, Rogers, Bell, and TELUS play pretty nicely with one another. By contrast, when was the last time you saw AT&T, Sprint, Verizon, and T-Mobile agree on anything? Verizon is a profit-driven company just like the existing big players in Canada. The only difference is that Verizon operates at an exponentially larger scale than these Canadian carriers. That said, Verizon would have had no reason to conform to the expectations of the existing marketplace. Maybe that independence is why the Canadian carriers weren't happy about what was looming on the horizon.
Of course, the Canadian carriers happily played up the size disparity and new wireless auction rules as an unfair advantage, and that local businesses wouldn't stand a chance in the face of Verizon. Jobs would disappear, "taxpayer-subsidized" spectrum would be lost to ne'er-do-wells, rural coverage would be left in shambles, 'Muricans would get to coast on the hard work of honest Canadians... Woe betide ye who letteth the American in our midst! C'mon guys, grow up. Bell, once upon a time, you weren't much more than an AT&T subsidiary and were a Baby Bell just like Verizon.
Up until 2004, Verizon had a 20% stake in TELUS, and AT&T owned 34% of Rogers. Verizon itself is the product of foreign investment. They've even gone in with their (now previous) parent company to invest in Vodafone Italy, which seems to be doing well for itself. Foreign investment is a decent (and some might say only) way to get successful new telecoms rolling.
Though Verizon has categorically denied any interest in Canada following their share buyback, the best case scenario would have been that Verizon acquired both WIND and Mobilicity, merged them, allowed the venture to operate independently, and injected enough capital for it to get some fresh spectrum and keep doing business the way they've been doing it. Even that scenario would have been too optimistic.
If I were to take a guess, once they got into Canada and got set up, Verizon would undercut the Big Three just enough to be competitive, but charge more than what WIND and Mobilicity have been, because, hey, money. The worst case scenario would have been that Verizon came up here, liquidated WIND, Mobilicity, or both, started from scratch, and got in bed with the other three providers by charging customers under similar (if not identical) rates and terms.
Rogers is currently making about $60 a month per postpaid wireless customer, which is close to what U.S. carriers are making now, depending on who you're looking at. It's hard to tell with Verizon specifically, because they only report average revenue per account, which includes multiple devices since all of their data plans are shareable now. For what it's worth, that figure is around $150. In any case, if they had made it up here, Verizon could probably have made as much money per Canadian as they do for each American. If they counted on remaining competitive on device selection and marketing rather than undercutting monthly rates (and I think they could have), they would have been able to charge the same monthly rates as Rogers, Bell, and TELUS. The big challenge here, of course, would have been building up a network, but they've got the resources to make that long-term investment, the opportunity to get some really strong 700 Mhz spectrum, plus a likely roaming agreement to help them start off.
So Canadians, don't get too busted up about Verizon not coming north. The wireless climate is certainly better down in America, but it's not that much better as far as your monthly bill goes. We might have seen a bit of improvement up here from a migration, but ultimately Verizon is just another big company, and assuming their taste for money is just as well-cultivated as that of the existing Canadian carriers, odds are Verizon would have been more similar to Rogers, Bell, and TELUS than WIND or Mobilicity.
Get more iMore in your inbox!
Our news, reviews, opinions, and easy to follow guides can turn any iPhone owner into an Apple aficionado
Editor-at-very-large at Mobile Nations, gamer, giant.