TextExpander gets its own paid sync service with latest updates for Mac, iPhone, and iPad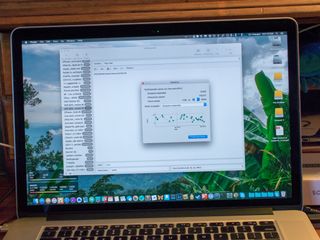 Smile, the developers of text-expansion tool TextExpander, have launched a brand new version of the app for Mac, iPhone, and iPad. While the apps all sport a new look and feel, the big new is the launch of TextExpander.com, which allows you to sync and manage your snippets on the web for a small monthly price.
Though previous versions allowed you to sync with Dropbox and iCloud, the latest version of TextExpander requires a TextExpander.com account in order to sync. For $4.95 per month, you can use a TextExpander.com Life Hacker plan to sync your snippets to all of your devices, and share them with a circle of friends. If you're a current TextExpander customer, you'll receive a 50% loyalty discount on this plan for your first year. Additionally, if you purchased TextExpander after December 1, 2015, you'll get this plan for free for three months.
But TextExpander.com goes beyond individuals and small groups, letting companies get in on the action. For $9.95 per user per month, businesses can get all of the consumer features, plus organization-controlled snippet sharing, team snippet management, permission management, and more.
Smile is also launching a public beta of TextExpander for Windows. The beta is expected to run for several months, and can be downloaded from the TextExpander website (opens in new tab). If you don't want to pay a continuing subscription, you can still use TextExpander 5 for Mac, along with version 3 for iPhone and iPad, in order to use Dropbox or iCloud syncing.
You can grab TextExpander for Mac on directly from Smile, while the new iPhone and iPad app is available now on the App Store. While both are free to download, you will need a TextExpander.com account in order to use them.
Get the best of iMore in your inbox, every day!
Joseph Keller is the former Editor in Chief of iMore. An Apple user for almost 20 years, he spends his time learning the ins and outs of iOS and macOS, always finding ways of getting the most out of his iPhone, iPad, Apple Watch, and Mac.
$4.95/mo to do what they could have done with Dropbox or iCloud or Box.com? WHY would I pay that much and more JUST for cloud sync'ing when there are so many other better options? Sounds like a ripoff to me. I use aText and it supports iCloud and other sync services.. will stick with that.

It's Smile avoiding paying Apple anything for the app. The give the app away for free and then make you pay for the one feature you really need to make the app useful. All while avoiding giving apple a cut of their profits. Sent from the iMore App

No, it has nothing to do with Apple and everything to do with building more consistent and sustainable revenue from all customers but more importantly, businesses customers. This is all about the business subscription model, paying 10$ per user. Now, instead of businesses paying the original license price per user that last several years, you now have a company having to pay monthly forever. So, instead of 50$ per head once every 2-3 years, you're getting 300$ every 3 years. In addition, you would be right if Smile was offering the product at the same price as before but they're not. They're asking 5$ per month or 50$ annually continuously. They could've made the apps free, limit its features until the user logs in with a valid account that paid the original price and retain the original features without the monthly price for the sync support. I have no needs for their sync service but I'd like to use the new apps and I would've pay 25$ for the upgrade to the new apps but there's no way I'm paying 50$ per year for this. I'll be looking for an alternative.

Hey genius they DID make the app free and are now requiring you to subscribe before you can use the app! Do you know how to read?

Good luck on the subscription price thing but it's going to fail for 1 obvious reason.
Businesses spend money on communication tools like Trello or Slack. They don't pay you
$10 per user for a utility. Ask yourself as a consumer is autocomplete worth $60 a year? I don't think it's app store avoidance I just think software developers are in a pickle and cannot figure out how to create sane pricing that is sustainable.

I agree. I don't mind paying for a useful utility like this but these rates are out of proportion for the usefulness of the utility.

If they tossed in PDF Pen Pro access then it would make more sense but their competition in Typinator and aText is close enough that I don't think they own the market enough to make this subscription model profitable at a level they need to.

This is mainly for businesses who can afford to pay monthly for their staff and get tax credits on this. Smile is focusing on these customers and not the regular customers. This is not worth 50$ per year, maybe 10$ per year or 25$ upgrade to the new version without the mandated sync. So, now what, 1Password.com and Smile going subscription, it's 10$ a month for no major benefits over what I had before. No thanks.

I"m actually considering the 1Password Family subscription. Both are are utilities but the one major thing that 1p has over TE is that trust factor in that I have my most sacred stuff stored in 1p. Note to most other utility ISV...the day you subscription is the day I bid you adieu.

Good bye TextExpander. My middle finger wishes your subscription model well.

Smile will regret this incredibly poor business decision. Unbelievable.

I am saddened that a tool I just started to finally the see good use of is going this route. I have no problem to see developers make money for their efforts, but $60 annually is too steep a price. I could see $12 a year, I would pay that. But with only partial integration into the apps I use everyday I have to hope that someone or Apple for that matter will simply improve the tools they offer and fill this gap. If you have a super duper need for a ton of sync and catagorization then maybe this tool is indispensable, as it is, it is simply a convenience for me now. PLEASE smile, reconsider a tiered approach. I really hate to see your tools disappear from my devices simply because you out priced my level of perceived value. I am currently a paid user of textexpander for iOS, macOS and the PDF Pen and Scan+ tools. I can switch back to the Readdle tools for scanning or Evernote Scanable and simply put the soft returns into the built in Apple keyboard expander for $60 a year. (Oh, I know they didn't say anything about offering the scan+ or PDFPen with the $60 price. But I am just thinking "man what would I consider getting from them for such a hefty reoccurring price") I am doubtful there are that many Agilebits style customers out there that desperately need extreme snippet management. However, there are a lot of people such as myself that use your tools everyday and just ask a fair path for upgrades for us both.

I have already moved all my snippets into iOS/OSX Text Replacement except for a couple of complicated form emails that get used 1-2 months a year. I will be saving as plain text, that still syncs with Dropbox, and uninstalling TextExpander for good. Definitely not worth $5/month!

Exactly. This "utility" is not a utility, it's a feature that is already included in iOS and OSX (text replacement). I tried using text expander on my iOS devices, but found the built-in text replacement feature much more useful for me. It syncs across all my devices and works perfectly. In my view, there is no compelling reason to purchase any Smile software, be it PDF pen or text expander. All they make are suped up versions of utilities or features that are already in the OS. For me, there is zero reason to use their software.

There is zero possibility that I will pay for a subscription service to replace something that already works. I don't care if they require this for new customers, but taking away an existing feature to sync with Dropbox just to put more revenue in their pockets is abusive. I am sick and tired of vendors who change the rules after they have my money, only for the purpose of getting more of my money. Well, kiss off, Smile. I paid for an app. I'm paying someone else to sync.

Seems to be a trend (1Password, TextExpander, Day One), and it is an extremely unhealthy one. For at least two reasons... 1) It is a rip-off, since none of these products had any true problems with Dropbox or iCloud for years. And the infrastructure required on their end is minimal – the Omni Group was (is?) running their free OmniPresence sync server for all their products on a Mac Mini... How much storage, processing power and bandwidth do they need for snippets or a few passwords? I have been supporting Smile forever, but this is it. And, btw, my full MS Exchange account including 50 GB mailbox storage, archiving, OWA, ActiveSync etc. is $4 per month... 2) It is a huge data privacy problem. Many major companies struggle to keep their servers secure and fail – why trust somebody with zero experience in hosting web services? My snippets include address data, account numbers, phone numbers etc. and I won't take that risk - not even if they reduce the price by 75% percent, which would be the highest I would pay in any case.

I get Office365 for what $100 a year for 5 people and Smile (and others, eg. YNAB) think they are worth $60 a year. They need to get real, people can do the math over x years of the previous version this a ludicrous price. aText costs $5 one off purchase, granted no iPhone app.

I have no problem with the idea of subscription pricing. But this seems so overpriced for text expansion. The previous upgrade price that I paid last summer was $20. And now the latest version is double that per year, or quadruple with "team" features? No thanks. I'll stay with the version I've got until it breaks, then reassess. I can see why they are switching to their own syncing system: their new Windows version of TextExpander, in beta. In the windows world there are a couple of text expansion products, and at least two of them can sync with TextExpander's sync files. They even advertise this to Mac users who also work on Windows. Some even misleadingly use TextExpander's logo. The new syncing system prevents this if one upgrades to the new version of TextExpander on their Macs.