Third-party Reddit apps coming back online after being removed for NSFW content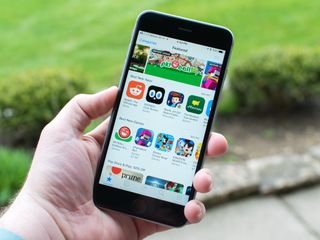 Earlier today, Apple started cracking down on third-party Reddit apps on the App Store for NSFW content. Apple said that the Reddit clients violated clause 18.2 of the App Review Guidelines (opens in new tab) as they contained "user generated content that is frequently pornographic."
While the timing is coincidental considering that the official Reddit client for iOS made its debut earlier this week, the two events are unrelated. The developer behind popular app Narwhal said, "Reddit did not request this. This is solely because of Apple." The Narwhal app is now back on the App Store after the removal of NSFW settings.
Similarly, the developer of Eggplant Reddit was asked to remove the NSFW toggle present within the client:
Reddit also received a notice to do the same on its official apps:
Get the best of iMore in in your inbox, every day!
The clumsiest man in tech.
This is dumb. Sent from the iMore App

Why don't they ban Safari while they are at it since consumers apparently are not willingly allowed to look at **** on Apple devices? Walled in garden folks. Enjoy letting someone tell you how to use a device you paid for. Posted from my Nexus 6P

You can still view NSFW content using the iOS Reddit clients. Now you have use the toggle on Reddit's website to turn on NSFW content in iOS apps. For some reason Apple didn't like the NSFW toggle in the app itself.

In 2008 Apple had a section in the App Store specifically for these apps, it was called "mature" or something like that. Then in 2009 they got all censorship crazy.

Way to be jerks Apple. You'll "protect our privacy" but you'll also censor our phones.
Thank you for signing up to iMore. You will receive a verification email shortly.
There was a problem. Please refresh the page and try again.