Three features I'd steal from Android Oreo for iOS 11 — or 12!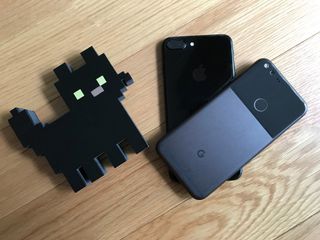 I hope you like talking about dessert-themed technology, because Google's latest mobile operating system, Android Oreo, launched on Tuesday. Its rollout is, like all Android updates, somewhat fractured, though Pixel and Nexus owners can get a taste of the new update right now.
My Android experience largely begins and ends with my Pixel (which, I'll be honest, mostly lives in a drawer), but I like to keep tabs on the mobile operating system space all the same — just because I prefer iOS doesn't mean that other companies won't have good ideas now and then.
Android Oreo is mostly designed to improve the security and functionality of its devices, and it takes quite a few cues from iOS in doing so — Oreo focuses on limiting what apps can do in the background, gives apps tools for creating adaptive icons, adds wide-gamut color support for third-party apps, audio and WebView enhancement APIs, and more.
But outside of these keynote features, there are also a few unique-to-Android features I'd love to see come to iOS in some form.
Picture in picture on a phone
Picture-in-picture (PiP) mode on the iPad is, frankly, awesome: It gives users flexibility and multitasking options in a way that full-screen video never can. With Oreo, Android smartphones will be able to take advantage of the same feature, though as with iOS, it depends on how third-party apps and services implement it. (YouTube, for instance, restricts PiP on Android to YouTube Red subscribers, and doesn't offer it at all for iPad Pro users.)
It's past time for the iPhone to get some PiP lovin': The iPhone 7 Plus (and honestly, even the iPhone 7) have big enough screens that having a smaller video playing in a corner won't detract from the overall experience, and the upcoming iPhone rumors point to an even more functional screen in that department. Let's put the days of full-screen mobile video behind us, and put our kitten video watching preferences in our own hands.
Notification channels
Oreo introduces an alert feature called Notification Channels, which essentially let you more thoroughly customize certain types of notifications from an app. Want Slack DMs to get the full sound and vibration alert matrix, but regular Slack group channel messages just to appear on screen with no fanfare? With Oreo, you'll be able to individually adjust each channel's alerts (though, of course, it's up to the developer to implement).
iOS has a variation of this for some of its stock apps: Photos, for instance, has separate notification controls for Memories and iCloud Photo Sharing, and alerts can be limited to contacts only for that latter option. But there's been no move to let third-party developers provide more granular notification options — which means every Facebook friend request gets the same weight as your best friend writing on your Facebook wall.
With custom third-party notifications, users get more control over what's important to them. Moreover, Apple could use machine learning to help create initial settings for you, based on the notifications you frequently interact with or dismiss.
Autofill APIs
Autofill is a pretty common sight for all mobile operating systems at this point, but Google's going a step further, allowing third-party apps to register as Autofill services. When a password form appears, users will be able to choose the Autofill service they prefer — whether that's Google's default password manager or a third-party service like LastPass or 1Password.
Apple's iCloud Keychain does a great job at storing and providing password and autofill data in iOS, and the upcoming iOS 11 update will even let it do so inside apps. But third-party apps aren't as easily selected: Apps can custom-build in a link or action extension to an app like 1Password, but it can't yet be done at the system level (pressing the same Autofill button as you would to fill iCloud Keychain).
Obviously, the security here needs to be ironclad for a feature like this to roll out, but it'd be a great addition to continue eliminating the need for lengthy, obnoxious passwords.
Snoozing notifications & notification timeouts
Yes, I'm highlighting another notification-based improvement — no surprise, given Google's past success in creating notification features for its mobile OS. This improvement takes a page from numerous Mail apps, allowing users to "snooze" any type of notification for 15 minutes, 30 minutes, one hour, or two hours.
Apple already has snoozing built in to Reminders notifications, but a snooze feature for other alerts would be equally great — sometimes you don't want to stress about email during lunch, but you'd like to see it later in the day. iOS 11 offers one solution to this by storing your old notifications off your initial lock screen (so you can catch up on them even if you accidentally dismiss the screen), but that can get quickly cluttered; having specific snooze buttons for individual alerts allows them to pop back up — and, if necessary, stay present on the screen — for you to deal with them.
On a related note, Oreo also offers notification timeouts for third-party apps: This lets a developer send a notification that automatically expires after a certain time period; for instance, a Facebook event alert for an evening concert that automatically expires 30 minutes after the concert starts.
I've frequently dismissed alerts like this en masse on both my iPhone and Apple Watch because I didn't check them in time; it'd be a small, but nice improvement to see certain alerts fade because they don't make sense to display any longer.
Anything you want to steal from Android Oreo?
Have you read anything about Google's new operating system, iMore? Any other Android features you'd like to see come to iOS in the future?
Get more iMore in your inbox!
Our news, reviews, opinions, and easy to follow guides can turn any iPhone owner into an Apple aficionado
Serenity was formerly the Managing Editor at iMore, and now works for Apple. She's been talking, writing about, and tinkering with Apple products since she was old enough to double-click. In her spare time, she sketches, sings, and in her secret superhero life, plays roller derby. Follow her on Twitter @settern.