T-Mobile backtracks on removal of corporate discount for existing customers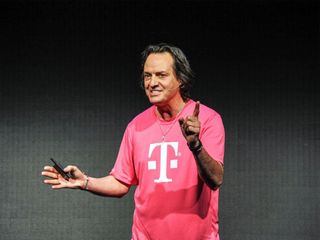 We may have had to deal with the usual April articles yesterday, but one that stood out from all the jokes was T-Mobile's plans to scrap corporate discount from Simple Choice plans. The mobile network has today confirmed a partial reversal, allowing only existing customers to retain their discount. Sorry, new subscribers.
Those who take out new rate plans will be met with a T-Mobile gift card worth $25 when purchasing a new device, while those who are already with the network will be able to continue with their general bill savings. It's a positive move, especially since discounts from T-Mobile have been up to 15 percent, depending on where you work.
T-Mobile CEO John Legere previously wrote the following in a blog post:
Does this partial reversal help you out at all?
Source: Re/code
I get a 28% discount from AT&T, and still pay more than I would on t-mobile without a discount. I may be switching soon, and no, it doesn't affect me. Sent from the iMore App

I was going to switch back to AT&T when I heard my corporate discount was gonna be taken away but now I think I will stay. I think it's still a bad move not allowing new customer to be able to get a corporate discount and they will surely lose customers in the future because of it. Sent from the iMore App

The $16 it would have cost me is still less than I was paying AT&T with a 22% discount in place so it was no big deal either way but it's nice to know I'll get to keep getting my 15% discount.

Still considering switching in the fall with the iPhone 6, but the 15% that my company offered would have saved me $400 over two years versus my current Verizon, but that will reduce to $185 over two years. When my youngest gets a phone, it would have been $645 every two years, versus $410 now. So it still will be cheaper, plus the added bonus of unlimited data (All LTE for me, less so for the wife, and standard for the kids)

Just switched from Sprint and would not go back to them but the loss of my 15% discount would have had me look at AT&T or Verizon or even prepaid. I'm very happy with TMo so far (2months) and did not want to switch. Saves me about $20/mo.

My first requirement for any carrier is that their network actually must WORK in ALL locations that I frequent, home and work being the two "biggies". I live in a very large city where T-Mobile has a very heavy presence thru its own stores and it's various forms of MVNO outlets. I have tried out T-mobile three times over the course of the last five years, the most recent attempt was last December. The results have been a great big FAIL every time for both home and work, not to mention sketchy weak coverage within an urban / suburban metroplex that is supposedly "blanketed" with coverage. The bottom line is that T-Mobile must step up the DENSITY of their coverage. It doesn't matter if their sparse coverage is the fastest in the land if it is too sparse to be of any use. Bottom line: pricing / discounts / etc are all irrelevant if the coverage is not there.
Get the best of iMore in in your inbox, every day!
Thank you for signing up to iMore. You will receive a verification email shortly.
There was a problem. Please refresh the page and try again.