Upcoming iPhone email app 'Mailbox' now taking reservations for staggered roll out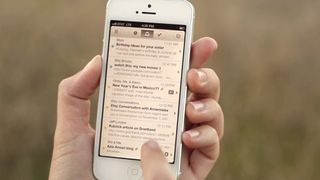 A new email app will soon be available for the iPhone that wants to change the way we deal with email on our iPhone for the better. The new app created by Orchestra is said to be inspired by the simplicity of the "Clear" to do app and the beautiful interface of the Sparrow email app. The developers are so confident of its success that they have decided to stagger its availability by creating a reservation system where the app will be rolled out to avoid any server meltdowns.
The Mailbox app looks like a beautiful way to access and handle your day to day email. It has a very slick user interface and looks like it will be a very popular app. Having said that, in order for any third party email app to be really useful, it would have to become the default email app on the iPhone. There is nothing more frustrating than clicking a link in Safari and the stock app opening when you are using Mailbox or any other third party app. Currently Apple does not allows you to change default email apps but hopefully that may change in the future.
If that doesn't put you off and you want to get access to the staggered roll out of Mailbox as early as possible, you will have to register your iPhone number with the Mailbox team. You will then receive a reservation place and a private code that you will need to access the app when it is available. You shouldn't have to wait too long for that, it should be out in the coming weeks. Mailbox will be a free app but may offer paid premium features in the future.
Source: Mailbox
Meet Mailbox (opens in new tab) from Mailbox (opens in new tab) on Vimeo (opens in new tab).
Get the best of iMore in your inbox, every day!
UK editor at iMore, mobile technology lover and air conditioning design engineer.
Why would they want your phone number, rather than an email address?

It is odd. Their FAQ says it's because they're going to SMS the code to you. Maybe it's to prevent multiple entries?

I believe it's so people can't use multiple email addresses to take up reservations.

To prevent people from registering multiple times.

won't do me any good, I have SMS blocked, don't text, never have, never will. What about multiple mail boxes, I have several and I don't want them all combined together.

and what they gonna do with our cell number? no thanks edit: looks like many don't mind getting spam

I don't follow why people would start getting spam.

by selling the phone list to marketing company like many many do

Why are assuming that they "will" sell your iPhone number? Shall I assume that people who leave blank profile photos on blog posts are hiding something?

Got my code! Looking forward to trying this out!

Got my code and looking forward to trying it. Better mail handling is the only thing that I miss about my BlackBerry. Keeping my fingers crossed!

Don't laugh, but the new Yahoo! Mail app is hands-down (far-and-away) the best email app out there in terms of interface. Swipe any message, from either direction, and boom: Star, Mark Unread, Mark as Spam, Send to Folder, and Trash icons appear right where you want them. Click any message's (or multiple) messages check box and the same icons appear at the bottom of the app for batch actions. It's perfect, and I wish I could use it for all of my accounts. If this acts like that and allows for multiple accounts, it could be a winner.

Agreed re: the default email app, but it is not the links that are so much of a problem, or even notifications, but the lack of permission to fetch and download in the background. I bought and love(d) Sparrow, but it would always be at least a few more seconds compared to Mail.app to get the message after first entering the app. Unless and until Apple allows a third parties this ability, the only company that can build a "perfect" mail app is Apple, and they do not seem interested in the task.

Control of my mail is one of the big reasons that I jailbreak.

Just what I need. More gesture based crap which gives you no indication of what gestures are for what and why, and has different gesture schemes than all the other gesture crap... The last thing I want to do is to try and memorize gesture schemes for 20 different apps. That is why buttons and icons work, because they are visible so that A) you know that they are there, and B) you know what the hell they do. From their video I have no idea what they were doing with anything except the delete. So far - aside from the whole problem with the "default mail app" thing - I am really happy with the GMail app...

I think Apple should buy this company! This is the way email is suppose to be! As of late software is becoming way more important than hardware and whoever has the best software wins period! With Samsung becoming more powerful with their emerging ecosystem, this would be a powerful acquistion to keep people locked into iOS. It's all about killer apps!

Mailbox looks really awesome, let's see how the battle will continue with others like http://sendhello.to, http://evomail.com

has anyone tried altamail out of curiosity? the default ios mail app is horrible