Valentine's Games for iOS, for him and her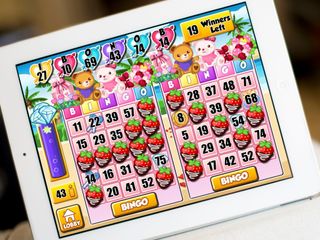 Love is in the air, and the luckiest among us will celebrate Valentine's Day with someone special. And if you're eating somewhere nice for the holiday, you're probably going to spend more than a few minutes waiting to be seated. Why not pass the time with Valentine-themed content in your favorite mobile game? We've got nine festive games for him and her that you won't want to put down when it's time to order.
Bejeweled Blitz from PopCap
Bejeweled Blitz is the fast-paced spin-off off the original Bejeweled match-3 game. Games last for exactly one minute, so players have to rush to score as many matches and points as they can before the timer expires. With great leaderboard support and lots of helpful items to save up and buy, Bejeweled Blitz is one of the most addictive puzzle games out there.
The Valentine's update to Bejeweled Blitz brings the following features:
Heart Stone Rare Gem: This new Rare Gem replaces a portion of red gems with hearts, which explode in heart-shaped patterns and increase scoring potential with a multiplier effect.
New starting boards: Each game now starts with a uniquely patterned game board. You can experiment with first moves to see how cascades fall and develop a starting strategy for the different game boards.
Free coins: After playing the Heart Stone gem, tap one of the nine hearts that appears. Love-struck players can win up to 70,000 coins from the Bejeweled Blitz cupid.
Bejeweled Blitz is perfect for fans of Candy Crush Saga, puzzle games in general, and bright, shiny things.
Bingo PartyLand from DeNA
One of the most popular mobile Bingo games around, Bingo PartyLand allows players to compete with friends and foes from around the world. Play up to 8 cards at once, buy magic boosts to get bonuses, and collect lots of cool items as you progress through your Bingo career.
The "Valentine's Sweet Bonus" event runs through February 15:
Join the holiday-themed Bingo room "Lover's Island"
Pick up valentine's treats to decorate your beach with
Double rewards for every bingo winner!
How long has it been since you played Bingo? You can't get five in a row if you don't play.
Flutter: Butterfly Sanctuary from DeNA
Butterfly lovers will find lots to like in this butterfly garden simulator. Tend to your own personal rainforest, nurturing butterflies through their various stages of life. Collect a huge variety of butterfly and flora, interact with your family of butterflies, or simply relax to realistic rainforest sounds.
"Aphrodite" event runs through February 16:
Collect the new Aphrodite set of butterflies!
Complete the Aphrodite set to receive a special rose decoration for your forest.
Treasure chests from gifting to friends offer more chances to collect the event flower needed to attract the special limited butterflies.
Flutter is a super cheerful game – but it does get grindy eventually.
The Gate from Spicy Horse Games and DeNA
Craving something darker on this Valentine's Day? Fallen warriors awaken in the underworld with only one diversion to occupy themselves: large-scale deathmatches. Collect and build an arsenal of warriors as you progress through the single-player campaign. Engage in real-time strategy battles against the CPU or take the fight online against other players.
The "Love Tale of the Marianas" event lasts through February 20:
Top event players can win the limited Valentine's Day card.
Earn limited Marianas cards through PvE quests, PvP arena battles, and captus!
Use this code before Valentine's for free Bottle of Hope and Advanced Captus items: C-5S27-7D5G-AFCF
The Gate presents an engaging mixture of real-time strategy and card collecting, but it's also very challenging.
GI JOE: Battleground from DeNA
The boys can celebrate Valentine's Day with this game based on the classic G.I. JOE property and toy line. Collect, train, and assemble your own squad of heroic Joes or deadly Cobra operatives. Engage in card battles against the computer and other players. The card art is illustrated by actual G.I. JOE comic and action figure artists
The "When Worlds Collide" event lasts through February 19:
Engage in an alternate world where anything can happen
Will Steeler and Baroness find love together or be pulled apart by their warring sides?
If you loved reading G.I. Joe character bios as a kid, you'll love doing the same with the cards you collect in Battleground.
Hellfire: The Summoning from DeNA
Perhaps a more macabre card collecting experience is needed to counteract the frilly hearts of Valentine's Day. Hellfire allows players to collect beautifully illustrated fantasy-themed cards and battle against AI or other players. The actual battles feature a unique interactive element: players roll boulders at targets in a fashion similar to skeeball.
The "Valentinus" event runs through February 17:
Valentinus has fallen in love with a pure-hearted girl, but her father rejects their love because of the differences in their families' wealth.
Catch all of the Love Nymphs in the forest to help Valentinus marry the girl of his dreams!
Card games, skeeball, and monsters go surprisingly well together.
Kingdom Age from GREE
The only city building game in our holiday roundup comes from GREE. Players will start with a small settlement and build it into a vast kingdom. To make things more interesting, you can also go on RPG-style quests in which you explore dungeons and fight monsters. With three different classes to play, hundreds of quests, and PvP combat, Kingdom Age offers much more depth than the average city builder.
The "Star Crossed Lovers" event runs through February 17:
The quest was inspired by a real-life couple who met in the game and eventually relocated to live together.
Complete this three-quest chain to earn the coveted special edition reward: Kay and Sheera, Dark Strider Heroes (custom avatars of the aforementioned couple) who offer a sizable +3% Alliance Attack.
We can't all expect romance from Kingdom Age, but the game's social elements are appreciated.
Monster Match from DeNA
Collecting and raising a team of monsters is fun enough on its own. But throw a colorful puzzle game into the mix and watch out. Monster Match lets players explore dungeons and complete missions to find new monsters. The actual battles involve a gem-matching puzzle game, not unlike Puzzle and Dragons or Puzzle Quest.
With the "Parrot Trap" event having just wrapped up, the Valentine event now lasts through February 19:
A voodoo toucan judges a beautiful swan to be vain and transforms her to an ugly duckling.
Complete the event to teach the swan the meaning of true love and return her to her proper form!
Monster Match is cute and inviting, but sometimes you'll have to wait until your stamina recharges to keep on playing.
Word Science from WildTangent Studios
To cleanse your Valentine's gaming palate, only a word game will do. Word Science puts players in charge of a laboratory of letters. These letters zoom in on a four-lane conveyor belt, and you must arrange them to form words before time runs out. Use power-ups or form longer words to boost scores to prove the hypothesis that you're the best word game player around.
Valentine's celebration:
Build words that involve the science of love and the celebration of Valentine's Day.
Add one part English and one part Science and the result is a clever word game.
Master your iPhone in minutes
iMore offers spot-on advice and guidance from our team of experts, with decades of Apple device experience to lean on. Learn more with iMore!
Paul started writing about games in 2003 with his first strategy guide (Bomberman Land 2) for GameFAQs. He continued writing guides while earning his B.A. in Literature. When Windows Phone launched in late 2010, the Xbox integration lead our hero to jump on board the platform. He joined Windows Phone Central as Games Editor at the beginning of 2011, going on to review over 125 mobile Xbox titles over the years. He now leads Windows Central's Xbox One coverage, personally specializing in developer interviews, indie games, controllers and accessories, and Twitch broadcasts. Paul loves games on all platforms; he goes where the games are. Although very busy with console coverage, he sometimes contributes gaming articles to iMore and Android Central.