Verizon and AT&T to roll out mini-stores inside Best Buy locations across the country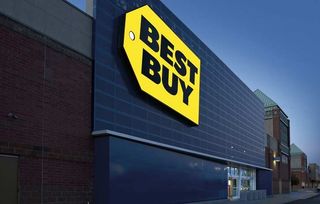 (Image credit: Best Buy)
Both Verizon and AT&T have announced that they are rolling out their own mini-stores within Best Buy outlets. The carriers will be represented in a similar fashion to the Apple, Samsung, and Microsoft experience setups that are currently in Best Buy locations throughout the country.
With the experience shops, shoppers will be able to head directly to dedicated spots in Best Buy stores for each carrier and peruse smartphones, tablets, and other connected products offered by that specific carrier. The shops will be staffed by specially trained Best Buy workers.
Verizon says that it expects to have the new experience shops in 100 Best Buy locations by the end of September, while both carriers are expecting rollouts to 250 locations by the end of the year.
Sources: AT&T (opens in new tab), Verizon (opens in new tab)
Pretty soon Fry's, Radio Shack and Circuit City will have a mini store inside Best Buy!
To my recollection, we already have: Cox, DirecTV, Solar City, Apple, Microsoft, Samsung... I'm sure I'm missing some. Sent from the iMore App

I find the idea of Best Buy becoming almost a mini mall with its focus on consumer electronics. Sent from the iMore App

Well they certainly have room in the stores. I remember when I was younger best buy sold cd, movies and video games. I haven't been in one longest time because just have no interest what they sell now. Accept iPad and iPhone accessories

They actually subcontract the music; for a few years. I'm not sure about movies & games.
They usually have good deals on hardware. I saved HUNDREDS (almost a grand) on my camera and iMac. Sent from the iMore App
Get the best of iMore in in your inbox, every day!
Thank you for signing up to iMore. You will receive a verification email shortly.
There was a problem. Please refresh the page and try again.