VMware Fusion 8 brings support for Windows 10, Cortana and DirectX 10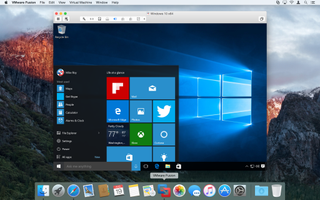 VMware has released Fusion 8 and Fusion 8 Pro. This latest iteration of the company's virtualization suite enables consumers with a Mac to install and boot Windows without forking out for a separate PC. Fusion 8 introduces a number of new features, including support for Windows 10, DirectX 10, OS X El Capitan and even Microsoft's personal assistant Cortana.
In Fusion 8, we're looking at improved 3D graphics acceleration with support for not only Microsoft's DirectX 10, but also OpenGL 3.3. VMware's latest release packs in 64-bit support with up to 16 virtual CPUs, 64GB of RAM and 8TB worth of space dedicated to the Windows 10 virtual machine.
For those with top-of-the-range Macs, the VMware team has optimized its suite for the iMac with the Retina 5K display, as well as the 12-inch MacBook. Running Windows 10 will supply 5K resolutions, with USB-C support and Force Touch. Pricing and purchase links follow below, but do note that existing Fusion customers will be able to upgrade for a discounted fee.
Interested in learning more about Windows 10? Check out the Windows Central review for their take on Microsoft's latest OS.
Get the best of iMore in in your inbox, every day!
Upgraded Pro for $89, which is not bad.. use it for work mostly ..

These yearly upgrade fees are starting to be too much. I wonder if they will turn it into a subscription like other companies. Sent from the iMore App

I just update my mac with Parallels 11 which I can run Windows 10 in along with other Operating systems, what extra benefits does VMware Fusion offer over other virtual environments like parallels ?

Not much other than you already have Fusion and trust VMWare over other companies. They are so close in performance and features now a days its really all about what company you have something invested in.

Pro offers support for connecting to vSphere on remote hosts to manage installed VMs. It also has support for "managed" VMs in the enterprise setting.

For what it's worth, I have listings for Windows 10 x86 and Windows 10 x64 in the latest version of VMware Fusion 7. Also, I ran just about every version of the beta in Fusion 7, and I've been running the RTM for the past few weeks. I have experienced no issues, crashes, etc. Version 7 completely supports Windows 10 for my needs.
Thank you for signing up to iMore. You will receive a verification email shortly.
There was a problem. Please refresh the page and try again.