Check WeatherPro from your lockscreen, integrate "personal weather stations"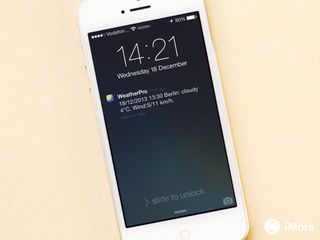 WeatherPro, MeteoGroup's weather application for iOS, has been updated with key new features for iPad and iPhone. The new 3.0 and 3.8 versions are available for download for the iPad and iPhone, respectively.
WeatherPro for iPad gains the ability to add multiple "personal weather stations," devices from Netatmo that register weather and air quality conditions, including humidity, temp, CO2, acoustic comfort and barometric pressure.
The iPhone version adds lockscreen support, so you can check weather conditions from your notification list when the phone is locked. The new iPhone version also enables you to turn off the parallax effect - a 3D embellishment that some users find a bit disconcerting.
WeatherPro for iPhone:
WeatherPro for iPad:
Get the best of iMore in in your inbox, every day!
The lock screen feature is great! It updates once per hour, and automatically deletes the previous alert.

Pretty cool feature to alert you every hour. I wonder if you can set specific times for the alert? Great review! Sent from the iMore App
Thank you for signing up to iMore. You will receive a verification email shortly.
There was a problem. Please refresh the page and try again.