What's on Derek's iPhone 6 right now!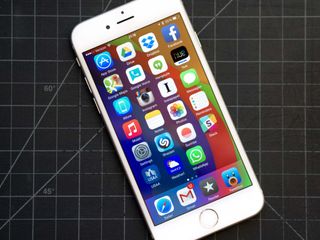 Hi, my name is Derek, I'm an iPhone 6 user. I've owned an iPhone 6 for a little over a month now. I use it a lot, more than I had previous iPhones. But nothings really changed since I started using the the iPhone 6. I'm still meticulous about how I organize things on the home screen… even with Spotlight search and Siri to launch things, I still want everything in its place. It is my iPhone, after all, I should have it set up the way I want it. But hey, with the 6 I can put more apps on the home screen, so there's that.
These are, hands down, the apps I use the very most.
Safari: Still the cleanest, easiest, and fastest browser for iOS. That said, I lose out on some of the features like Continuity support because I don't use Safari as my primary desktop browser, and for many third-party apps on iOS I've designated Chrome as the browser of choice thanks to the handy implementation of a back button that will return you to that app.
Gmail: I have several email accounts, and they're all Gmail or Google Apps accounts. Seeing as I really like the way that Gmail works with threading messages, labels, and the like, I use the Gmail app on iOS for a similar experience. If only Apple would let me set it as my default email app. Maybe with iOS 9. Free - Download Now
Reeder: I'm a news junky, and I get my fix through RSS feeding into Feedly, and I use Reeder to access my personal account. $4.99 - Download Now
Tweetbot: Sometimes I spend too much time in Twitter, other times I let it be for a while. But regardless of what state I'm in with Twitter, I'm likely to be accessing it through Tweetbot. - $4.99 - Download Now
There are two things to note about how I organize my phone. I put the stuff that I use the most (or intend to use the most, or want the fastest access to when I do need it) on the first page. Everything else goes on the second (there's a third page right now, but that's merely a staging ground for to-be-slotted apps that I've recently downloaded). The other is that it's all organized alphabetically. Deal with it.
App Store: This is where I got to get new apps.
Drive: The first of my cloud storage apps is Google Drive. Though Google has broken out Sheets, Docs, and Slides as separate apps, I still use Drive as the entry point for those. Considering how much of Mobile Nations stuff we do is on Drive, it makes sense to keep it here. The offline storage option is also very handy for some things. Free - Download Now
Dropbox: Where Google Drive is used for cloud-based documents, Dropbox is used for the slinging of files. With an easy-to-use and Touch ID-secured app for iOS and simple drag-and-drop folders for my Mac, Dropbox is just too easy. Free - Download Now
Facebook: I hate Facebook. Free - Download Now
Google Maps: When I need to get where I need to be, Google Maps is typically how I get there. Plus, Google Maps search is still far superior to what Apple Maps has to offer. Free - Download Now
Google Voice: I, as any good smartphone blogger, have multiple phone lines. In fact, I have three: Sprint, Verizon, and AT&T. My Sprint line exists purely for one reason: sharing with Google Voice. I'd have ported the number to Google Voice long ago, but I can't do that until Voice gets support for group chat. Once that's done, it's sayonara Sprint. Even then, Google Voice will be my primary call management app. It's a little clunky, yes, but being able to place calls from my primary number that people actually have from a different line (my iPhone's on Verizon and I'm running an HTC One M8 on AT&T right now) is a huge bonus. Free - Download Now
Hangouts: Thanks to the Google Voice service mentioned above, my not-iMessage text messages now come in over Google Hangouts. This is actually preferable to the old system of those messages getting disbursed as SMS to my various lines. Now, like iMessage, I can reply from my computer (through Hangouts chat in Gmail) and complete conversation histories and read status are synced across all of my devices. Free - Download Now
Hue: Having Philips Hue bulbs installed throughout my house is very handy, and this app makes it handy to control them all. Mostly I run them on an automated system. My porch light turns on a dusk and off at dawn (thanks to IFTTT integration), the light I've stuck behind my bed gently turns on like a sunrise in the morning, the lights in my living room turn on in the evening and dim as it gets later, and the light in my office turns on in the morning. Free - Download Now
iMore: Obviously. Free - Download Now
Instagram: There are two categories of photos I tend to share on social networks. There are just the photos I want to put out there, and there are the photos I really want to share. The latter go on Instagram. Free - Download Now
Instapaper: This is a reminder of all the articles I've logged that I want to read later but never actually read later. Most of the time this is saved for twiddling my thumbs at the airport. Free - Download Now
Messages: For text messages and stuff.
Music: I rather like listening to music. At home, it's iTunes on my computer. On the go, it's Music on my iPhone or iPad.
Notes: I use Notes for a few things. Long-term to-do and shopping lists, checklists for repeated tasks, and data I need to be able to reference and update on the go. This could all be easily rolled into Google Drive, but then I'd lose the easy-access Notes syncing from my Mac dock.
Photos: This is where my photos go.
Reminders: One of the apps that I aspire to use more, but usually forget about. That's not a great thing, considering it's my to-do list. Being able to set location-based reminders, though, that's super handy.
Settings: On my older iPhones this was banished to the second screen in favor of stuff I wanted faster access to. But on the iPhone 6 I found myself with a few extra first-page slots. So back to the front it comes.
Shazam: When I want to know what that song is, or I merely want a reminder that I want to get myself a copy of this song, I use Shazam. I know that Siri can do this, but it's not so discrete to ask out-loud "what song is this?" when you don't want people to know you don't know who that is. Free - Download Now
Slack: This is the newest app on my first screen. Slack is where 99% of the communications for Team Mobile Nations go down. The Slack app for iPhone works really well, with smart notifications and the vast majority of the features supported by the desktop and browser Slack clients. I'm a fan. Free - Download Now
Sunrise: My preferred calendaring app for iOS — it integrates with Google Calendar far more easily than the built-in Calendar app. Free - Download Now
USAA: I watch my money, and so I use my bank's app to do so. If you're a member or veteran of the US military, I highly recommend you check them out. As USAA is a large bank with very few physical branches, their online services are top notch, with an app to match. Free - Download Now
Weather!: Technically it's Yahoo Weather, but as it's Weather! on the app icon, it goes here. I see this as the most beautiful and useful presentation of the weather on iOS. It's really quite nice, with smart effects, gorgeous photos pulled from Flickr, and almost all of the weather data I could want or need. Free - Download Now
WhatsApp: I really want to use WhatsApp more, if not just so I have another way to reach members of our team. I just keep forgetting I have it. So I've put it on the first page of my iPhone launcher so I have fewer excuses. Free - Download Now
Amazon: This is my favorite place to buy things. I don't like shopping on Amazon (though it is really nice to have reviews and the like), but buying things, I like this. It's on the second page to keep me from using it too much. Free - Download Now
Arcade: Games go here! Inside you'll find a bunch of games I never play but still have installed for some reason (Angry Birds, Angry Birds Space, Angry Birds Star Wars, Cut the Rope, Letterpress, N.O.V.A. 3, Real Racing 2, Tiny Wings, and Warp Rush), a few games I play occasionally (Dumb Ways to Die, Super Hexagon, Hundreds, Radiant TD, and Whale Trail), and one game I play frequently (Threes). And Game Center.
Calendar: I'm honestly not sure why I have this here and not in the Misc folder.
Coin: I pre-ordered the Coin smart credit card device thing, and downloaded the app when it was made available to see if I could get in on the beta, but the app glitched out on me and never offered the option (despite repeated reinstalls, wiping off the device preferences in my Coin account, and even activating a new phone). Someday my Coin will come. Or I'll use Apple Pay and forget about it. Free - Download Now
Feedly: Because I like to keep my work and personal stuff separate when I can, I use the Feedly app for accessing my work RSS feeds. It's not my preferred app (that'd be Reeder), but it is much better at triaging stories en masse. Free - Download Now
Fioptics TV: I recently had Cincinnati Bell's Fioptics fiber service run to my house, with IPTV and stupid-fast internet included in the mix. This app is a relatively new addition, mostly allowing me to find and watch live TV on my phone or iPad, but only when on my home network. Mostly I'm waiting for this to get an update that will allow me to remotely manage my DVR recording preferences. Free - Download Now
FuelBand: I wear a Nike+ FuelBand SE, almost entirely for the fact that it syncs my activity to a public profile. It's my GuiltBand. Free - Download Now
Google: All of my Google Searching is done through a browser, like a normal human being. The Google app is here mostly for the novelty of Google Now, though it's been getting more useful as of late with notifications of travel times for appointments. Free - Download Now
Health: I genuinely want this to be useful someday. Currently, it's not terribly so.
Inbox: The most recent app install I've got is Gmail's new take on email management. I'm not sure I like it so much, considering that I live in my email. If email came like snail mail does — one stack a day of intermixed content and priorities — or if I checked my email only periodically, it might make more sense. But I manage my email as it comes in, taking care of items as they come in. It's just how I work. I'm on the fence about Inbox, but I'll give it a shot. Free (invitation required) - Download Now
Misc: The "Apps I want on my iPhone but don't need ready access to" folder. There's a lot in here, and I launch most of it through other apps (Chrome, Docs, YouTube), Control Center shortcuts (Camera), Siri (alarms in Clock), Notification Center (Forecast+), the lock screen (Passbook, Starbucks), or Spotlight. And in here you'll find the default iOS apps I neither want nor can delete (hello, Tips).
Pebble: I've been wearing a Moto 360 Android Wear smartwatch as of late, but I still have and occasionally strap on my Pebble Steel. It's certainly become a lot more reliable recently. Free - Download Now
Phone: With how well Google Voice works nowadays, I'm not sure why I keep this here. Nostalgia, perhaps?
Remote: For when I can't find my little aluminum stick remote for the Apple TV, for when I need to search on the Apple TV, and for broadcasting and controlling music on my office and living room stereos when I'm working around the house. Free - Download Now
Social: The social network apps that I use less frequently: Felix, Google+, Netbot, Twittelator Neue, Twitter, Twitterific, Untapped, and Vine.
Trello: When it comes to task management at Mobile Nations, we're a Trello company. And the Trello app is really quite nice. Free - Download Now
And that's what's on my iPhone. I'm a little weird, yes, but it is what it is. If you have any apps you'd recommend, let me know in the comments!
Master your iPhone in minutes
iMore offers spot-on advice and guidance from our team of experts, with decades of Apple device experience to lean on. Learn more with iMore!
Derek Kessler is Special Projects Manager for Mobile Nations. He's been writing about tech since 2009, has far more phones than is considered humane, still carries a torch for Palm, and got a Tesla because it was the biggest gadget he could find. You can follow him on Twitter at @derekakessler.