What's on Joe's iPad right now!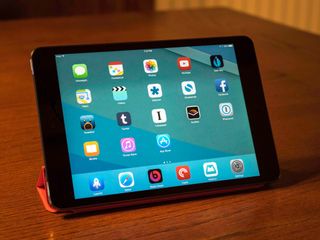 I like to use my iOS devices as extensions of each other. The Home screen of my retina iPad mini in many ways mirrors the one on my iPhone because these are the apps that I want to have access to no matter which screen I'm using. I use one of Apple's iOS 7 wallpapers, and I keep only a few of Apple's stock apps on my screen, but they are the ones I use constantly.
Wallpaper: While I change my wallpaper frequently, my current favorite is iPad variant of the Seas by Louie Mantia, and you can find this and more like it over on his website.
Fantastical: I was so happy when Fantastical came to iPad back in April. Flexibits did a great job in turning Fantastical into a full-fledged iPad app. The iPad is the tool I use for scheduling, and Fantastical makes it easier than it's ever been. $14.99 - Download Now

(opens in new tab)

Youtube: I find that a lot of the video watching that I used to do on a laptop now takes place on the iPad. That includes a lot of YouTube videos. Just as I do on my phone, I make use of AiRPlay to send videos from my iPad to my Apple TV. Free - Download Now

(opens in new tab)

Dark Sky: - Dark Sky replaced The Weather Channel as my go-to weather app on the iPad. It makes good use of the screen real estate of the iPad, confining the three different weather readouts to one screen as oppsed to three on the iPhone. $3.99 - Download Now

(opens in new tab)

Editorial: I write mostly on my Mac, but every now and then I like to get some work done on my iPad. Editorial is the best text editor for iPad that I've used, bar none. It supports Markdown, supports Dropbox exactly how I need it to (you'd be surprised how hard that is to find), and features TextExpander support. The workflows you can build turn Editorial into a mobile blogging powerhouse. $6.99 - Download Now

(opens in new tab)

Simplenote: Simplenote is for in-depth notes that I need to be able to access on my iPhone, iPad, and Mac. The syncing is easy to set up and very fast and reliable. Free - Download Now

(opens in new tab)

Facebook: I don't make as much use of Facebook for iPad as its place on my Home screen would suggest, but it's good to have there when I just want to browse through Facebook on my downtime. Free - Download Now

(opens in new tab)

Tweetbot: Tapbots hasn't released an iOS 7-style refresh of Tweetbot for iPad as they have on the iPhone, but Tweetbot remains my iPad Twitter client of choice none the less. While the asthetics are outdated, the functionality is not. I have yet to find a Twitter client that meets my needs quite like Tweetbot. $2.99 - Download Now

(opens in new tab)

Tumblr: Tumblr's official app is just as fun to use on the iPad as it is on the iPhone. Searching through popular and recent posts in tags is easy, and the number of apps and services that Tumblr can connect to gives me a number of sharing options beyond the standard iOS set. Free - Download Now

(opens in new tab)

Instapaper: This app has been one of my favorites since before the iPad. Instapaper has been my go-to read-it-later service for years now. $3.99 - Download Now

(opens in new tab)

Audible: As with Pocket Casts, i find the iPad version of Audible useful when I need to charge my phone or listen to audiobooks through a speaker. Free - Download Now

(opens in new tab)

1Password: My password manager of choice on my iPhone, iPad, and Mac. I have a lot of accounts, and I use the app's password generator to create new passwords that are unique, complex, and secure. Because I've started using more complicated passwords, I keep 1Password on my Home screen to quickly access them when I need them. It's especially useful when I need my complex passwords in apps, where iCloud Keychain doesn't work. $17.99 - Download Now

(opens in new tab)

.
iBooks: I mostly read books on my Kindle Paperwhite, but every now and then I purchase something from the iBookstore. I also use iBooks to read and organize my gaming-related PDFs and any user guides I might have. Free - Download Now

(opens in new tab)

Launch Center Pro: If I'm creating something on my iPad, Launch Center Pro is usually how I get it started. While the iPhone app mostly facilitates communication and scheduling, on the iPad Launch Center is my go-to to start documents, launch bookmarks, and open entertainment apps. $4.99 - Download Now

(opens in new tab)

Beats Music: This is my streaming music service of choice. I prefer the curation features to those of other services, and I think that it does music organization the best of all of the services that I've tried. Free - Download Now

(opens in new tab)

Pocket Casts: I actually use the iPad version of Pocket Casts frequently. I find it especially useful when I wish to listen to new podcast episodes through a speaker and the battery on my iPhone has worn down. $3.99 - Download Now

(opens in new tab)

Mailbox: I complete the same sorts of tasks on multiple devices, and I like to use the same app on all of them whenever I can. As on the iPhone, Mailbox is my email client of choice on the iPad. Mailbox lets me easily sort and archive my mail with gestures that are easy to use. Saving and email for later is easily my most-used feature. Free - Download Now

(opens in new tab)
So that's my first Home screen. My second page holds interesting or fun apps, but I don't use most of them regularly. My third page is full of folders. My first page never stays exactly the same for very long. What do you keep on your Home screen, and how do you decide what goes on your front page?
Get the best of iMore in in your inbox, every day!
Joseph Keller is the former Editor in Chief of iMore. An Apple user for almost 20 years, he spends his time learning the ins and outs of iOS and macOS, always finding ways of getting the most out of his iPhone, iPad, Apple Watch, and Mac.
You've made reconsider my strategy. Most of your apps on your home screen are on their respective 'home' screens, albeit in their own folders; social, productivity, utilities, games, browsers, reading/writing, et al. Folders labeled as such, the internal apps organized in order of usage and popularity in my workflow. Thanks!

is there any meanginful difference between iCloud notes and simple note anymore?
Thank you for signing up to iMore. You will receive a verification email shortly.
There was a problem. Please refresh the page and try again.