What's on Joe's iPhone right now!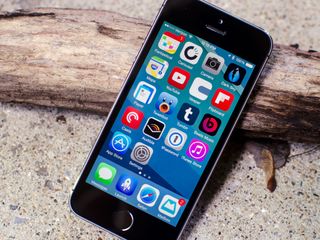 Since all of the cool kids are doing it, I thought that I'd show you what's on my iPhone. My iPhone is the single most important piece of technology in my line-up. It goes with my everywhere, and is my primary method of communication. I keep the most important apps on my first Home screen. I don't use most of the stock apps enough for them to merit a place on my first screen. Those few that remain, however, I use every day without fail. Messages, Camera, Maps, and Safari all remain on my Home screen.
Wallpaper: I like to rotate my wallpapers quite a bit, and I love some of the ones that Apple included in iOS 7, but I'm always on the lookout for wallpapers from around the internet. My current favorite is the phone variant of the Seas wallpaper by Louie Mantia. He has a number of different wallpapers that he's made, all available from his website.
Fantastical 2: I've been a Fantastical user for awhile, first on Mac, then on iPhone. I bought Fantastical 2 as soon as it was available from the App Store. The reminder integration in Fantastical 2 means that I have more space on my Home screen. $9.99 - Download Now

(opens in new tab)

Carousel: I've tried a few photo storage and organization solutions, but recently I've been taking a look at Dropbox's own photo app, Carousel. I was using Dropbox as my backup photo storage, and Carousel lets me view and share photos stored in Dropbox better than the actual Dropbox app. The only problem I've had so far is the inability to hide a selection of photos at once, like those stored in a shared folder. Free - Download Now

(opens in new tab)

Dark Sky: Dark Sky moved up to my main screen after its major 4.0 update, which made the app a lot more useful as a general purpose weather app without dumbing the hyperlocal prediction that made it an essential app to begin with. $3.99 - Download Now

(opens in new tab)

YouTube: I don't watch a lot of video on my phone, but I use the YouTube app with AirPlay to watch things on my Apple TV, rather than using the built-in Apple TV YouTube app. The app also occupies the same position as the stock YouTube app did pre-iOS 6. Free - Download Now

(opens in new tab)

Vesper: While I use apps like Evernote and Simplenote for more in-depth note taking that I need to access anywhere, Vesper is the perfect app to just get down a quick note right when I need it. Now that Vesper has added sync, it's even better, and it might even replace Simplenote for me one day. $2.99 - Download Now

(opens in new tab)

Flipboard: Opening Flipboard is for me what reading the newspaper in the morning was for my parents. It's usually the first or second app that I go to in the morning, after checking email and sometimes Twitter. Opening Flipboard is a lot easier than using Twitter to catch up on the news I may have missed overnight. Free - Download Now

(opens in new tab)

Paper: Facebook's Paper is a great app for browsing Facebook posts. It is, in fact, much better than the standard Facebook app. Paper is especially great for looking at photos, and makes good use of gestures for navigation and viewing.
Tweetbot 3: I've been a Tweetbot user since day one. When they launched Tweetbot 3 last year, I bought it without hesitation. It's everything I want in a Twitter app. $4.99 - Download Now

(opens in new tab)

Tumblr: Tumblr has created an excellent app for the iPhone, and it's one of those apps that's just fun to use. It's dead simple to create any type of post using the app, browsing is fast and fluid, and each section is easy to find. The recent addition of mobile themes let you put your personal flair on part of the app. Free - Download Now

(opens in new tab)

Beats Music: Beats Music has become my streaming service of choice. I enjoy the discovery features of Beats, and it's superior to Spotify when it comes to organization. Additionally, it allows me to select when high quality music is streamed to my device, and automatically switches to streaming lower-quality music when I turn off Wi-Fi so I don't use as much data, something I have to manage manually on Spotify. Free - Download Now

(opens in new tab)

Pocket Casts: I listen to a lot of podcasts, and I've found Pocket Casts by Shifty Jelly to be the perfect tool for the job. The use of color and animation, along with highly customizable episode filters, make Pocket Casts a joy to use. $3.99 - Download Now

(opens in new tab)

Audible: Audible is the app for listening to audiobooks. I don't always have time to sit down and read, but I can listen to a book while doing other things. Audible uses Amazon's Whispersync to sync the listening position of many audiobooks with their ebook counterpart in my Kindle library. Free - Download Now

(opens in new tab)

1Password: My password manager of choice on my iPhone, iPad, and Mac. I have a lot of passwords, and I need not only to keep them secure, but also to make them unique. I use the app's password generator to create passwords that are unique, complex, and secure. Because I've started using more complicated password, I keep 1Password on my Home screen to quickly access them when I need them. $17.99 - Download Now

(opens in new tab)

Launch Center Pro: After using it sporadically for a little while, Launch Center Pro earned a place on my dock. It's just so versatile, a Swiss Army knife of apps. I use it to write text messages to friends and family, to start searches, to create text files, and open specific functions of other apps. Creating and discovering new workflows for Launch Center Pro is always interesting and fun. $4.99 - Download Now

(opens in new tab)

Mailbox: Mailbox became my go-to email app on iPhone shortly after its launch last year. Working with email on my iPhone is rarely about responding to it, and almost always about organizing or getting rid of it. Mailbox lets me easily sort and archive my mail with gestures that are easy to use. Saving and email for later is easily my most-used feature. Free - Download Now

(opens in new tab)
So that's my first Home screen. My second page holds interesting or fun apps, but nothing I would call "mission-critical". My third page holds all of the rest in folders. My first page never stays exactly the same for very long. Tomorrow I'll probably move Soulver on there because I'll convince myself I absolutely need a calculator app on the first page. What do you keep on your Home screen, and how do you decide what goes on your front page? Let me know in the comments, and show us what's on your home screen over in the forums.
Get the best of iMore in in your inbox, every day!
Joseph Keller is the former Editor in Chief of iMore. An Apple user for almost 20 years, he spends his time learning the ins and outs of iOS and macOS, always finding ways of getting the most out of his iPhone, iPad, Apple Watch, and Mac.
As someone who keeps their Home screen so incredibly stock, that's a brave, challenging layout there Joe! Thanks for sharing!

Uh, how can you keep your homescreen NOT stock with iOS? You can move around apps and change your wallpaper, but that's pretty much all you can do.

I used to love Dark Sky--until the 4.x update. It's not really "dark" anymore and, in my experience, far less accurate than it used to be. Maybe it'll improve in the future... I changed it out for Weather Underground...

I hate the new version. I still like their Forecast.io web app, though.

Where is the phone.app?? Sent from the iMore App

Thanks for the heads up about Launch Center Pro! I Installed it this morning and I'm sitting here trying to work out how I missed it all this time.
Thank you for signing up to iMore. You will receive a verification email shortly.
There was a problem. Please refresh the page and try again.