What's on Peter's Mac menu bar right now!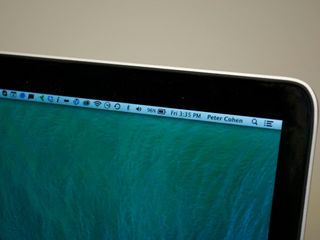 We've told you about what's on our iPads and Macs before, explaining our choices in apps, desktop wallpaper and more. It's my turn again so I thought I'd share with you the contents of my Mac's menu bar. I've customized the bar with a bunch of applications and tools that I think are indispensable.
I'll skip most of the basic Apple stuff like Date & Time, the system's standard battery gauge, volume level and Bluetooth. I assume you're familiar with them and know what they do. You will notice, however, that Time Machine is active. I feel very strongly that Time Machine is the best way to make sure you can easily recover from a major problem and strongly advocate that you use it by whatever means you prefer - external hard drive, Time Capsule or compatible NAS system.
That's it! Those are all my menu items. See any common tools that you rely on? What other menu tools do you find completely necessary? Sound off in the comments.
Get the best of iMore in in your inbox, every day!
I used Echofon for a while before I discovered TweetBot. Have you tried TweetBot?

I've tried it, but don't cotton to Tweetbot like I have Echofon.

That's a ton of stuff there!

What can I say? I use a lot of things! :)

Nice! A lot of overlap with what I use. I'll have to do my Mac menu at some point!

Better you than me. :-) Being a bit OCD, that would drive me absolutely INSANE having all that junk in the top bar. A lot of it seems to be for "monitoring" purposes, maybe you should chill out a bit and just "let stuff happen" instead? Might be less stressful.

On the contrary. Having stuff happening without knowing what's going on drives me crazy. This stuff keeps me sane.

I agree with Gazoobee, I would absolutely die seeing all that in the top bar. I personally like at least the feeling of less clutter even if I know I have a crap ton of settings running in the background. I only have Dropbox, avast!, NoSleep and Degrees shown in the top menu bar, but mainly just to assure me that they are running (especially NoSleep if I accidentally close my MacBook before iTunes Match populates, or if I press send on email but close my laptop in a haste to class, as is typical with many college students, I know it will still send as long as I'm connected to a network.) But nice list! :-)

The clutter of the menu bar is offset by dramatically improved productivity.

Touché. Sent from the iMore App

I use a great little utility called Bartender which can group as many of your menu bar icons under one icon that you then click to get another smaller menu bar underneath it. I live it and it is super configurable-you determine which menu bar icons go into the bartender bar and which remain in the main menu bar including system menu bar items. You can also choose to have any of the menu bar icons automatically move from the bartender bar to the main menu bar when the are active such as Dropbox doing a sync and then it will return to the bartender bar.

Motion seconded regarding Bartender. There are a lot of great apps that want a chunk of menubar space, but don't really need to be around often or at all. Bartender makes it a snap to configure whether any app's icon is shown 1) on the main menu bar, 2) hidden away in a "sub menubar" accessible by clicking on Bartender's icon, or 3) not shown at all, even if the app in question doesn't have a built-in option for hiding its icon. Now the only icons on my menubar are those that I access regularly or provide useful visual information. Everything else uses one of the hiding options to keep the menubar a bit more tidy. [Disclaimer: I have no relationship with Bartender's makers, just a very satisfied customer. -J]

Thirded on Bartender - superb app that allows a lot of control.

Great list Peter.. I tried Crashplan.. I liked it fundamentally, but between my Dropbox and Time Machine; I thought adding Crashplan was overkill for me.. Plus I'm concerned with having to many 'internet of things' reaching out and killing battery while on the move.. though I think Crashplan lets you stop backups if on battery? Can't remember. I know these don't live on the menu bar, or even on the Dock, they are silent runners that assist with productivity and backups... Not sure if iMore has covered some silent running tools for OS X.. TimeMachineScheduler: Hourly TM backups can be overkill with Time Machine. TimeMachineScheduler lets you schedule Time Machine for daily or weekly backups.. It even lets you define if backups can happen only on LAN or WiFI or both. Very nice, especially since when on a LAN you're likely plugged in and on WiFI you tend to be on battery and don't want Time Machine killing your battery doing backups. XtraFinder: I love this one.. lets you customize your Finder Window. Give Finder Tabs a Chrome tab look, Automatically adjust width of column names, hide dot files on desktop, allow for true cut & paste, add more options to the right context menu such as open a terminal window or create new files. TinkerTool: A must for those that want to customize finder, dock, desktop and other hidden features of OS X!

Space Monkey! When they deliver the Kickstarter version to Europe that is.. :)
I have Skitch in there too. And because of it I started using Evernote too. Quite handy I must admit. Great list Peter. Do you use the Leap Motion for non- gamer stuff? (Browsing the web / presentation slides and such) I'm kind of hoping iMore is going to review Space Monkey.
49 USD / Year for 1 TB (1000 GB) after purchasing the drive for 199
It may be an alternative for your Crashplan / Sugarsync combo solution Peter. Talking about backup solutions: I wonder why one can't backup an iPad to a Time Capsule (without using a Mac)?

Interesting question. I'm already backing up my iPad to iCloud, so I hadn't thought too much about it.

Use most of the same stuff, except SugarSync and Crashplan (my backup consists of TimeMachine to TimeCapsule, a weekly CCC clone to an external disk, and all data going to our corporate server via ChronoSync in addition). No need for Airspace or Flint. In addition I use Bartender (a great utility to hide menu bar icons in a tray), Yoink (a little tool that helps to drag content across screens and spaces), Living Earth (weather and world time), Clips (a multi-clipboard tool). I also have OmniPresence (to make docs from various Omnigroup apps available across Macs and iOS devices), Transmit (FTP and WebDAV), ChronoSync and AirServer in the menu bar. I did replace the standard clock and battery display with the ones provided by iStat Menus. (All on the 15" Retina MBP.)

Porn? Sent from the iMore App

You guys should consider moving away from Campfire and use Hipchat instead. Hipchat not only has group chat, but also one-on-one chat, and one-on-one video and screen sharing.

A must for me is Rescue time and BetterSnapTool to immediately snap windows for multitasking side by side.

Well I don't know where to begin I'am a complete newbie I just got my very first "15 Mac book pro on friday. Ive always used windows because thats what was around me but curiosity and this site has got me interested. Im making my way around but there is definitely a learning curve. Thanks for your great articles and podcasts it helps newbies like me. I can use all the tips and tricks you guys got.

I have not setup a back up solution yet. I will check into a time capsule.

TextExpander used to be a favorite, but $34.95 is pretty expensive. Nowadays I'm using the excellent aText, which brings you all the coolness & functionality of TE but costs just $5. Has a very responsive developer too. Another favorite: Boom, a $7 utility that radically improves the sound (& volume) of the Mac (desktops and laptops). A more recent addition is Minbox, a tool that lets you send big (as in: GB's) files to whoever needs them. Kindalike Dropbox on steroids. Fast, Free and a joy to use. Also: for anyone who travels or for anyone who wants to see stuff that is 'not available' for your country, there's Cloak. Cloak is VPN software that automatically secures your internet activities whenever you're not on your own network. Essential if you do a lot of work on public wifi-services. Very easy to use, and very reasonably priced.

FreeSpace, a $1 app that shows the hard disk space available on the bar. Dead simple. Just works. Can see multiple drives at the same time. I am a video editor so its very handy. It even pops notification when I eject my drive. Don't know why Apple missed this important feature at the first place.

Dropbox? Really? In the age of Snowden revelations you're gonna use Dropbox, a service that will likely cave to any Government demands. I hope at least you encrypt the files you give to Dropbox (and thus the NSA). Since you recommend Dropbox I'm gonna assume the rest of your recommendations are infected as well. http://lifehacker.com/should-i-use-bittorrent-sync-instead-of-dropbox-15...

Well, first of all it depends on what kind of solution you need. BitTorrent Sync does not store anything in the cloud, so it is no solution for mobile access and to overcome storage limitations. All the talk about encryption is great (as far as it raises awareness), but as long as truly safe encryption technology is not an integral part of any mainstream OS, it is a pipe dream for most regular users. Can I open an encrypted file in any mobile app? Does any OS come with built in support for at least encrypted email and cloud storage? How user-friendly are available commercial and open encryption packages, and, even worse, how long does it take for them to be updated after an OS update? Answer 1: they are as convoluted and cryptic as possible. Answer 2: using a solution like Open PGP I would sometimes have no access at all to my email for months after an OS update. As long as the major OS makers (MS, Apple and Google) do not step up and make such a technology standard, it will not be available / usable for 99%+ of users out there. How people who choose "secret" or "1234" as their password would be better at protecting their private keys... I can't see. Any solution is not "infected" or per se bad, because governments worldwide abuse it, the same agencies where opening letters and tapping phone lines for decades. That did not stop anybody from using these means.

Jumpcut is a app provides access to all your clipboard history . is free to get Posted via the Android iMore App!

Tranny Porn?? Sent from the iMore App

I use a date/time replacement called Day-O that gives me a small drop-down calendar and allows me to more closely display what I want to see. It does not have iCal or other calendar information, but if you ever need to determine something like "what is the 2nd Thursday of the month" this is handy. shauninman.com search for Day-O

Have you tried Viber as an alternative to Skype?
Thank you for signing up to iMore. You will receive a verification email shortly.
There was a problem. Please refresh the page and try again.