Why doesn't Wi-Fi calling work on the iPhone 5?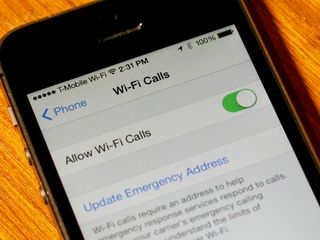 iOS 8 was released on September 17th and millions of iOS device users upgraded. That included iPhone 5 owners on T-Mobile who hoped to use Wi-Fi calling, only to find out their phones aren't supported. What's going on?
What's Wi-Fi calling?
Wi-Fi calling enables the iPhone to make and receive phone calls over Wi-Fi, instead of having to depend on a signal from a nearby cell tower. For many T-Mobile customers this is a godsend; the company's cell network does a notoriously poor job of penetrating buildings and working in rural areas, because of the GSM radio frequencies T-Mobile uses.
Wi-Fi calling has been supported by other non-iOS smartphones sold by T-Mobile for some time, but with the addition of the feature to the iPhone, T-Mobile has upped the stakes: It's begun advertising Wi-Fi calling heavily, and says all the smartphones it currently sells supports the feature. T-Mobile has even started offering a "Personal CellSpot" device — a 802.11ac Wi-Fi router especially enhanced to prioritize Wi-Fi calls — to customers looking to maximize their call quality.
Wi-Fi calling is also coming to customers of EE in the U.K. It's coming to other carriers too, but T-Mobile is the first to offer the feature.
Disappearing feature
Wi-Fi calling works on the iPhone 5c, 5s, iPhone 6, and iPhone 6 Plus, but the iPhone 5 has been left out. Left out, that is, of the general public release of iOS 8. Because Wi-Fi calling worked on the iPhone 5, for T-Mobile customers who had access to iOS 8 betas.
Wi-Fi calling was added to iOS 8 beta 3, which was released in early July. Between then and now, Apple removed Wi-Fi calling support in iOS 8 for the iPhone 5 model. The iPhone 5 is the first iPhone model T-Mobile sold and officially supported.
Adding to T-Mobile users' frustration is that their customer service and tech support staff routinely told them both before and after iOS 8's release that the iPhone 5 did support Wi-Fi calling. In fact, I verified this: Earlier this week I called T-Mobile customer service and tech help. When I inquired about Wi-Fi calling, reps in both departments assured me the iPhone 5 was supported. There was also widespread confusion about this on T-Mobile's support forums.
Apple has posted a Knowledgebase article explaining Wi-Fi calling in greater detail. No mention is made of the iPhone 5 anywhere in the document.
I asked T-Mobile PR for an explanation. Here's what they had to say.
But why?
We're unlikely to get a straight answer from anyone on the record about why Wi-Fi calling doesn't work with the iPhone 5 in the public release of iOS 8. I am reluctant to speculate too wildly about what happened between iOS 8 beta 3 and now. Sometimes features and functionality are exposed in beta software that don't make it into the final release, for whatever reason.
What's more, T-Mobile came on board with the iPhone more than mid-way through the iPhone 5's run — Apple updated the iPhone 5 with support for T-Mobile's network shortly before the iPhone 5 went on sale at T-Mobile stores in April, 2013. (I've written before about the hoops I had to jump through to get my iPhone 5 working right on T-Mobile's network.)
I don't want to call the iPhone 5 an edge case for T-Mobile, but I suspect its population of iPhone 5 users is significantly smaller than users of more recent models which do support Wi-Fi calling.
Bottom line
As it stands now, if you're on T-Mobile and want to use Wi-Fi calling, you'll need an iPhone 5C or later, plain and simple. So if you have an iPhone 5, it's one incentive to upgrade to a newer model.
Even though you can't get Wi-Fi calling to work on your iPhone 5, T-Mobile may be willing to work with you in other ways to improve your indoor reception. They offer a 4G LTE booster that can dramatically improve reception in your house, for example — I've used one for months (with an iPhone 5S and iPhone 5), and I went from one spotty bar in the house to four solid bars most of the time.
Are you an iPhone 5 user on T-Mobile? Frustrated by the lack of Wi-Fi calling? Using this as an excuse to upgrade? Sound off in the comments!
Master your iPhone in minutes
iMore offers spot-on advice and guidance from our team of experts, with decades of Apple device experience to lean on. Learn more with iMore!