T-Mobile's Personal CellSpot, Wi-Fi Calling, and 4G LTE Booster explained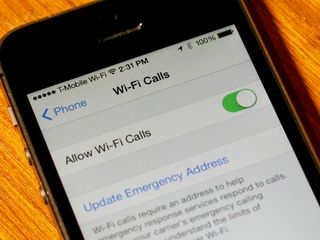 T-Mobile has done a lot to improve their US wireless network in the past year and a half. Unfortunately, T-Mobile coverage indoors still stinks in many homes. T-Mo has come up with a few creative ways to help: Wi-Fi Calling, T-Mobile's 4G LTE Signal Booster and their newest device, the Personal CellSpot. If you're confused about the differences between these or which is the best solution for you, read on.
Wi-Fi Calling
With Wi-Fi Calling, your cell phone sends voice data over your Wi-Fi network to T-Mobile via the Internet, which treats that data like voice packets coming over a cell tower antenna. So wherever you get Wi-Fi on your phone, you can also talk — even if you don't have a cell signal.
T-Mobile's the first carrier in the United States to offer Wi-Fi Calling to iPhone users (AT&T says it'll bring Wi-Fi Calling online next year). T-Mobile has offered Wi-Fi Calling for a good long time for Android users, but it's debuting with Apple products with the introduction of iOS 8, so you don't need an iPhone 6 or iPhone 6 Plus in order to use it.
4G LTE Booster
If you live in an area with spotty coverage but you can get at least one bar of 4G service somewhere in your home and you're a postpaid T-Mobile customer, you may qualify to receive (at no cost to you) what T-Mobile calls a 4G LTE Booster. Give T-Mobile a call to find out if you qualify.
The 4G LTE Booster is in two pieces: There's a window unit that latches on to the available cellular signal, and a coverage unit that you place somewhere else in the house. When both are active, they boost the existing cellular signal.
You don't have to connect the 4G LTE Booster to your Wi-Fi network (unlike with T-Mobile's Personal CellSpot or AT&T's similar device, the MicroCell), and there's no web interface needed to set it up or allow calls. You plug it in and it simply works.
T-Mobile's offered a couple of different kinds of these boosters; I've had one of these for a few months, and it works fantastically well. I went from lots of dropped calls in my house or "Call Failed" messages to four bars of coverage almost all the time.
Personal CellSpot
Announced recently at T-Mobile's "Uncarrier 7.0" event, the Personal CellSpot is T-Mobile's latest effort to improve coverage in your house. It's available starting this week. Unlike the 4G LTE Booster, the Personal CellSpot doesn't do anything to improve your actual cell coverage. It's optimized for Wi-Fi Calling, specifically.
Wi-Fi Calling works with any Wi-Fi router, but what's different about the CellSpot Booster is that it's been designed to prioritize voice traffic over "regular" network data. The idea is that even if you're using your Wi-Fi network for other stuff - transferring files, streaming videos from Netflix, playing games or whatever, when you get a call, it's going to be crystal-clear, without any sort of distortion or low quality.
Unlike the 4G LTE Booster, the Personal CellSpot does cost money - it's a $25 deposit. Also, pre-paid customers can get one, but they'll pay $99 for the privilege.
Who should use Wi-Fi Calling?
If you're upgrading to iOS 8, or if you're buying a new iPhone 6 or iPhone 6 Plus, it makes sense to give Wi-Fi Calling a try and see how you like it. It doesn't require you to make any changes to your network and provide you with a practical way to stay in touch even if you can't get a cell signal where you are.
Who should use a 4G LTE Booster?
If you have at least one bar of 4G coverage somewhere in your home and you're a T-Mobile postpaid customer (in other words, you're on their Simple Choice plan or another plan that doesn't require you to pre-pay each month), you may be eligible to receive one of these devices. And I can tell you from experience that it just works.
If you don't control your home Wi-Fi network or you have no intention of upgrading to iOS 8 — or if you just don't want to use Wi-Fi Calling, for whatever reason, the 4G LTE Booster will be your best bet.
Who should use the Personal CellSpot?
If you're already using Wi-Fi Calling and you've noticed that call quality is spotty — maybe people can't hear you right, or there's distortion when you speak — then the Personal CellSpot may smooth out your local networking issues enough to provide you with a better experience. Just remember that you have to pay a $25 deposit (or pay for it outright if you're a prepaid customer).
The Bottom Line
One final note: T-Mobile tells me it will work with customers to get them either the 4G LTE Booster or the Personal CellSpot, but not both. So take your pick: Better actual 4G LTE coverage, or prioritized Wi-Fi Calling traffic. But not both.
Are you a T-Mobile customer looking for better indoor coverage? Are you fed up with dropped calls or no signal indoors? Are you going to give Wi-Fi Calling a try, or does one of these hardware solutions look like a better plan? Sound off in the comments!
Peter... It's important to note, that while iPhone 5 and 5s can do wifi calling.. Only the 6 and 6 Plus will do handoff from LTE/HSPA to WiFi and back again.. The 5 and 5s will NOT hand off and if you leave the area you had a WiFi call going; it will cut it off and you'll need to call the person back.. So while it works with the older phones, it's not as smooth as with the new phones.

Not sure what they did different.. probably something firmware wise to allow it to handoff from WiFi to Cell tower and back that 5 and 5s do not have.

iPhone 5 is unable to do WiFi calling.. only the 5S is capable of wifi calling.

Ahh, though it was able too. I have a 5s, and does work, and a 6 Plus on order.. Soo eager to get my hands on it.. supposedly tomorrow. :D

I got a 5 and disappointed wifi calling does not work.. also have the 6 plus on order.

I'm a new T-Mobile customer and am I'm torn between getting the 4G LTE Booster and the Cellspot to help my poor home coverage. I already have a good home wifi network though so I'm leaning toward the booster. Sent from the iMore App

Peter - excellent work on explanation!! I have recently relocated from NYC Metro with exceptional T-Mobile service to a more "remote" area in the SouthEast and have struggled with what to do. Just ordered my personal CellSpot now as voice is critical for me inside my home office and can ride wifi for data. Thanks again!!

Does anyone have the QoS settings for the TMO CellSpot? I already have the same router they are offering (Asus RT-AC68U aka AC1900). Thanks.

Thanks, this cleared everything up immensely

Good thing there is a 4G, LTE Booster for those of us who have the iPhone 5. The older boosters only boosted the 4G signal, and now there will be a 4GLTE boost. Another cool feature on the Cellspot wifi calling device, is the smooth handoff. The iPhone 6 and 6 Plus will be the best, when it comes to leaving the wifi zone to the cellular. So no more dropped calls when leaving wifi. Also, the router will have a coverage of 3,000 ft., instead of most personal routers who will only allow you to go 15 ft out of range.
Thank you for signing up to iMore. You will receive a verification email shortly.
There was a problem. Please refresh the page and try again.