Why I'm sticking with the 12.9-inch iPad Pro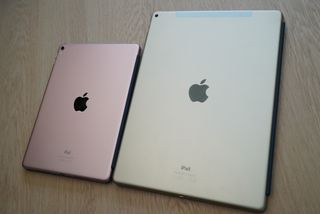 I'm sure I wasn't the only iPad Pro owner watching Apple's March event with some amount of horror at this suddenly-obsolete four-month-old device I found myself typing on. While not as bad as the time Apple upgraded the iPad's internals after just six months, it was a little disheartening.
"Wait, I thought I bought the Pro. The best iPad. And now this little 9.7-inch upstart has a better screen, better screen technology, better radios, a better camera system... and up to 256GB for storage?!"
Yesterday's Serenity might have had too much caffeine and not enough food, but her heart was in the right place. I love my 12.9-inch iPad Pro. I draw on it almost every day, and I used it to cover Monday's event. To see it somewhat upstaged by a smaller, cheaper model, only months after its release... that's a hard blow to take.
But after having some time to sleep on it, I don't feel nearly so disheartened.
The baby Pro is pretty great
Yes, the 9.7-inch Pro is the 12.9-inch iPad Pro's internal equal in many ways, and betters it when it comes to display technology. Apple's True Tone technology has the potential to radically change how our eyes (and brains) look at screens, and given how much reading and watching users do on smaller tablets, the 9.7-inch model is a great testing ground. The fact that it also gets the 4K iMac's expanded DCI-P3 color space is understandable; while I'm a bit grumpy not to have it on my 12.9-inch model, again, users are likely to view more videos on a smaller iPad, and the DCI-P3 color space was optimized around digital movie projection.
The camera improvements are certainly impressive, and while I can be envious that the tiny iPad has a better system... I don't really need 4K video or a 12-megapixel sensor on my 12.9-inch Pro. I have used this thing to take a photo precisely twice in its life span: Once to get a drawing reference, and once to snap some tablature before using my iPad as sheet music for a Breakpoints Jam.
It hurts me to think of people using iPads as cameras, but my iMore colleague Daniel Bader pointed out, rightfully, that the 9.7-inch iPad makes for a great scouting tool when it comes to planning a video shoot; the 12.9-inch iPad is a little big and a little clunky for such matters. I'm praying we don't see a bunch of 10-inch iPad screens turn into people's primary digital camera, but I also understand the appeal of a big viewscreen, and instant photo editing.
But pros, take heart
Despite these improvements, however, I don't think my 12.9-inch iPad Pro has anything to fear. I need a tablet that can also serve as a portable computer for my professional work: My current iPad Pro does this. The 9.7-inch model isn't going to be quite up to snuff.
First off, while the smaller iPad borrows a great deal of its internals from the 12.9-inch Pro, it doesn't steal everything. The biggest omission? The baby Pro has just 2GB of RAM, as first reported by TechCrunch's Matthew Panzarino and confirmed by iMore. To quote a great commercial: I don't always need my iPad's 4GB of RAM, but when I do, that 2GB limit will be a pretty frustrating wall to hit.
There's also the matter of charging and connection speeds: The big iPad Pro supports USB 3, which not only offers faster transfer speeds for items like photographs, but users will soon be able to quick-charge their 12.9-inch iPad Pro with Apple's 29W USB-C charger and a USB-C-to-Lightning cable; in contrast, the normal iPad Pro charger juices up your tablet at just 12W.
The 9.7-inch iPad Pro is limited to USB 2 — not a bad transfer speed, by any means, but not nearly as useful as USB 3 to a pro-level workflow.
Why would Apple omit these features in the the smaller Pro? Pricing is likely a major factor, but I'd also peg internal space being a potential issue: The 9.7-inch tablet still needs the majority of its space to achieve a solid 10-hour battery life, and it already had to sacrifice some internal storage for the speaker system and Smart Connector. It could just be that Apple's decided to differentiate the Pro line the same way it differentiates laptops: Slightly faster speeds, more RAM, and better ports.
Big screen, big heart
Whatever the behind-the-scenes reason, it's provided me with my own reasoning for keeping my 12.9-inch iPad Pro: If I'm going to keep on experimenting with Apple's tablet as my main laptop, it needs to have the power I need from a laptop.
There are other points of interest, of course. For one, I've come to love the large canvas when drawing with the Pencil; while I've drawn on 9.7-inch iPads for years and I'm sure I could readjust to the smaller screen, there's something very freeing about knowing I won't have to zoom in on my canvas as often as I might with another tablet. That large screen also provides a wonderful window for Split View, which I use daily in my workflow.
I am a little skeptical about the baby Pro's Smart Keyboard: I haven't gotten to type on one yet, but given the gigantic Logitech Create keyboard I've chosen to lug around with my bigger Pro, I suspect I'd end up feeling very cramped.
There's room for both
The 9.7-inch iPad Pro may not be the tablet for me, but I'm still glad it exists: It's going to make a lot of older iPad users very happy, and a lot of artists jump for joy at the prospect of using a Pencil with a device under $1000. With something like Astropad, budding artists can get a state-of-the-art pressure-sensitive second display for their Mac for under $700. As a teenager, I would have flipped to be able to take advantage of that possibility. As an adult, I have the means and the needs for a bigger screen and more powerful technology.
Master your iPhone in minutes
iMore offers spot-on advice and guidance from our team of experts, with decades of Apple device experience to lean on. Learn more with iMore!
Serenity was formerly the Managing Editor at iMore, and now works for Apple. She's been talking, writing about, and tinkering with Apple products since she was old enough to double-click. In her spare time, she sketches, sings, and in her secret superhero life, plays roller derby. Follow her on Twitter @settern.