Writedown is a new and beautiful, if restricted, Markdown editor for iPhone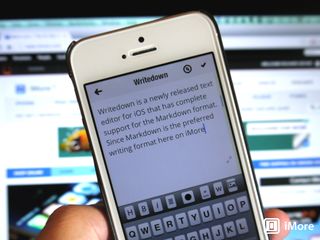 Writedown is a newly released text editor for the iPhone and iPod touch that also has complete support for the Markdown format. Since Markdown is the preferred writing tool here on iMore, we're always keen to check out interesting looking new clients. Writedown is the project of Nguyen Vinh, and has seen some success over in Vietnam already. It looks great, and has some really nice features within that make it well worth a look, but at the same time it's pretty restricted as well.
Perhaps my favorite thing about Writedown is the pull-out Markdown crib-sheet. A simple swipe in from the right brings out a handy guide to the most common syntax that you'll need to put together a perfectly formatted Markdown document. Also of note is the cursor button, allowing you to scroll around documents with ease instead of jabbing your finger at the screen trying – and failing – to hit the right spot. It's beautifully designed, and won't look at all out of place in an iOS 7 world, and there's a bunch of customization features including a dark theme.
Textexpander support is also included, which makes Writedown a real production machine. Cloud syncing is taken care of via Dropbox, Google Drive or Evernote – no iCloud – and there's a whole heap of other apps that you can open your Writedown documents in as well as exporting to print, email and pdf.
So, a lot to like, but sadly some massively restricting areas that prevent this being the productivity tool of your dreams. Firstly, while hopefully just a bug to get worked out, if you leave the app and then come back in to carry on, the text in your document seems to magically disappear. Secondly, there doesn't seem to be an option to edit notes you've already created, again unless there's some bugs that need working out. I hope it's the latter.
Writedown has masses of potential, and some really nice features that make it worth taking a look at, but in greater amounts some frustratingly restrictive aspects. Hopefully the developer keeps up the hard work, because underneath the kinks, there's a great app waiting to get out.
Looks like a rip-off of http://writeapp.net Specially the cursor!

If you see the description in Git UDTrackball is based on Write. Besides, Auto full screen writing toggle, long press Quick look, and some other unique features are a direct copy from Write.

with an app icon that is eerily reminiscent of the old icon for Drafts app. That cursor innovation is the best thing writeapp did, it's genius. I find it hard to imagine what this app could have done that improved it.

There is a bug that the cell accessory button is rather small to be tapable, but I'm working on it now. Update version will be submitted and released very soon, so please stay tuned!

Dear iMore readers, I think I have to say something concerning about this. I DO respect Tanmays, he is a very talented developer in our community without any doubt and his app 'Write' is the best of its kind. It has many advanced features, especially the trackball cursor he implemented in it is purely genius. And 'Write' is far from what I can archive. When first developing WriteDown, from late last year, I just found out there's a control which is open sourced on GitHub by Uwe Dauernheim (you can search for it at Github.com), which also mentioned to 'Write' by Tanmays. Without it I could never ever really implement it. > Write app for the innovative inspiration for and first-time appearance of this component. For clarity, I took inspiration from those great writing apps when I create WriteDown. It's like my own son. And for the icon, the 'D |' (D uppercase letter and and caret) is what popped up in my mind when thinking about the app icon. 'D' stands for Down, in Markdown and my app name 'WriteDown'. I think when user looks into it, he/she will know this is a text editor (with the caret), and support Markdown (D). I hope this would make for clarity not confusion. If you have any further question, please send me an email vinhnguyen2308 at gmail dot com or tweet me at @vinhnx. I'm very happy to answer you regarding anything about WriteDown. Thank you for reading! Best Regards,
Vinh Nguyen
Thank you for signing up to iMore. You will receive a verification email shortly.
There was a problem. Please refresh the page and try again.