Xfinity Mobile customers to be limited to 480p streaming, 600Kbps hotspot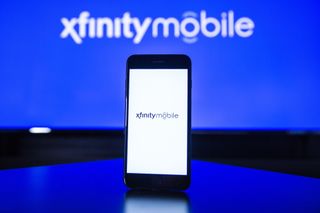 Xfinity Mobile, Comcast's MVNO that's powered by Verizon's network, is about to get some new restrictions. Subscribers of the service are now getting emails from Comcast informing them about the changes, and they have to do with video streaming and mobile hotspot speeds.
As it currently stands, videos you stream using your Xfinity Mobile data are presented in 720p HD. Starting soon, however, the resolution will be lowered to 480p SD.
Customers can reach out to Comcast and request to be upgraded to 720p for free (Comcast is marketing this as a way to help people use less data and save on their monthly bills) but it will eventually transition to a paid upgrade later in the year.
This is something we see with just about every carrier in the U.S., but the changes to mobile hotspot use is a bit more damning. Instead of your regular 4G hotspot speeds, Comcast is throttling these to a measly 600Kbps.
While the video streaming change applies to all Xfinity Mobile subscribers, the slower hotspot speeds are only going into effect for those on the unlimited plan. If you pay by the gig, Comcast is more than happy to let you go through your $12/GB data as fast as possible.
If you're an Xfinity Mobile customer, what do you think about these changes?
When Joe isn't acting as the News Editor for Android Central, he can be found helping out with articles here and there at iMore. He was last spotted at Starbucks surrounded by peppermint mochas. Have a tip? Send an email to joe.maring@mobilenations.com!
I just got an ad in the mail today for this service and thought "wow, Comcast finally got the hint, after years of me throwing them in the trash, that maybe they shouldn't try to sell me cable/phone/security services". Seeing all of these ridiculous limitations has shown me that it's not, at all, something I'm going to be interested in. I'm not an Xfinity Mobile customer, and given this article, I won't be. That, and I live in downtown Philadelphia, and there's almost always free wifi anywhere that I'd want it--even clothing stores.

Yea, so you can get your information stolen on those insecure WiFi networks.

Every time I see post like these I gotta laugh. You gotta be ****** stupid to be checking your sensitive info on public WiFi. Look, not saying I disagree with your statement, but if someone makes a decision to look at their sensitive info on such networks, that's not the networks issue, that's the end user's mistake.

FYI if you're on a HTTPS website, you're fine even if the WiFi network is insecure

I have Xfinity Mobile for one of my lines and would use my phone as a hotspot quite often with great results. This news of limiting it to 600Kbps is a huge step backwards as well as the 480p streaming. Aren't we on the cusp of 5G? Why the severe limiting in this day and age? May as well go back to 3G - at least you know what kind of speeds to expect. Bye, bye Net Neutrality - hello throttling!

Xfinity Mobile runs on the Verizon network and I wouldn't be surprised if this sudden throttling is coming from Verizon themselves. I'm glad I ditched Xfinity Mobile last month. Those are ridiculously slow speeds.

XM was better than Verizon Prepaid for less money. This is probably Verizon's way to rectify that. Verizon has historically had the least attractive MVNOs, so an attractive one like XM was an anomaly.
Get the best of iMore in in your inbox, every day!
Thank you for signing up to iMore. You will receive a verification email shortly.
There was a problem. Please refresh the page and try again.