You can now use your Gmail account within Yahoo Mail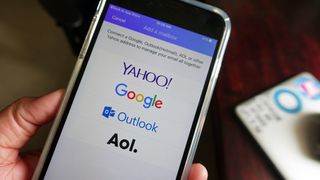 After adding support for third-party email clients Hotmail, Outlook and AOL earlier this year, Yahoo has announced that starting today, you will be able to access your Gmail account from within Yahoo Mail. Yahoo mentions that you'll be able to access your entire Gmail archive, with attachments included, and not just the last 200 emails. You can even search through all connected mailboxes from a single location.
Here's what you can do with the latest addition to Yahoo Mail:
Sign in, Password Free: With Yahoo Account Key on mobile, you no longer have to memorize complicated passwords. Account Key makes signing in to your Yahoo account as easy as tapping a button.
Compose Engaging Emails: Easily add photos and videos with the new Yahoo Mail app. Or, try the new compose feature on desktop to find and add not only photos and videos, but also GIFs, files and links too. Just click on the "+" sign when composing a new message.
Search Smarter: Find what you need quickly with our search results pages that not only display relevant messages but also files and photos from all your connected mailboxes.
Access Contacts Across Your Mailboxes: Our intelligent contacts manager, powered by Xobni technology, makes suggestions for who you should email based on your habits. Yahoo Mail also displays contact cards that include information you may need about someone (i.e. email addresses, phone numbers, social media info, email history and more).
If you're interested in taking a look, head to the link below to download Yahoo Mail.
Source: Yahoo
Get the best of iMore in in your inbox, every day!
The clumsiest man in tech.
Problem is there is no unified inbox for multiple accounts yet in yahoo mail app. Not even for their own emails. You need to separately tap your accounts, yahoo or gmail , to view the inbox rather than one unified all accounts inbox. Major bummer! Sent from the iMore App

It requires that you make a yahoo email though. I would jump in but I don't want to make another email account. http://www.irepairsandiego.net

I never understood the fascination w 3rd party email clients on the iPhone. The stock email app in iOS handles all these accounts, does IMAP, has the "slide to delete/archive/flag" , conversation view, push delivery, single consolidated inbox for all my email accounts, yadda yadda ... I installed the native apps for Gmail, Yahoo etc but never bothered using them.

No push for Gmail. I use Google suite for work and need push notifications. Sent from the iMore App

Just downloaded it. "Add another mailbox" is not in the menu like it shows on the video. Sent from the iMore App

This is also the first time I've seen Yahoo allow access to Yahoo Small Business (Aabaco) accounts. Sent from the iMore App

And there also sponsored ads showing up in the mail list. Ugh! Sent from the iMore App

Same as alokeprasad said - what's the point - just use the iOS email. Job done. Sent from the iMore App
Thank you for signing up to iMore. You will receive a verification email shortly.
There was a problem. Please refresh the page and try again.