youVerify for iPhone helps reassure buyers that your items are the real deal, not a scam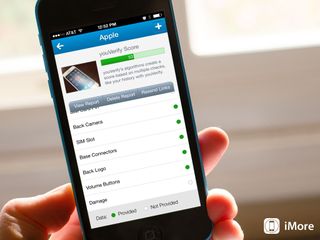 youVerify is a new app for iPhone that aims to help reassure buyers that sellers aren't just trying to scam them. Anyone that's ever dealt with selling electronics on eBay or Craigslist is probably well aware of how many scammers there are out there. youVerify works by verifying not only you, but the products you're trying to sell. In turn, buyers can be confident that your items are what they say they are.
Upon first downloading youVerify, you are asked to create a profile. You're asked for basic information such as name, address, phone, and so on. You are also asked to link your Facebook and LinkedIn profiles. These aren't shown to buyers but used to verify that you are who you say you are.
After you've completed profile registration, you can then start verifying your items with youVerify. Just search for the item you're trying to sell and you'll be asked to take a series of photos of them. youVerify will provide examples of what kinds of photos are acceptable. After you're done, youVerify will check the authenticity of your photos and email you a link to your youVerify report.
After you've got your report, you can embed it into any Craigslist, eBay, or any other kind of ad. A buyer can then check out your youVerify report by clicking on it. They can also get some information about you as well which adds an additional layer of peace of mind.
One thing I've noticed about youVerify is that there isn't a huge catalog of items yet which greatly limits its usefulness. I'm hoping it's updated regularly, especially with electronics since those are hot items for scammers to target.
The good
Great concept that could be very useful if it takes off
Profiles and items for sale are easy to verify and manage
No personal information from your social networks will appear to potential buyers, they'll only know you verified yourself
The bad
Product catalog is extremely limited at this time
youVerify scores will suffer greatly for people that don't have social networks
It isn't widely adapted just yet, it's a barrier the company is going to have to overcome to really gain traction
The bottom line
youVerify is an awesome idea and I really hope the creators can pull it off. My recent encounters with eBay have made me very hesitant to use the service for high dollar electronics as listings lately seem to attract more scammers than they do actual buyers. Unfortunately, for this kind of service to take off, a lot of users are going to have to back it in order for it to really gain traction and credibility.
If this is something you'd be interested in, be sure to check out the youVerify app. Have you seen any youVerify reports floating around on the internet yet? Be sure to let us know in the comments!
Get the best of iMore in in your inbox, every day!
iMore senior editor from 2011 to 2015.
This is great a couple of my friends got scammed on eBay trying to buy an iPhone 5. The pics looked legit, the guy have 100% good customer feedback and everything but when my friend got the iPhone 5 in the mail it was a dummy version and of course he was angry. The guy was prosecuted but my friend never got his money back. I think this app will bring a new standard to buying things online for unknown sellers. Sent from the iMore App

Thanks for the support Applelex. It was because so many of our friends got scammed too that we decided to try and do something to help.

that is impossible, unless your friend is a complete moron. once any seller seller starts to sell a certain amount of highly counterfeited items - ebay puts a hold on the account and makes the seller verify where they obtain their items....so your friend must have purchased from someone that was obviously brand new with very little feedback. all ebay purchases are backed by both ebay and paypal - so once a claim is opened your friend would have very easily gotten his money back. even if someone gets a counterfeit item on ebay - which is pretty easy to avoid by not being a total pasty, every transaction is covered as long the buyer returns the item. ebay gets a bad rap...they are not there to play daddy. if you use common sense, it's a very safe place to shop.

I think this is great! I have purchased items from eBay that turned out to be a fake. I was able to return and get my money back, but the time and frustration of dealing with these type of scammers. Must have! Sent from the iMore App

Thanks asuperstarr. Indeed it can be a time and hassle resolving these issues. And that's just on the platforms that do cover buyers. You would be shocked at how many newer sales platforms and auction sites don't have measures in place to protect against counterfeits, or any terms and conditions to help resolve the issue once it occurs.

I really hope this concept takes off since it can help reduce the possibility of a scam for online transactions. It's safe to say that a lot of us have dealt with this kind of experience and it stings. Though they still need to make some tune ups with some of the procedures like linking your social network profile, I don't think the extra steps will be too much of a hassle for legit sellers since this may mean more buyers for them. And this is great for buyers for that extra peace of mind. Sent from the iMore App

Thanks ZDN1042. That's exactly what we are trying to do - allow online buyers to make a more informed purchasing decision.

This idea is fantastic. Truly. I hope other agree and support this to make a more robust system.
Too bad they don't make an anti-spam app for email - an app that transmits an MI:6 message back to their computer. Sent from the iMore App

Thanks for the support becjr

This is NO GOOD! Who thought of this!!! This is a solution where there is no problem. I've never heard of a buyer on eBay getting scammed. Buyer is protected 100%. Craigslist you need be cautious and meet in a public place with cameras. The seller is the one that needs protection. That's what's needs to be solved!!! Not this! Someone needs to come up a a system where I can sell my product and not have the buyer claim it was not in the box, it's not working, DOA, ...etc and then do a charge back. Its a scam many buyers on eBay pull this scam to trade there defective items for working ones. eBay has never cared to fix this problem to help sellers.

Hi Wolfmore, my co-founder and i thought of it. Too many people are still getting caught out and we just wanted to try and help buyers and sellers be more transparent.
Yes eBay does offer some protection but as you point out many other platforms don't.
And part of the problem is that people don't even know what to look for to even identify if a product is genuine or fake. We try and help educate them about this as brands and platforms don't. I hear you re the Seller protection problem too. We didn't design youVerify to help directly solve this problem but because the photographs taken by the seller have to be done so using the app, and are time, date and location stamped, we hope sellers use the report as evidence when it comes to disputes about visible condition of an item.

I read this review the other day then came across a person using it in their asos sales post for jimmy choos last night: https://marketplace. asos. com/listing/shoes/black-size-4-jimmy-choo-buckle-stiletto-heeled-shoes/1140917 I can't afford them, but if I could, comparing those photos really helps my confidence. Good luck youverify!!
Thank you for signing up to iMore. You will receive a verification email shortly.
There was a problem. Please refresh the page and try again.