5 great smart hubs to connect your home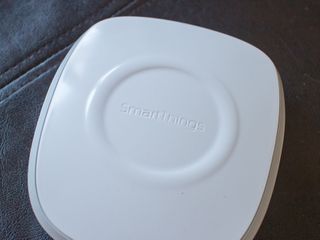 There's no denying that smart homes are becoming more than just a fad — proving that there is money to be saved over time when it comes to products like WiFi thermostats and automated home lighting. To control your new pimped-out pad you'll need a smart hub that makes managing all that intelligence quick and easy from your iPhone.
If you're ready to take the plunge, sift through these 5 smart hubs we've selected to get a bit more insight on how you can incorporate them into your home and lifestyle.
READ NOW: 5 great smart hubs to connect your home
SmartThings Hub
Buy the SmartThings Hub (opens in new tab)
Compatible with hundreds of Z-wave, ZigBee and WiFi-smart products, the SmartThings Hub uses a free iOS/Android app to connect-to and manage your smart home products straight from your device. Currently, this particular smart hub is the most popular and universal choice to roll with for any smart home, especially those using Z-wave products found at most Lowes and Home Depot stores.
You can get the SmartThings Hub either as a standalone unit (opens in new tab) ($99), or as a complete starter kit (opens in new tab) ($299) that includes a couple door sensors, motion sensor, smart outlet and presence sensor. The corresponding app has come a long way since its initial launch, and continues to improve as more devices pack compatibility. On the Apple side, HomeKit compatibility is on the way. Definitely a great smart hub for both beginners and seasoned smart home owners.
Logitech Harmony Home Hub
Buy the Harmony Home Hub (opens in new tab)
Logitech's Home Harmony Hub works to connect all your smart devices in your home by sending commands to and from their free Harmony App using WiFi, Bluetooth, or IR signals. Set up and label your favorite devices, whether it be your TV, XBOX, hallway lighting or WiFi thermostat through the app for quick and easy control. It's compatible with a variety of devices such as Philips Hue lighting, Nest thermostats, and even August door locks.
Included with the Harmony Home Hub (opens in new tab) is an IR mini-blaster which can be placed anywhere around your home for controlling multiple devices away from the smart hub. Although Logitech chose not to include an additional blaster, you can utilize up to 2 of these IR mini-blasters on a single hub. Their Harmony App for Android and iOS isn't the most intuitive, especially compared to the SmartThings App, but you are able to control up to 8 home entertainment devices and an unlimited number home automation devices. Currently priced at $99, the Harmony Home Hub is an affordable and viable smart hub for any home.
Insteon Hub Pro
Buy the Insteon Hub Pro (opens in new tab)
With Insteon's Hub Pro (opens in new tab), you not only get control of all your Insteon devices, but HomeKit-enabled devices to boot. Set up specific schedules to automate thermostats, light switches, outlets, and more around your home through the new Insteon+ App which provides a more simplified interface and additional controls. Inside the App, you can now manage Insteon and HomeKit devices alongside each other, whether you're setting up scenes or schedules.
For a little extra fun, you can even use Siri to control your devices with your voice. For taking full advantage of your Insteon home while having handy compatibility with Apple HomeKit technology, the Insteon Hub Pro — priced at $149 — is a safe bet for a variety of smart devices. Sorry Android folks, this one's strictly for devices with iOS 8.1 or later unless you grab the previous model (opens in new tab) which does not include HomeKit compatibility.
Lutron Caseta Wireless Smart Bridge
Buy the Lutron Smart Bridge (opens in new tab)
Using Clear Connect wireless technology, the Lutron Smart Bridge (L-BDG2-WH) works seamlessly with Apple HomeKit, Nest, Logitech Harmony remotes, and certain Honeywell Wi-Fi thermostats through the free Lutron App. Heck, even your Apple Watch can take care of business if you want to get super fancy.
Monitor your Caseta wireless dimmers, Serena remote controlled shades, or simply create scenes that can adjust multiple devices all at once. The Lutron App's "geofencing" feature allows you to set up your lights to turn on/off automatically when you leave or enter your home. While the Lutron Smart Bridge (opens in new tab) is priced at $119, there are a number of Lutron accessories available to add to your home worth checking out.
VeraEdge Home Controller
Buy the VeraEdge Home Controller (opens in new tab)
For managing a home full of Z-Wave or WiFi products, the VeraEdge Home Controller (opens in new tab) is a smart hub worth considering for any user, regardless of technical expertise. The one-touch control of your entire home automation system is a bonus, and their easy to use Android/iOS app provides extensive customization options if you want them.
While the VeraEdge is a little more pricey, $149 to be exact, there's a certain level of control and information that's included you can't get on many other smart hubs of its kind. It even provides smoke detection, security, and energy consumption alerts straight to your iPhone. The only downside of the VeraEdge is that it's not compatible with a wider range of smart devices such as ZigBee or X10, but if you're sticking with Z-Wave products there's nothing to worry about there. Also, if cost is an issue, or you're after a smart hub that works on a smaller scale, you can stick with the VeraLite Home Controller (opens in new tab) and save yourself $50.
Whether you're using one of the smart hubs mentioned here, or a different model that suits your needs just fine, let us know in the comments below. We're interested in hearing how well your current smart hub and its corresponding app is keeping you connected to the smart devices around your home.
Get the best of iMore in in your inbox, every day!
Your friendly neighborhood accessories guru
It seems kind of strange to talk about home automation hubs and not mention HomeKit at all in the article.
SmartThings has announced intent to support HomeKit but no date set.
The Insteon hub supports a wide range of devices and will support HomeKit by the end of this month.

You aren't wrong there! Updated with Insteon and Lutron hubs with HomeKit support.

Won't switching to Homekit involve a new hub in many cases? Seems a bad time to be investing in this, until we know for sure.

There is Wink as well, but Quirky is selling off the Wink business so it's a little shaky to get.. I have the Hub, works great; though they crashed mine a few months back. They were quick to repair it, but that hurt them badly I think in reputation. What I really want is the Wink Relay - It takes the place of a wall switch and gives you a touch screen UI!!
- http://www.wink.com/products/wink-relay-touchscreen-controller/ You see, not everyone should HAVE to carry a smartphone around their home just work your smart home! Right now, this is a MAJOR defect in the smart home methodology right now.. Wink Relays pricing from Wink.com ($299), but Home Depot for $199(in-store) and Amazon carry it for $179 right now. I would jump ship to Smartthings if they would release a touch screen smart hub like Wink Relay! I'd jump on it quick.. Not everyone in the family should be forced to have access to a 'smartphone' all the time. Would be nice to be able to control these things from a few main key points in the home w/o having to drag my phone with my everywhere.

Wink got me hooked with the variety of device support in their software. They had integration with the Nest devices I already owned, as well as novel devices like the Aros air conditioner. I also like their integration with stuff like IFTTT. I got a Wink Relay on sale and really like it. I have schedules setup for most of my smart stuff, and I have "shortcuts" setup for my family for things like 'dim all exterior lights', "all lights on', and 'turn heat to 68'. They don't need the smartphone app for the "do it now" actions because I have the Relay mounted in a main hallway.

My Wink hub is collecting dust ever since I got the Smartthings hub. Was waiting to invest in the Relay, but when Wink bricked my hub, I invested in Smartthings instead and I don't regret it. Smartthings is so much more robust. The truth is, why call it home automation, if you need to operate the home from a physical device? Whether it's Relay or a smart phone, if you need to touch it, it's not home automation. Smartthings can fully automate your home so you don't have to touch anything. For some routine actions that may require user input, I decided to invest in Amazon Echo. Alexa can only operate Wemo switches and Hue lights now, but Amazon is pushing hard for wider integration, so it won't be long before I will be able to operate everything on my Smartthings network. Omitting Wink from this article was just.

Umm - Home automation and accessibility are 2 different things.. It's useless if EVERYONE in your family (and guests) must have an 'app' to keep your lights, heat/ac, etc functional. example.. if you need a phone just to turn a group of lights on/off on a wall.. useless. Thats why I wish Smartthings would catch up to Wink's Relay unit.. it's a great idea.. my kids can control the home w/o having to get a smartphone or tablet to control Heat/AC, Lights, open/close garage door, etc.. As for Smartthings being much more robust.. Nope, they are both compatible. I have both.. they do the exact same thing, access exact same devices, same support for IFTTT, etc .. They are both just 'hubs'. Smartthings no longer is 'special' and has nothing unique about them. My lights work with either one, Nest, garage door, ect.. Relay was not cheep to get into, but it was worth it.. They did 'brick' my Wink Hub as well, but once they pushed out the self fixit option... I was back up and running just fine.. no shipping, no messing with it.. /shrug

I'll stick with Logitech if I can. I currently have a Logitech Harmony Smart Control, and it's easy and simple. It's only for my TV / TV / DirecTV / Blu-Ray home entertainment setup, and it works flawlessly. Of course, Logitech could continue down their own path. They might never ship any HomeKit-compatible hardware. But what's the hurry? Home automation is one of those wait-and-see technology categories. I feel zero pressure to buy any home automation hardware (other than the entertainment system). Plenty of time to let the market develop, let the winners and losers get separated, then pick and choose from the winners. I'm pretty sure HomeKit will be on the winning side of the battle, such as it is.

Brent,
I can't find your article on the iMore home page anymore. What happened?
Thank you for signing up to iMore. You will receive a verification email shortly.
There was a problem. Please refresh the page and try again.