5 great games to help you forget Flappy Bird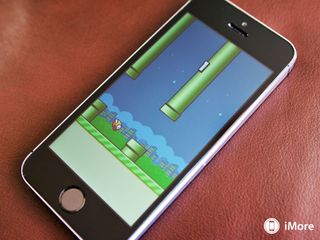 Now that the absolutely insane Flappy Bird title is gone from the App Store, you may be looking for something to cleanse your gaming palate. For all of its addictiveness (which is the very reason the developer removed it), Flappy Bird presented a ton of frustration, and was ultimately pretty simplistic. So here are some games to help you get away from birds, endless runners, 8-bit graphics, and one-touch controls.
Threes!
Maybe you'd rather mellow out a little bit. Threes! offers easygoing, thoughtful gameplay without ads or in-app purchases. Players slide a board of numbered tiles in four directions in order to get adjacent and identically-numbered tiles to stack on top of one another. Every turn introduces a new tile on the board, which means you've got to be diligent in continuing the stack. Once you're out of moves, the sum total of your tiles are tallied up for a final score, which gets posted on the Game Center leaderboards.
The charming art style and music combine with elegant, simple gameplay to make something really unique.
Republique
A flappy bird bashing his head into soil and pipes isn't exactly a thrilling narrative. For something with a juicy story, excellent graphics, and, most importantly, has an ending, try out the first episode of Republique. This stealth strategy game puts players in the voyeuristic role of a hacker trying to help a girl named Hope to escape from a compound ruled by a totalitarian regime. It's unclear just how widespread the dystopia goes, but even just the first couple of hours of gameplay offered by this episode are enough to keep you interested in what comes next.
Republique is beautiful and full of compelling voice acting and gameplay.
Hundreds
If you're looking for something with a proper sense of achievement and finality, try out Hundreds. This minimalist puzzle game presents players with a series of challenges whereby they have to inflate (or deflate) numbered dots on the screen until the sum of their value adds up to 100. This goal is hampered by the fact that if your inflation or deflation cause the dot to touch anything else, then you lose and have to start over.
Hundreds demands a fine mix of precision timing and strategic thinking in a slickly-designed package.
Octagon
If you just can't shake the need for speed, Octagon offers great gameplay that's still challenging, but not nearly as impossible or endless as Flappy Bird. Players navigate a trippy polygonal landscape with a 2D ball by swiping left and right to avoid falling off the edge. Swiping up causes the ball to jump up to whatever platform is above, which can be altogether fun and disorienting. The nice thing here is that each stage's layout is fixed, which means over time, you can memorize what comes next, and eventually get to the end, ready to take on the next stage.
Octagon's polished interface and thumping soundtrack make for a runner that won't have you smashing your device in frustration.
Pathogen
If you want to get really thinky, Pathogen is an interesting biology-themed competitive puzzle game. Players use three different cell types and a virus to grow over an entire map. Being mindful of which cells are touching which are of the utmost importance when determining how to proceed. There are shades of Othello here with the turn-based structure, tile layout, and method of capturing pieces, but this is a decidedly unique experience. The addition of online and local multiplayer plus a level editor provides lots of strategic options.
For something competitive and pensive, give Pathogen a try.
What are your Flappy Bird replacements?
So we've got games that encourage you to think, offer reasonable tests of reflexes, bring high-fidelity graphics to the table, and not a single, stupid bug-eyed bird among them. That should help you through your Flappy Bird detox. How many of you have yet to kick the habit? Are you leaving Flappy Bird installed on your iPhone or iPad?
Master your iPhone in minutes
iMore offers spot-on advice and guidance from our team of experts, with decades of Apple device experience to lean on. Learn more with iMore!
Editor-at-very-large at Mobile Nations, gamer, giant.