5 things I'm most excited for in macOS Mojave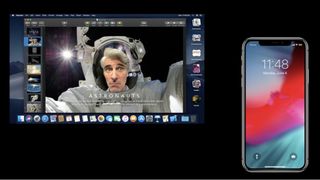 As soon as Craig Federighi took the stage at WWDC 2018, I was on the edge of my seat. Last year, macOS got a half-step of an upgrade with High Sierra. There were plenty of great features, but much of it was under the hood instead of right in my face. With the demo of macOS Mojave at WWDC, it's clear Apple is making up for lost time with some major visual changes that I'm excited about. I'm pretty much excited about everything coming to Mojave, but these are the ones I'm most excited about.
Dark Mode
Who wouldn't love a systemwide dark mode on their computer? I've been hoping for this feature for years. All of Apple's built-in apps, including iTunes, Mail, Calendar, Safari ... everything, gets the dark mode treatment. It's so easy on the eyes! It's more than just a dark Menu bar. It's everywhere.
Hopefully, more developers will jump on board with this trend and my favorite apps that don't already offer a dark mode option will add it.
Dark mode all the things!
Reimagined Mac App Store
I've mentioned this before. In 2011, when the Mac App Store launched, I was so excited! I wanted the same experience on my Mac as I did on my iPhone (and that was before the App Store for iOS was a good looking as it is now). Unfortunately, Apple's fist attempt at a dedicated app store for the Mac was ... just OK.
I didn't visit it weekly to see what new content was launching. I didn't browse through categories or see what was hitting the top charts.
Discovering something new to use in the Mac App Store left something to be desired, to say the least.
Now, with the Discovery tab in Mojave, every week, Apple will, not only spotlight great apps and games, but will write about what's cool about them and create curated lists of great apps for certain occasions, like note-taking apps or great utilities for your Mac.
Plus, the Mac App Store will be divided into sections: Create, Work, Play, and Develop. In these sections, you'll find a variety of handpicked apps or games. For example, the Create section lists apps for photographers, artists, and writers while the Develop section lists developer tools and apps for design.
I can see myself going back to the Mac App Store every week to see what's new, what's being talked about, and what can help my workflow.
Screenshot tools
I take dozens of screenshots every day on my Mac. Whether I'm creating a visual guide for a how-to, or just want to capture a funny moment in a game. I'm hitting Command+Shift+3 or 4 on a regular basis.
Mojave's new screenshot tools makes taking a screenshot on Mac very similar to how it works on iPhone post iOS 11.
When you take a screenshot on Mac in Mojave, it'll appear in the lower right corner of your screen for a few seconds. When you double-click on it, you'll see a bunch of tools for editing that screenshot.
You can mark it up, add custom lines, drop in your signature, add a call-out magnifying glass, rotate, crop, and more. No more digging around, trying to find where you put your screenshot. No more opening it in Preview before gaining access to editing tools. Just double-click right into it right after you take it.
Oh, and you can record your screen (or a portion of it) using the new screenshot HUD that pops up when you hit Command+Shift+4!
Quick Actions in Finder
The sidebar in Finder is a nearly forgotten feature that I'm happy to see get some love. As is, it's a great little way to get a quick look at a document without having to open it.
In Mojave, however, that little sidebar is going to populate a full list of metadata. Even more exciting for me, however, is the Quick Action tool that will let me perform certain actions without having to open the document.
Federighi showed a demonstration of using the Rotate tool while previewing a picture. He didn't open the photo. He was just checking it out in the new Gallery view in Finder. Then, with just the click of his mouse, he rotated the picture ... without opening the document!
The Quick Actions tool is contextual so a different tool will appear when you perform different actions in Finder. For example, clicking on multiple documents at the same time allows you to create a PDF out of the files you just selected ... without opening the document!
Oh, and the best part is that Quick Actions are customizable. You'll be able to create Automator actions that you can map to buttons in the Finder window to have practically anything you want.
Universal app framework (only Apple's built-in apps in Mojave)
For a while now, there have been murmurings about Apple merging iOS and macOS with some sort of universal operating system. Apple clarified some things at WWDC 2018 about whether this were ever going to happen.
NO.
Instead, Apple is working on a universal app framework that will let developers bring their iOS apps to the Mac with just a little bit of coding. It's not a Webkit thing. It's not an AppKit thing. It's something different entirely. Something that makes it possible to use all of the tools we are comfortable with on Mac while using apps that were originally built for iOS.
Apple launched a "Sneak Peek" of this upcoming framework (due in 2019) by bringing four of its built-in iOS apps to the Mac.
News
Home
Voice Memos
Stocks
Each one of these apps will be available in Mojave. They're basically a port of the iOS versions, but tweaked just a little so they make sense on Mac.
What are you most excited to see in Mojave?
There are dozens of tiny improvements and a few more huge changes coming in macOS Mojave. Which ones are you most excited about coming to your Mac this fall?
Get the best of iMore in your inbox, every day!
Lory is a renaissance woman, writing news, reviews, and how-to guides for iMore. She also fancies herself a bit of a rock star in her town and spends too much time reading comic books. If she's not typing away at her keyboard, you can probably find her at Disneyland or watching Star Wars (or both).
I'm not a fan of dark modes I must admit. My distro of choice (Kubuntu) has a dark mode, but I much prefer my file manager to have a light background.

Many applications have their own dark mode at the moment, so you can mix and match if you only want certain applications dark. macOS Mojave also brings a customisable accent color which may be of interest to you as well

No dark mode for me. Absolutely not. I'm not impressed with emojis. I will really be impressed if they do the following: 1. Fixes for the Finder bugs that they introduced back in 10.11. (If you rename more than one file at a time, you have to close and re-open the window before they show their new names or arrange themselves correctly.) 2. Not allow pop-up dialog boxes to steal the focus when you are in the middle of typing in another dialog box. 3. Only allowing one field to claim that it has the focus. 4. Colors that actually appear in nature, and contrast ratios that make text legible. 5. A return to icons from symbols. Popsicle sticks for Applications, the NBC peacock sitting on a mirror for Photos, a Valentine card for a health app, what looks like a Texaco station locator for iTunes, that's all got to go, 6. Reintroduce usability research and testing as well as quality control.

This seems very pedantic, colors that only appear in nature? Why? As for the contrast ratios, on an Apple calibrated display (e.g. MacBook screen or iMac screen) they seem very legible to me, but if not there are various options available in the accessibility settings. All the "icons" are very recognisable for me, I don't see why they need to be changed. And Apple still does usability research, testing and quality control. I've not really ran into any of these bugs, my only exception would be that I've not tried out the multi-file rename but I'll assume that bug is there, and you're right it should get fixed.