macOS Mojave FAQ: Everything you need to know!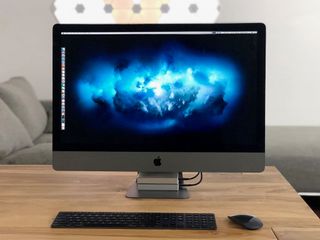 (Image credit: iMore)
At WWDC 2018, Apple announced the next big update to macOS, which supports the Mac mini, iMac, Mac Pro, MacBook, MacBook Air, and MacBook Pro. At its September iPhone event, the company revealed the launch date of macOS Mojave: September 24. There are plenty of new features coming our way and here's where you'll find out all about them.
What's new with macOS Mojave?
Here's where you find out updated news on macOS 10.14, so be sure to bookmark this page and check back regularly.
September 12, 2018: Apple says macOS Mojave will ship on September 24
At its September iPhone event, the company revealed the launch date of macOS Mojave: September 24. You'll be able to get your hands on all the fun new features as soon as it ships later this month!
August 21, 2018: Apple prepares users for the end of Back to My Mac
Apple will soon be discontinuing Back to My Mac, a feature of macOS that allowed users to connect to from one Mac to another, letting them share screens or transfer files between the two machines. As of macOS Mojave, Back to My Mac will no longer be a part of the operating system.
This news comes from an Apple support document published earlier this month:
Apple recommends that users transition from using Back to My Mac to using iCloud Drive for moving and storing files, turning on screen sharing on their Macs, and getting Apple Remote Desktop from the Mac App Store.
June 4, 2018: Apple announces macOS Mojave
Apple just announced macOS 10.14 with a new name, dozens of new features, and a whole lot more. Here's where you'll find out everything about it!
Jump to the new features in macOS Mojave
What, why, when, and how to get macOS Mojave
macOS Mojave is Apple's newest version of the desktop and laptop operating system for Mac computers. Every year, Apple comes up with a new name for its operating system and this year is no different. This year's update has lots of big features, including a systemwide dark mode, Mac App Store redesign, and better Privacy and Security options. Below are more details about everything new coming in macOS Mojave.
Well, it looks like the team that names macOS every year decided to come down from the mountain and head to the desert - hence, Mojave, which is a desert
When can I download the official version of macOS Mojave?
macOS 10.14 is available as a beta for developers right now. If you're not a developer you'll be able to download it for free this fall.
If you plan on downloading the developer beta, be smart about it: If you only have a single Mac, make sure you create a partition to run beta software or install on a secondary Mac you don't rely on for everyday use.
The final version — the public version that is no longer in beta — will be available this fall as a free update in the Mac App Store.
How do I upgrade to macOS Mojave?
Apple makes it really easy to upgrade to new versions of its operating system across all devices. If you're unsure how to get the latest software upgrade, we have you covered with a comprehensive guide.
How to upgrade your Mac software
My Mac is old, can I upgrade to macOS Mojave?
The latest Mac operating system will run on the following devices:
MacBook (Early 2015 or newer)
MacBook Air (Mid 2012 or newer)
MacBook Pro (Mid 2012 or newer)
Mac mini (Late 2012 or newer)
iMac (Late 2012 or newer)
iMac Pro (2017)
Mac Pro (Late 2013, plus mid 2010 and mid 2012 models with recommended Metal-capable GPU)
What about my 32-bit apps? Will Mojave support them?
They will! But don't get too excited. Apple noted in its presentation about Mojave that it is the last macOS to support 32-bit apps and games. If you want your favorite app to continue to work on your Mac past 2019, you'd better ask them to update their apps to 64-bit.
Is this a free upgrade?
That's right! Apple stopped charging for software upgrades quite a few years back. macOS Mojave is a free update for all iMac, Mac mini, and Mac laptop computers that are compatible.
OK, so what are the new features coming to macOS Mojave?
There are dozens of new features coming to macOS 10.14. Some are under the hood and you might not even notice (except for the faster, smoother performance. Here's a list of the biggest features coming soon.
Systemwide dark mode for Mac
That's right! Apple finally gave us a full, system-wide Dark Mode for Mac, not just for the Menu bar, but for built-in apps, and the Mac App Store!
How Dark Mode works in macOS Mojave
All new Mac App Store design
Speaking of which, Apple also announced that the Mac App Store is getting a complete overhaul. It's going to get all the great content that the App Store on iPhone and iPad has, like a Discovery tab with editorials about great Mac apps, personal stories from industry professionals that use Mac apps, and a list of the most popular apps you can get right now.
There's also going to be a dedicated Rating and Reviews center where you can read reviews, write your own reviews, and see responses from developers.
The all-new Mac App Store: Everything you need to know!
You'll be able to control permissions for more apps, like the Camera and Microphone, in addition to things you already control, like locations, reminders, contacts, and more.
Cookie tracking - Safari will "shut down" likes and comment stuff so you can decide whether to allow websites to track you after you react.
Fingerprinting - Just like you can be identified by a fingerprint, your device can be identified by a unique set of configuration. Like fonts, plug-ins, and configurations. People can track you based on these assets. Mojave will only show built-in fonts, basic system configs, and hides plug-ins so websites can't track you.
What's new in Apple's Privacy Settings?
That's right, the Home app is finally coming to macOS. It's going to have all the same great features as the iOS app, but it's on the Mac!
Home app: What's changed in iOS 12 and macOS Mojave
So that means Siri works with HomeKit on my Mac now?
You're correct! Once you've got the Home app on your Mac all set up and ready to go, you can ask Siri to turn on the lights, lock the doors, and a whole lot more.
Yup. The News app is coming to Mac with Mojave. It's all the same great features coming to the (also updated) News app in iOS 12, but dedicated on your Mac.
In addition, the Stocks app is coming to Mac. The Stocks app is also getting a major update with integration of the News app, customized with business and financial news.
What's new in the News app for iOS 12 and macOS?
Desktop Stacks lets you stack your desktop icons automatically into stacks by kind, date, or tab. You can click on the stack to see whats in it. Double-click on an icon to open it. Drag an item to your desktop and it'll automatically jump into the stack.
How to use Desktop Stacks in macOS Mojave
A new Gallery View has a big preview up top and thumbnails across the bottom. With images, you can get new details in the sidebar which supports full metadata.
New Quick Actions lets you rotate, markup, or access more things you can do in Preview. Quick Action area is contextual. You can create a new PDF by grabbing multiple single PDF files and images. Run custom Automator actions.
Quick Look integrated with Markup. - When you Quick Look at a PDF you can access markup without having to fully open the document in Preview. Rotate crop images, crop images all in Quick Look.
How Finder works in macOS Mojave
You can double-click on a screenshot to automatically jump into Markup and access different tools right in the screenshot.
There's going to be screen capture for video, which will allow you to grab a screenshot of a video. You'll also be able to drag screenshots (and videos) into a new document.
How to take screenshots and record your screen in macOS Mojave
New Continuity Camera with iPhone, iPad, and Mac
You'll be able to select an object in an image editing app. Then, take a photo on your iPhone. The image will appear directly in the document you have open on your Mac.
The same works for scanning documents. Your Camera scans the document and the scan goes immediately into the program you're working in on your Mac.
How continuity camera works in macOS Mojave and iOS 12
Apple is bringing Voice Memos to Mac in Mojave. It's just like Voice Memos on iPhone and iPad, but on Mac! You can drag your voice memo files directly into apps like Garage Band.
Voice Memos in iOS 12 and macOS Mojave
Stocks on Mac
Apple is also porting the Stocks app to Mac in Mojave. In iOS 12, Stocks gets a really nice update with an integrated business and finance news feature. This same content will appear in the Mac version.
Stocks app in iOS 12 and macOS Mojave: Everything you need to know!
FaceTime gets group calls, Messages integration, filters, and more.
What's new in FaceTime for iOS 12 and macOS Mojave
Though it was casually mentioned at the very end of Apple's news about Mojave, it's true. APFS is going to support Fusion drives in Mojave.
Apple File System (APFS): What you need to know
A sneak peek at the future of iOS and Mac app porting
Apple clarified to us at WWDC that there is not going to be a merger of iOS and macOS. However, the team is working on a framework that will make it much, much easier for developers to port their iOS apps to Mac. In fact, the "sneak peek" available in macOS Mojave is that the News, Stocks, Voice Memos, and Home apps are all coming to Mac using the framework.
This new features will be available to developers sometime in 2019.
What you need to know about Apple's universal framework API
And a whole lot more!
Apple mentioned a few more major features coming in macOS Mojave, like CoreML 2 and CreateML, plus some smaller features weren't mentioned, but we're going to see this fall. We'll be updating this post as we learn more.
If you have any questions, please put them in the comments section and we'll try to answer them as best we can, as we learn more about macOS 10.14.
Master your iPhone in minutes
iMore offers spot-on advice and guidance from our team of experts, with decades of Apple device experience to lean on. Learn more with iMore!
Lory is a renaissance woman, writing news, reviews, and how-to guides for iMore. She also fancies herself a bit of a rock star in her town and spends too much time reading comic books. If she's not typing away at her keyboard, you can probably find her at Disneyland or watching Star Wars (or both).