macOS Mojave FAQ: Everything you need to know!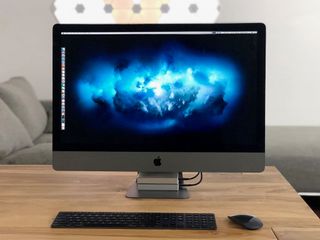 (Image credit: iMore)
At WWDC 2018, Apple announced the next big update to macOS, which supports the Mac mini, iMac, Mac Pro, MacBook, MacBook Air, and MacBook Pro. At its September iPhone event, the company revealed the launch date of macOS Mojave: September 24. There are plenty of new features coming our way and here's where you'll find out all about them.
What's new with macOS Mojave?
Here's where you find out updated news on macOS 10.14, so be sure to bookmark this page and check back regularly.
September 12, 2018: Apple says macOS Mojave will ship on September 24
At its September iPhone event, the company revealed the launch date of macOS Mojave: September 24. You'll be able to get your hands on all the fun new features as soon as it ships later this month!
August 21, 2018: Apple prepares users for the end of Back to My Mac
Apple will soon be discontinuing Back to My Mac, a feature of macOS that allowed users to connect to from one Mac to another, letting them share screens or transfer files between the two machines. As of macOS Mojave, Back to My Mac will no longer be a part of the operating system.
This news comes from an Apple support document (opens in new tab) published earlier this month:
Apple recommends that users transition from using Back to My Mac to using iCloud Drive for moving and storing files, turning on screen sharing on their Macs, and getting Apple Remote Desktop from the Mac App Store.
June 4, 2018: Apple announces macOS Mojave
Apple just announced macOS 10.14 with a new name, dozens of new features, and a whole lot more. Here's where you'll find out everything about it!
Jump to the new features in macOS Mojave
What, why, when, and how to get macOS Mojave
macOS Mojave is Apple's newest version of the desktop and laptop operating system for Mac computers. Every year, Apple comes up with a new name for its operating system and this year is no different. This year's update has lots of big features, including a systemwide dark mode, Mac App Store redesign, and better Privacy and Security options. Below are more details about everything new coming in macOS Mojave.
Well, it looks like the team that names macOS every year decided to come down from the mountain and head to the desert - hence, Mojave, which is a desert
When can I download the official version of macOS Mojave?
macOS 10.14 is available as a beta for developers right now. If you're not a developer you'll be able to download it for free this fall.
If you plan on downloading the developer beta, be smart about it: If you only have a single Mac, make sure you create a partition to run beta software or install on a secondary Mac you don't rely on for everyday use.
The final version — the public version that is no longer in beta — will be available this fall as a free update in the Mac App Store.
How do I upgrade to macOS Mojave?
Apple makes it really easy to upgrade to new versions of its operating system across all devices. If you're unsure how to get the latest software upgrade, we have you covered with a comprehensive guide.
How to upgrade your Mac software
My Mac is old, can I upgrade to macOS Mojave?
The latest Mac operating system will run on the following devices:
MacBook (Early 2015 or newer)
MacBook Air (Mid 2012 or newer)
MacBook Pro (Mid 2012 or newer)
Mac mini (Late 2012 or newer)
iMac (Late 2012 or newer)
iMac Pro (2017)
Mac Pro (Late 2013, plus mid 2010 and mid 2012 models with recommended Metal-capable GPU)
What about my 32-bit apps? Will Mojave support them?
They will! But don't get too excited. Apple noted in its presentation about Mojave that it is the last macOS to support 32-bit apps and games. If you want your favorite app to continue to work on your Mac past 2019, you'd better ask them to update their apps to 64-bit.
Is this a free upgrade?
That's right! Apple stopped charging for software upgrades quite a few years back. macOS Mojave is a free update for all iMac, Mac mini, and Mac laptop computers that are compatible.
OK, so what are the new features coming to macOS Mojave?
There are dozens of new features coming to macOS 10.14. Some are under the hood and you might not even notice (except for the faster, smoother performance. Here's a list of the biggest features coming soon.
Systemwide dark mode for Mac
That's right! Apple finally gave us a full, system-wide Dark Mode for Mac, not just for the Menu bar, but for built-in apps, and the Mac App Store!
How Dark Mode works in macOS Mojave
All new Mac App Store design
Speaking of which, Apple also announced that the Mac App Store is getting a complete overhaul. It's going to get all the great content that the App Store on iPhone and iPad has, like a Discovery tab with editorials about great Mac apps, personal stories from industry professionals that use Mac apps, and a list of the most popular apps you can get right now.
There's also going to be a dedicated Rating and Reviews center where you can read reviews, write your own reviews, and see responses from developers.
The all-new Mac App Store: Everything you need to know!
You'll be able to control permissions for more apps, like the Camera and Microphone, in addition to things you already control, like locations, reminders, contacts, and more.
Cookie tracking - Safari will "shut down" likes and comment stuff so you can decide whether to allow websites to track you after you react.
Fingerprinting - Just like you can be identified by a fingerprint, your device can be identified by a unique set of configuration. Like fonts, plug-ins, and configurations. People can track you based on these assets. Mojave will only show built-in fonts, basic system configs, and hides plug-ins so websites can't track you.
What's new in Apple's Privacy Settings?
That's right, the Home app is finally coming to macOS. It's going to have all the same great features as the iOS app, but it's on the Mac!
Home app: What's changed in iOS 12 and macOS Mojave
So that means Siri works with HomeKit on my Mac now?
You're correct! Once you've got the Home app on your Mac all set up and ready to go, you can ask Siri to turn on the lights, lock the doors, and a whole lot more.
Yup. The News app is coming to Mac with Mojave. It's all the same great features coming to the (also updated) News app in iOS 12, but dedicated on your Mac.
In addition, the Stocks app is coming to Mac. The Stocks app is also getting a major update with integration of the News app, customized with business and financial news.
What's new in the News app for iOS 12 and macOS?
Desktop Stacks lets you stack your desktop icons automatically into stacks by kind, date, or tab. You can click on the stack to see whats in it. Double-click on an icon to open it. Drag an item to your desktop and it'll automatically jump into the stack.
How to use Desktop Stacks in macOS Mojave
A new Gallery View has a big preview up top and thumbnails across the bottom. With images, you can get new details in the sidebar which supports full metadata.
New Quick Actions lets you rotate, markup, or access more things you can do in Preview. Quick Action area is contextual. You can create a new PDF by grabbing multiple single PDF files and images. Run custom Automator actions.
Quick Look integrated with Markup. - When you Quick Look at a PDF you can access markup without having to fully open the document in Preview. Rotate crop images, crop images all in Quick Look.
How Finder works in macOS Mojave
You can double-click on a screenshot to automatically jump into Markup and access different tools right in the screenshot.
There's going to be screen capture for video, which will allow you to grab a screenshot of a video. You'll also be able to drag screenshots (and videos) into a new document.
How to take screenshots and record your screen in macOS Mojave
New Continuity Camera with iPhone, iPad, and Mac
You'll be able to select an object in an image editing app. Then, take a photo on your iPhone. The image will appear directly in the document you have open on your Mac.
The same works for scanning documents. Your Camera scans the document and the scan goes immediately into the program you're working in on your Mac.
How continuity camera works in macOS Mojave and iOS 12
Apple is bringing Voice Memos to Mac in Mojave. It's just like Voice Memos on iPhone and iPad, but on Mac! You can drag your voice memo files directly into apps like Garage Band.
Voice Memos in iOS 12 and macOS Mojave
Stocks on Mac
Apple is also porting the Stocks app to Mac in Mojave. In iOS 12, Stocks gets a really nice update with an integrated business and finance news feature. This same content will appear in the Mac version.
Stocks app in iOS 12 and macOS Mojave: Everything you need to know!
FaceTime gets group calls, Messages integration, filters, and more.
What's new in FaceTime for iOS 12 and macOS Mojave
Though it was casually mentioned at the very end of Apple's news about Mojave, it's true. APFS is going to support Fusion drives in Mojave.
Apple File System (APFS): What you need to know
A sneak peek at the future of iOS and Mac app porting
Apple clarified to us at WWDC that there is not going to be a merger of iOS and macOS. However, the team is working on a framework that will make it much, much easier for developers to port their iOS apps to Mac. In fact, the "sneak peek" available in macOS Mojave is that the News, Stocks, Voice Memos, and Home apps are all coming to Mac using the framework.
This new features will be available to developers sometime in 2019.
What you need to know about Apple's universal framework API
And a whole lot more!
Apple mentioned a few more major features coming in macOS Mojave, like CoreML 2 and CreateML, plus some smaller features weren't mentioned, but we're going to see this fall. We'll be updating this post as we learn more.
If you have any questions, please put them in the comments section and we'll try to answer them as best we can, as we learn more about macOS 10.14.
Get the best of iMore in in your inbox, every day!
Lory is a renaissance woman, writing news, reviews, and how-to guides for iMore. She also fancies herself a bit of a rock star in her town and spends too much time reading comic books. If she's not typing away at her keyboard, you can probably find her at Disneyland or watching Star Wars (or both).
From Apple's Newsroom: https://www.apple.com/newsroom/2018/06/apple-introduces-macos-mojave/#mn_p "macOS Mojave will be available this fall as a free software update for Macs introduced in mid-2012 or later, plus 2010 and 2012 Mac Pro models with recommended Metal-capable graphics cards. Some features may not be available in all regions or languages." So it looks like support for anything pre mid-2012 has been dropped. (except the Mac Pro)

Updated the info. Thanks.

It appears that way! My poor little Mac mini (2011 model), can no longer get updates, big sigh... She's served me well.

I'm bummed that my maxed out 2011 iMac won't be receiving the update. It is still too fast to consider replacing. I guess I'll be hanging out with High Sierra for a while.

Me too. Got a mid 2011 27" iMac, Corei7, 16GB RAM and *just put an SSD in the 2.5" slot under Superdrive to keep the 2TB standard drive in there. Fast!
High Sierra will be fine for a couple/ few years... :(

Will Macs be able to function as a HomeKit Hub, similar to an iPad, HomePod, or Apple TV?

It will! It works exactly the same as the Home app on iOS. You can even ask Siri to turn on the lights!

any word on updates for Photos for Mac?

Apple didn't talk specifically about Photos on Mac, but there are new search and suggestion features on iOS 12 that we may see for Mac.

I have PhotoDirector on macOS, now. I've given up on Photos.

This is an extremely poorly written article. Half the time I'm not sure which OS version were talking about.

Not sure what you're confused about. This article is about macOS Mojave 10.14. There is no mention of any other operating system in here, except where compatibility is talked about.

That is incorrect Lory, there is several mentions of High Sierra when they should be for Mojave. Samples: Similar to El Capitan, Sierra, and High Sierra, if your Mac was built prior to 2012, you won't be able to take advantage of the Metal Graphics framework and many of the Continuity features, but the rest of macOS High Sierra should be just fine. <-- should be about Mojave, not High Sierra. That's right! Apple stopped charging for software upgrades quite a few years back. macOS High Sierra is a free update for all <-- Again High sierra instead of Mojave.

Is it true that under Mojave, only programs that are 64 bit will work?

No. Mojave will support 32-bit apps, but it's the last macOS that will support them.

Thanks for the summary! Since Finder now has access to more file metadata, will we finally be able to sort photos/videos by date taken (I shouldn't be forced to import and use Photos)?

Good question! I'll find out, and update when I know more!

Looks like Finder still only allows you to sort photos by date modified, not taken. We'll see if that changes before the public launch of Mojave.

Hi, I have basically 2 issues. I have a MacBook Air (2015, Core I7) and an iMac 27" (2009, Core I5). Of course the processor might let you assume that the iMac might be to weak to operate this system. MyBut my experience is that the iMac is in almost all Benchmarks better than my MacBook. In other words, I have no understanding at all, why they excluded these nice devices, even if they are now scratching at the boundaries of 10 years lifetime.
Second thing I noticed is that they apparently changed something with the fonts or the fonts smoothing. The fonts look horrible on the MacBook Air, in dark mode it is extremely bad. Do you have any ideas how to solve that?

The development teams at Apple test software updates across Mac devices from many years ago. It's likely that Mojave on a 2009 iMac just doesn't perform well. Would you want the next Mac operating system on your nine-year-od (but still running great) iMac but have it freeze up, lag, or otherwise ruin your experience? Even though the processor benchmarks high, there are other factors that could make older Macs unsupportable. As to the Dark Mode font problem: White font on a dark background is very difficult to produce with clarity. If your display is 1,440 x 900, the white font might look a bit fuzzy. You can't change the systemwide font on Mac, but you can switch back to Light mode and file a radar so that Apple will know about the fuzzy font issue. That's what a developer beta is for. Let Apple know so they can work out the kinks.

So Gallery View is not so new, really, since it's pretty much an updated Cover Flow view in Finder (and iTunes where it came from).

Sometimes updating something is more important than creating something new. macOS has a solid foundation of features, it's nice to see Apple updating what's already there rather than throwing too many new things into it.

Was something updated in GateKeeper? I'm having trouble with certain programs.
The 64-bit only and the Notary service are for NEXT time. What's tripping me up here? Still not seeing the promised performance improvements. Not like Mavericks where the improvements were clear as were the roadblocks for non-standard apps.

There's only so much you can push performance without upgrading your hardware. What programs are you having problems with?

By discontinuing Back to My Mac and telling you to use Apple Remote Desktop they are sucking another $80 out of us. I recommend using Screens. Great app

Apple Remote Desktop has 2.0 out of 5 stars on the App Store, and costs $80, both those things combined is really bad. But Screens is great, I recommend it as well

I love Screens except AT&T Uverse internet is blocking it and I can't get it to work unless I put one of the Macs I have at home in the DMZ. (Thanks AT&T you should s=change the name from U-Verse to U-Suck

That sucks, I'd advise you look into a VPN. The internet is increasingly becoming more censored, soon it's going to become standard to use a VPN. It's a sad reality.

I'm afraid to upgrade because I like to take screenshots now and then for commentary purposes from SlingTV and Hulu .... I used to be able to do this on my iPhone until iOS was updated with similar new screen-grab and screen-recording features .. now you can't even take a single screenshot of anything that has DRM with iOS. Has anyone tested screenshots with SlingTV, Hulu, etc .. with Mojave. If they have disabled screenshots for DRM material, I will not upgrade.

How do I copy file to flash memory under the same folder? It is because I tried it but the file saved in my flash memory but outside of the designated folder as a separate file.
PS - I have Mojave installed already.

There seems to be no RDP for my MAC since upgrading to Mojave. When might that be corrected or is something available I did not find in my search. Thank you.
Thank you for signing up to iMore. You will receive a verification email shortly.
There was a problem. Please refresh the page and try again.