7.5W wireless chargers are being capped off at 5W on iOS 13.1, says report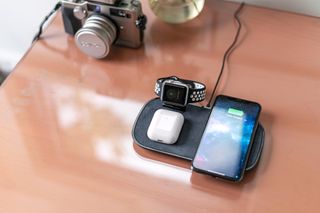 What you need to know
New tests by ChargerLAB reveal iOS 13.1 is capping the wireless charging capacity of iPhone 11 devices.
Tests show speeds have been capped out at 5W even for wireless chargers that support 7.5W speeds.
The issue seems to be a new fix-frequency voltage regulation Apple rolled out with iOS 13.1
Testing conducted by ChargerLAB has revealed that iPhone 11 devices with iOS 13.1 installed have had their wireless charging speeds capped to 5W even when used with wireless charging pads capable of delivering 7.5W.
The lower power output results in slower charging speeds for the iPhone 11 devices. ChargerLAB notes that it conducted a wireless charging test of the iPhone 11 on iOS 13 and the result was impressive.
However, once Apple rolled out the iOS 13.1 update, the charging speeds changed.
The culprit seems to be a new fixed-frequency regulation Apple passed with iOS 13.1. Only a few select wireless chargers from Belkin, Mophie, Native Union, Anker and Logitech that are sold through Apple Stores and support the fixed-frequency voltage that Apple recommends deliver the full 7.5W wireless charging speeds.
MacRumors notes that Apple refers (opens in new tab) to the fixed-frequency 7.5W charging as "Apple Fast Charging," but the technology was added to the Qi standard last year so it's not something that should fall under the Apple MFi program.
It's still unclear if the new fix-frequency charging speeds with iOS 13.1 is only affecting newer iPhone 11 devices or if all Qi compatible iPhone devices are subject to the changes.
It's something worth keeping in mind if people charge an iPhone 11 model with a third-party wireless charger that doesn't support the fix-frequency voltage speeds.
If I have Belkin wireless charger (10W for Android-based, 7.5W for iOS-based devices) from 2018, how can I check if it supports the fix-frequency voltage regulation?

So is the reduced charging for all charge pads with 13.1 or just for pads other than Belkin, Mophie, Native Union, Anker and Logitech (that are sold through Apple Stores)? Do those still charge full speed ahead?

It looks like Apple has decided to punish everyone that refuses to pay Apple Tax, well guess what, paying Apple tax would result in 70% price increase and given the relentless race to the bottom that characterizes aftermarket accessories, this price increase is nothing but death sentence for everyone but selected companies that are on the shelf of Apple stores. Way to stifle the competition once and for all.

I think your comment is more a kneejerk reaction, we don't know why it's doing it yet. It could easily be a software glitch
Get the best of iMore in in your inbox, every day!
Thank you for signing up to iMore. You will receive a verification email shortly.
There was a problem. Please refresh the page and try again.