Action extensions in OS X Yosemite: Explained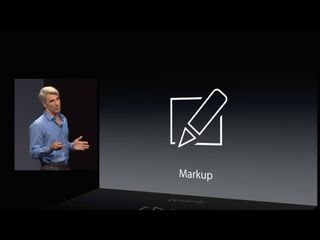 OS X's Yosemite's new Markup tool is an example of a new class of technology called Action extensions. Action extensions promise to save you time and make you more productive with the software you're already using.
How Action extensions work
Let's look more at Markup as a practical example of how Action extensions work. Markup will let you make changes to photos and other image files. You can embed arrows, dialogue bubbles and other shapes, add text, even add a magnification loupe to zoom in on part of the picture.
Markup as demonstrated at WWDC shows off new functionality in Mail, but it doesn't stop there, because Markup can work in any application that handles text and images. So will other Action extensions.
Action extensions aren't just there to let you mark up images - they can transform all kinds of data. Need to do language conversions? Action extensions can make it happen. Developers can limit Action extensions to whatever type of data is best suited for them.
Expanding and extending
You can liken Action extensions like Markup to plug-ins in applications like Photoshop. Action extensions provide really specialized, context-sensitive ways to both show and modify content you're creating.
Ultimately, Action extensions will let you access the capabilities of the apps you depend on from anywhere in the OS, without having to actually launch the app. The possibilities are endless — it's really up to app developers to figure out how and where Action extensions will be used.
Conceptually, Action extensions are a much bigger deal for iOS 8, because Apple has, up to now, prevented iOS app developers from having that access. As Rene Ritchie explains:
New spin on an old idea
But OS X is different. Since the very first version of OS X, there has been a Services menu (buried in the application menu) — it's actually a vestige of the NeXTSTEP operating system upon which OS X was based. Action extensions provide similar data transformation capabilities. Apple calls Action extensions the spiritual successor to the Services menu.
Accessing Action extensions will be easy. Select content, move the cursor over it and click the button that appears — the Action extension you've selected will spring into...well, action. Action extensions will also be available through the Share toolbar and menu. Developers can also create custom toolbar buttons for Action extensions.
The bottom line
It'll be interesting to see how app developers and Apple alike implement Action extensions in Yosemite. Services in OS X have often gone ignored and underutilized, but they're also more limited in scope.
Action extensions make it possible to do more to your content without having to shuffle different applications. By doing so, Action extensions continue a concept we've seen Apple iterate over and over again with iOS 7 and Mavericks: The idea that the interface should just get out of your way.
Get the best of iMore in in your inbox, every day!
Hoping this hooks into the new Photos app for Mac, and lets developers make it even more powerful.

Here is hope that this will also help in areas where extensions / plugs had to rely on gray areas or downright hacks. I would especially love if Mail extensions would not break with every major and most minor updates, having things like MailTags or MailHub not working (sometimes for weeks) is really having an impact on my productivity.

I decided to play around with Markup in Yosemite Mail, but it is not available on my set up! I attempted to activate Markup through Actions in System Preferences > Extensions, but it does not appear there. In fact, there are no "actions" available at all. Anybody have any ideas?
Thank you for signing up to iMore. You will receive a verification email shortly.
There was a problem. Please refresh the page and try again.