Adobe urges Photoshop and Lightroom users to avoid macOS Catalina for now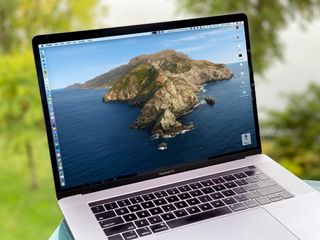 (Image credit: iMore)
What you need to know
Adobe said Photoshop and Lightroom Classic users may run into compatibility issues on macOS Catalina.
Older versions of both apps aren't supported, because they use 32-bit licensing components and installers.
Adobe said it's working to resolve some known compatibility issues.
Photoshop and Lightroom users eager to take macOS Catalina for a spin are being urged to wait. Adobe this week (via The Verge)updated support documents saying there are "known compatibility issues," which could interrupt some workflows.
Adobe warns users on older versions of Lightroom Classic (opens in new tab) and Photoshop (opens in new tab), which use 32-bit licensing components and installers, aren't supported by macOS Catalina at all. (I've already run into an issue where I'm unable to open the Adobe Application Manager, which is 32-bit, although Lightroom and Photoshop work fine.)
Meanwhile, in Photoshop (20.0.6), Adobe said file naming options don't work correctly in the Save As dialog. The company recommends editing the name's extension manually to match the format as a workaround. There are other compatibility issues, which Adobe lists on its website.
Adobe also noted Lightroom Classic (8.4.1) users won't be able to run the Lens Profile Creator, which is currently 32-bit. The company said it's currently investigating updating the utility to be 64-bit.
Finally, Lightroom Classic users may run into a problem tethering their Nikon cameras. Apparently, the software is unable to detect Nikon cameras "when the camera is turned on after invoking the 'Start Tether Capture…' command."
In general, Adobe says all of its current products are 64-bit, but the apps haven't been designed or fully tested for Catalina, so the company is recommending users wait to update. If you rely on either app for a living, it's in your best interest to wait until Adobe resolves all known issues.
Get the best of iMore in in your inbox, every day!
I don't understand how such large companies suddenly 'discover' issues when an update launches. I mean, Developer Betas are here for a reason, so that developers can deliver compatible apps before public launch

This is "Adobe", a company that stopped caring about it's customers and just cared about charging subscription prices to rake in money whilst making minimal changes to their software. If you're a Photoshop user, do yourself a huge favor and throw it in the Trash Can and pay the one off price for Affinity products, you get years of updates without having to pay anymore, and your software will constantly be updated and work on the latest operating systems

WTF?!? Adobe had literally "ages" to get their crap together before the release of Catalina. What a pathetic outfit!

Adobe stopped caring about that users and now only care about profit. I highly recommend you to switch to Affinity products, you'll be much better off for it

Everything in my CS6 Master suite is disabled. Might have to learn Pixelmator

Pixelmator Pro is really good, and if it's not quite as good as you'd like, try Affinity Photo/Designer

Why doesn't Adobe know basic things like dropping support for 32 bit. Why do they pretend not to know this, as if they were caught off guard by this news. They did not catch any of these issues in beta testing? These are things that should have been done a long time ago by Adobe and they are attempting to shift blame to Apple as their strategy.

One reason: Money. Adobe went from making their customers happy to just caring about money, hence why they switched to subscription pricing. Adobe products have bugs that have existed for years that people are constantly complaining about but they refuse to fix. Time to move to a caring developer and move to Affinity products

Pixelmator Pro gains Sidecar support, whilst Photoshop can't even run properly, that's a true comparison of good software vs bad software
Thank you for signing up to iMore. You will receive a verification email shortly.
There was a problem. Please refresh the page and try again.