AirDrop and Handoff tie together sharing between OS X and iOS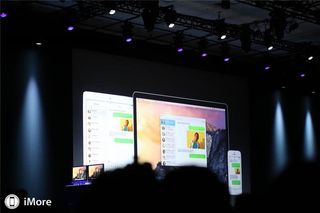 With the new AirDrop and Handoff, Apple is creating an ecosystem to tie together users who own both an iOS and OS X device. New to OS X Yosemite is that you can share files by using AirDrop between a Mac and an iOS device like an iPhone. But that's just the start, a new Handoff capability extends these sharing capabilities further between these devices and platforms.
According to Apple, devices in close proximity to each other are aware of that. This allows you to pick up work where you left off so you can start an email on your iPhone, for instance, and then pick it up on your Mac if you need a larger screen and keyboard. Inside your OS X dock on your Mac, you'll see the Handoff to prompt you to finish the work that was started on your iPhone.
If you need to finish work that was started on your Mac from your iPhone, all you'll need to do is swipe up from the lock screen to pick up where you've left off.
Additionally, for those who don't want to deal with the clunky process of figuring out hotspots and tethering, now if your iPhone is next to your MacBook, you can just navigate to your WiFi settings on your MacBook and you'll automatically see your iPhone there right away.
What will be new and convenient is that now SMS messages will also show up in the Messages app on your iPad and Mac. Previously, only iMessage messages showed up, but now SMS and MMS messages will also appear in your Messages pane on your Mac or iPad.
The best part of handoff is the ability to make and receive calls from your Mac. If your iPhone is next to your Mac, you can click on a phone number on webpage and make the call from your Mac. If you get a call on your iPhone, your Mac will show the caller ID and you can use your Mac as a speakerphone.
Get the best of iMore in in your inbox, every day!
Typical Apple, they gave me what I wanted with universal Airdrop and stepped it up with Handoff! It's so incredible how advanced technology has gotten

Universal airdrop is really the reason the announcement of iOS8 is the biggest since the release of the App Store! HUGE

I've been wanting to use my Mac as a speakerphone via BT to my phone for over a decade! Finally!

This will be nice. I asked about Airdrop in another post, now I see. I really like where they are going with it.

It occurs to me that Handoff is going to get *really* awesome if they announce new device categories. Imagine what Handoff could do with and iWatch or Apple TV around. Incoming call buzzing on my watch...let's just toss that thing up to the TV (I think they did end up closing on the PrimeSense deal). As I'm walking toward the desk where I keep my phone I talk in the general direction of my wrist "Hey, Siri...call my wife". "Ok, dialing..." By the time i get over to my phone it hands it off (or better yet I just bluetooth it with my headset. I don't even have to care where my phone is anymore.) I'm talking to my wife on the way home. I pull in and my garage door opens. I pull in and turn off the car. CarPlay hands the call to my phone. As I walk in the door to the house, an iBeacon in my mud room triggers my HomeKit actions to "welcome me home" (turning on lights, adjusting my thermostat, etc). I continue walking into the den and an iBeacon notices I'm home and on a phone call, turns on my TV and Apple TV, and triggers a "Handoff" to the Apple TV. I can crash on the couch, scratch the kitty cat, and finish my call. I don't think it is coincidence that we happened to get Continuity this year.

But you still need a mobile connection for this to work, right? You can't transfer files between iPhone and laptop by other means, such as Bluetooth, as other devices have managed for years? One of the more frustrating things I've found with my Apple ecosystem. Made by same company, sitting right next to each other, still need to send files hundreds of miles by internet just to transfer across those few inches.
Thank you for signing up to iMore. You will receive a verification email shortly.
There was a problem. Please refresh the page and try again.