Anchor: Everything you need to know!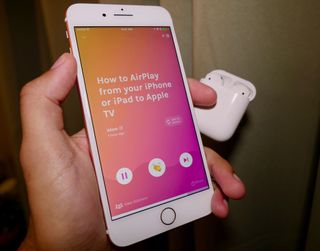 Anchor is an audio streaming and publishing platform that lets you listen to and publish bite-sized audio broadcasts. Anchor says its service is "radio, reinvented," which is a pretty fitting description. You can use Anchor to essentially create your own radio station, populated with audio tidbits, music from Spotify and Apple Music, transitions between sections, call-ins, and interviews. You can even use Anchor to create a podcast feed.
Free - Download now
What's new with Anchor?
We'll be keeping this section updated with the latest, greatest stuff coming from Anchor. Be sure to check back regularly for the latest updates!
August 9, 2018 - Support your favorite podcasters on Anchor, Patreon-style
Let's be real: if someone is spending their time and energy working hard to make something cool for you, they deserve support in return. However, sometimes it's difficult to find a proper channel you can use to show your favorite creators some love. Thankfully, Anchor is making it a bit easier. Today, the podcasting platform announced a new feature that will allow podcasters to collect recurring monthly payments from their listeners, regardless of their audience size.
Here's how the feature will work, according to Anchor:
Anchor also mentions that it prioritized devising a fee structure that allows creators to get paid as much as possible:
This feature is fantastic for podcasters who dedicate so much of themselves to creating a wonderful experience for listeners, as well as listeners who want to support their favorite creators so they can have a hand in making the shows they love even better.
Listener Support begins rolling out officially today.
June 19, 2018 - You can now podcast from your iPad with Anchor!
That's right, Anchor … ites? Today, Anchor officially launched an iPad version of its infamous iPhone app, giving you more space and tools to produce a podcast end-to-end than ever before. And, like the iOS app, it can be easily used by both seasoned podcasters and beginners alike.
According to the Anchor team, they rebuilt rebuilt Anchor from the ground up to really utilize the iPad's larger screen and more complex functionality. The UI is gorgeous and simple and uses every bit of iPad's retina display, and the app even supports iPad's multitasking in split features for all device sizes and orientations so you can really streamline your individual workflow. They also added a plethora of new touch-enabled tools meant specifically for podcasting to make editing a breeze:
Record on the go: If you have a trusty mic that you can't bear the thought of recording without, you can plug it directly in to your iPad's lightning port (or connect it using a Lightning to USB adaptor) and start capturing audio right within the app. Or, if you want, you can also just use your iPad's internal mic.
Trim: With Anchor for iPad, you can pretty effortlessly trim the beginning and ending of your recording without having to go into a "heavy editing workflow." As Anchor states, this is really helpful if you're the type to do some discussing and planning with your cohost beforehand or a sign-off afterward that you want to cut out.
Split: You can also split a recording into multiple segments with this update, allowing you to insert transitions, advertisements from sponsors, or anything else your little heart desires into your on-theme discussion about illuminated manuscripts (or whatever you like to podcast about). If you go over your pre-designated run time or make a mistake, you can also delete those parts of your recording by splitting it first. Additionally, Anchor's "visual episode builder" is pretty intuitive and easy to understand, meaning you can rearrange organize your segments in a flash without having to try and identify waveforms like some sort of sound scientist.
Import: This feature is for those of you out there who tend to combine audio from multiple different sources in a single episode. With Anchor for iPad, you can painlessly add your intro tune from GarageBand, your zany drive time radio DJ sound effects from Dropbox, or those creepy field recordings you've been hoarding in your voice memos.
Drag and drop: To make it even easier, you can actually drag and drop those files from other iPad apps that support audio files and split view into Anchor's episode builder or your Anchor Library.
Like with Anchor for desktop and iOS, you can also host all your podcast files and share your finished episode to all your chosen platforms (including Apple Podcasts) with a single tap.
So, ready to try Anchor for iPad to make the next episode of your podcast even more fantastic than it assuredly already is? You're in luck: like Anchor's iOS and Android apps, Anchor for iPad is one hundred percent free and available for right now on the App Store. Get recording!
April 13, 2018 - Find a podcasting partner with Anchor Cohosts
Can't find the perfect cohost to help you create the podcast of your dreams? Anchor may have your solution. Today, the podcasting platform announced a new feature that matches you up with other podcasters who are into talking about the same topics you are. The feature, simply called Cohosts, is completely free and available now on Anchor's iOS and Android apps.
Here's how it works, according to Anchor:
Pick a topic from the home screen, or add your own custom topic! It could be something broad, like politics, or something hyper-specific to your podcast, like Stephen King novels.
We'll find you a cohost who's interested in talking about the same topic and connect you.
We'll give you 30 seconds to introduce yourselves and decide how you want to kick off your conversation, and then recording will automatically start.
Record with your cohost for up to 15 minutes.
You'll both get a copy of your recording, and can publish your conversation to your podcasts right away or add it to an episode later.
If you find that you don't immediately jive with your suggested cohost, no biggie. You guys can scrap the recording and go your separate ways. And if you absolutely love recording with your new podcasting friend, fantastic! You guys can set up a time to record more whenever you like with Anchor's Record With Friends feature. That way, you won't have to fit all your brilliance into a 15-minute conversation.
So what are you into? Korean cinema? Wrestling? Bees? Cooking? Find your bliss, and then Anchor will help you find your podcast soulmate. The service says you may find the Sonny to your Cher, but I feel like maybe it'd be more apt to say that you may find the Henry Zebrowski to your Marcus Parks, or the McElroy to your … er, McElroy.
Go forth and get podcasting!
February 22, 2018 - Create your own podcast effortlessly with the all-new Anchor 3.0!
Podcast makers rejoice! Anchor announced in a blog post today that the completely revamped Anchor 3.0 has officially launched, making it easier than ever to create and distribute the podcast of your dreams no matter your level of experience.
The update consists of a completely reimagined mobile app experience on both iOS and Android as well as a brand new web dashboard to allow creators to more effortlessly realize their podcasting vision.
Mobile-wise, the redesigned Anchor app offers a plethora of new and improved features to effortlessly craft a podcast right on your phone. As soon as you open the app, you're taken directly to the creation screen where the app automatically begins generating a new podcast episode. Once there, you can choose to start recording right away. And if you've got some podcasting partners in crime, have no fear — you and up to ten friends can record simultaneously. In creation, you can also add transitions, insert full songs from both Apple Music and Spotify, and broadcast voice messages — previously called call-ins — from your listeners. The interface is clean, minimal, and pretty much totally foolproof, too. If you've just signed up to begin your podcasting journey, the app guides you through everything from tools to podcast ideas to troubleshooting. (And it isn't in that annoying, forever-taking tutorial way, either.)
In addition to all of that, Anchor's episode management tools have been greatly improved upon. You can now rearrange segments in your episodes as well as build episodes from new or previously created content. Once you're finished with an episode, you can publish directly to Anchor as well as platforms like Apple Podcasts, Spotify, and Google Play Music.
Anchor 3.0 has also introduced a completely reinvented web client with even more creation tools as well as analytics, expanded distribution options, and, of course, the unlimited free podcast hosting Anchor is known for. According to the company's blog post, there are a ton of things you can do with the new web tools, including the following:
Upload existing audio, like an episode you produced outside of Anchor using Garage Band, Audition, or Pro Tools.
Create a new episode using Anchor's handy Episode Builder, which lets you add audio from your Anchor history, browse and add voice messages from your listeners, add transitions, and even record new audio right from your web browser.
View straightforward analytics that let you know how your podcast is doing without having to be a data scientist, pulling data from everywhere your podcast is being heard.
Manage all of your Anchor episodes right from your desktop. Edit, delete, update metadata, and view episode-specific analytics all from the convenience of you your favorite web browser.
Best of all, Anchor's web dashboard syncs seamlessly with the mobile app, allowing users to effortlessly switch back and forth between experiences whenever necessary.
This update comes on the heels of Anchor's $10M Series A funding, meant to further pursue the company's mission to "democratize the creation and consumption of audio."
If you already have the Anchor app and have automatic updates enabled, the revamped version should be coming to you shortly. If you've been looking for a streamlined, less intimidating way to get into podcasting, you can download Anchor 3.0 by visiting the link below. Signing up only takes a few minutes, and after that, who knows? You could be the next beloved podcasting celebrity.
September 8, 2017 - Anchor adds new features, including new Apple Music and Spotify integrations
Anchor announced in a blog post today that new music-related features are available for the app. The additions are as follows:
Users can now connect their Spotify and Apple Music playlists so they can add their favorite songs to their Anchor station as they desire - a faster method than searching for the songs in order to add them.
Because many people say they've found great new music while listening to Anchor, the company has responded by giving users a way to save songs easily to both their Apple Music and Spotify accounts. That way they don't have to go through the whole process of toggling between apps and searching.
Users can now permanently save songs to Anchor episodes instead of having them expire after 24 hours.
August 17, 2017 - Anchor is now available in your car
Yep, that's right - Anchor announced on its blog that you can now listen to your favorite stations in your car. All you need is the Anchor app (of course) and a CarPlay or Android Auto enabled device. Connect your phone to your car by plugging it in or using Bluetooth, and voila! You now have access to Anchor on your commute.
August 8, 2017 - Anchor adds video!
If you're ever in a situation where you can't really pull out your headphones or blast audio through your smartphone speakers, Anchor's new video feature is going to be great for you!
https://www.youtube.com/watch?v=mSuGjX7FBqQ
The feature transcribes the audio you upload to Anchor and puts together a dynamic video with both text and audio that you can share across social media. I don't know about you, but I often find myself watching Facebook videos on mute regardless of whether I'm in a situation where I can listen to audio without disturbing others. As much as we see video on Facebook, Twitter, and Instagram, this was a very smart move by Anchor.
Can you give me a quick summary of what exactly Anchor is?
Sure can! Anchor really is what it says on the tin: "radio, reinvented." In the same way that radio DJs line up music tracks, transitions, interviews, and audio bites, Anchor gives you the ability to do the same. You can use your phone's microphone to record audio tracks, use the app to edit them as you see fit, add in transitions and music from Spotify and Apple Music, and publish your broadcasts to your personal station.
The best way to understand what Anchor is is by giving it a listen. Here's one of my favorite Anchor broadcasts, Let Me Google That:
Neat! So say I just want to listen to stations on Anchor, not make my own. How do I do that?
If you're just interested in listening to Anchor, you can use the Anchor app or visit individual stations on Anchor's website. Anchor is a free app available on both iOS and Android.
Free - Download on the App Store
Free - Get it on Google Play
You can also listen to Anchor on your Google Home, Amazon Echo, Alexa-enabled devices, and devices with the Google Assistant.
To listen to Anchor using the Google Assistant just say, "Hey Google, play me the news from Anchor."
To listen to Anchor using an Alexa-enabled device just say, "Alexa, enable the Anchor skill."
https://www.youtube.com/watch?v=uH2x-jXcw24
Got it. If I do want to create a station of my own, how do I do that?
Well, you'll start by downloading the Anchor app and creating an account. You can use Facebook, Twitter, or an email address to create an account. Once you're all signed in and set up, you can use the gigantic red plus (+) button at the bottom of the app to add segments to your station.
You can add five types of content:
Interview: You can record and broadcast a phone call.
Record: You can record audio segments of your voice. You literally lift your phone to your ear and talk to Anchor like you'd talk on the phone. You can also record and publish audio on the desktop by going to anchor.fm/clip.
Music: Connect your Spotify and/or Apple Music account to add music tracks to your broadcast. If listeners have their Spotify or Apple Music accounts connected, they can hear full songs. Otherwise, Anchor will play previews of the tracks you choose.
Interludes: You can add small transitions between sections of your broadcast. There are loads to chose from and you can tap the play button to get a preview.
Call-ins: Listeners can "call in" to your station by sending in audio recordings. Those recordings will show up in the Call-ins section. You can add them to your broadcast and respond to them if you'd like.
I heard you can turn your Anchor station into a podcast … Is that true?
It's absolutely true! If you'd like to publish your Anchor station as a podcast (so that you can create a show for Apple Podcasts, Google Play, and more), you can use the Anchor app to create an RSS feed of your content. Anchor makes it fairly simple to get up and running, but they've put together a comprehensive guide with screenshots as well as a tutorial video to help you through the process:
https://www.youtube.com/watch?v=M4oRmrXMKa8
OK, say I'm done using Anchor and I want to remove my account. How do I do that?
If you'd like to remove your account from Anchor, you'll have to contact Anchor's support team to let them know you'd like to delete your account. You can contact Anchor by emailing support@anchor.fm.
Questions?
If you have any questions or thoughts about Anchor, be sure to give us a shout in the comments!
Get more iMore in your inbox!
Our news, reviews, opinions, and easy to follow guides can turn any iPhone owner into an Apple aficionado
Mikah Sargent is Senior Editor at Mobile Nations. When he's not bothering his chihuahuas, Mikah spends entirely too much time and money on HomeKit products. You can follow him on Twitter at @mikahsargent if you're so inclined.