App in the Air for iPhone is your perfect airport companion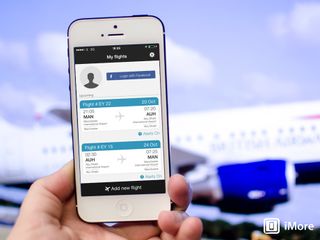 If you're a frequent traveller, then you'll already be aware of many of the great apps available in the App Store for your iPhone and iPad that try and help you through the process. Before a recent long haul trip, I came across App in the Air, a flight tracking and airport assistant that not only looks fantastic, but backs it up where it matters. It doesn't just keep tabs on your flight checkins and departures, it wants to be your complete airport companion.
The first thing you notice about App in the Air is how it looks; pretty stunning. The app itself is free to download and use, but if you want to take advantage of push notifications for your flights that's where you need to pay. But, if you're a frequent flyer, it's money well spent. It will also sync with Tripit Pro if you're a user of that service, and pull in your travel details for you.
You add your flights using the airline, flight number and date, or by hitting "I feel lucky." If you're OK with a completely random flight the latter may be perfect for you! But otherwise using the first three pieces of information the app will pull in your flight, check-in details, gate numbers, departure times and any delays, and a map of the journey. Perhaps more convenient though is the option to check-in online using the in-app browser. If it's a facility that is available, the app will direct you to the correct website to complete the procedure.
App in the Air also has a sizeable social component. You're able to provide feedback on check-in and all other portions of the flight experience, report delays, engage in airport specific chat with other users and share your trips with friends on social networks as well as access to tips and tricks for some of the worlds airports.
All in all, especially with push notifications enabled, App in the Air is a complete companion to flying. I found the notification reminders particularly helpful, and the information within the app was extremely accurate. With enough to concern yourself with at the airport, this is definitely worth having in your pocket.
Get the best of iMore in your inbox, every day!
I wish I traveled more so that this app would be of some use to me. It looks awesome. Sent from the iMore App

Thank you, sir17reeder. Hope you like it and let me know your experience as you use it on your next travel. Bayram, CEO of App in the Air

Already using this app. Good job! Sent from the iMore App

How do you like it so far, zuntax? What do you find of most value for you? Bayram, CEO of App in the Air

Really excited to use this app when I go to Spain and see how good it is Sent from the iMore App

clipps99, hope you like it - let me know how it goes please Bayram, CEO of App in the Air

Sounds like a good app to start using. Now I can get rid off the other flight apps I have used. Sent from the iMore App

chaddivis, hope you like it and I'll be happy to know what you think. Bayram, CEO of App in the Air

When I have traveled it has been a pleasure to use. Unfortunately I don't travel enough and couldn't justify purchasing the premium features which are really what makes it shine Sent from the iMore App

Yodes, thank you! Make sure you apply for promocode or just send me a note to bayram.annakov [at) appintheair.mobi so I could give you one

WorldMate has been my go-to app since the Pocket PC days, but this one is so visually appealing, I may just have to switch. Free can't hurt to try. Sent from the iMore App

WorldMate is a great app indeed, and hope you like ours as well :) Let me know Bayram, CEO of App in the Air

I'm going to give it a try, but I really like the TripIt app. Will see... Sent from the iMore App

TripIt is awesome and that is why we have integrated with it. I think our apps complement each other greatly. Bayram, CEO of App in the Air

Looks cool! I'll give it a go. I fly from Denver to So Cal a lot, so hopefully it has good info for DEN, LAX, and SNA airports. Sent from the iMore App

Rolf Hed, it does. Check out some tips about outlets in DEN for example: http://www.appintheair.mobi/web/tips/DEN?category=OUTLETS

As soon as you've added your flight the app starts asking for money so you can get alerts, updates. No! Just no. I still don't understand why these apps are allowed to be listed as "free". There should be a new category for those apps which are free to download and use in their basic format but are unusable for their full features if you don't pay. By the way I do buy a lot of apps, I just don't like "sly" apps. If this app were not free and this article was raving, I would still have downloaded it (and paid obviously).

Hello cgs101. My name is Bayram Annakov, I am CEO of App in the Air. Yes, unfortunately there is no special category for apps with premium features, though Apple has a note "Offers in-app purchases" which gives a clue that now all features are available for free. Moreover, I believe you understand that we need to offer paid features to pay our bills and dedicate most of our efforts to make our app even better. P.S. By the way you may apply for promocode or just send me a note and I'll give you one, so you could try out premium features: bayram.annakov [at) appintheair.mobi

Hi there, I don't have anything paid apps! I said that in my comment... Good luck with the app. Sent from the iMore App

Can't wait to try this one out!

Chrisy, let me know what you think as you try it - thank you in advance!

Recently I went to Florida and this was my main app to keep track of my flights. A nice little feature is the tips it gives you as soon as you get to a different airport. These tips are basically comments from other people about the airport like free wifi, good food, etc. It's very handy when you get to a big airport with many options. I had a very nice experience on my way to Florida with reminders before my flights saying that i should confirm the flight.
Now on my way back to New Jersey it reminded me to confirm the status of my first flight (I took two different flights) and from that moment it stopped working. I did not get tips or anything related to my flights or airports. In fact, the day after I got back the app kept showing my flights like "upcoming" for no reason.
I don't travel a lot so all I want is an app to keep track of the status of my flights for free. I am not cheap but I dont justify a paid app for something that I use once a year.
Overall it's a good app with potential when it works. Sent from the iMore App

Hello jman0829. I believe something went wrong - could you please send me a note to bayram.annakov [at) appintheair.mobi? We will investigate the problem. BTW do you use the latest version of the app? Are you on iOS 7 or iOS 6? Bayram, CEO of App in the Air

Sure I will send you a note. By the way very nice app. It's very useful. Currently I have the latest version of the app and I am on iOS 7. Sent from the iMore App

Ironically I saw this post while I was waiting at the airport and so downloaded the app...very helpful! Sent from the iMore App

I downloaded this app when I saw it in the App Store as a featured iOS 7 app. Wow, so beautifully designed. I used it for a trip last week and my favourite features are the checklist list and, would you believe, the app alert tone when it's time to check in. It's so pleasant! I would like to try the push alert (paid) feature but not sure since I don't travel that much, but that would make it complete. Thanks for designing such an elegant and thoughtful app! Sent from the iMore App

Thanks to you and glad you like it!

Have three flights this week - Detroit, NY and Orange County (CA). I will give it a try. LOVE TripIt and use it extensively. Look forward to the integration and this list feature I read about.

Please let me know yoir experience as you try it Bayram,
cEO of App in the Air

This would be perfect for my pilot husband but he's married to his android. Sent from the iMore App

Android is coming soon! :-)

Hi there! We've released an Android version! https://www.imore.com/e?link=https2F2Flinks%2F1...