Apple lists Microsoft Office 365 as an iPad Pro accessory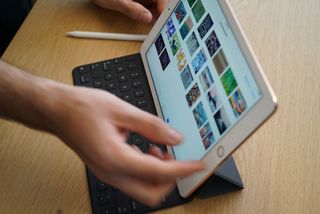 If you're thinking about purchasing the new iPad Pro, Apple will also list Microsoft Office 365 as a worthy accessory to add to your order when checking out. It's an interesting move since it's a Microsoft product, direct competitor to Apple's own iWork, and the 9.7-inch iPad Pro can take full advantage of basic Office for free.
As The Verge spotted, the subscription to Office 365 is the only non-Apple product or service listed while checking out. The Office subscription itself includes not only more advanced mobile versions of Word, Excel, PowerPoint, and OneNote, but also available license for Mac too. The option appears for the iPad Air 2, iPad mini 2, or iPad mini 4.
That said, Apple is attempting to steer people away from the Surface line of tablets, and thus the company will need to offer Office to those who are more accustomed to Microsoft's productivity suite.
Get More iPad
(opens in new tab)
I think Apple has conceded the productivity software race to Microsoft, yet still offers their own iWork suite for people who still need a free, included productivity suite of their own. That being said, I've seen no indication from Apple that they're trying to take on Office as an office standard. The closest competition I see to Office is Google Docs which, while not perfect, is slowly building out their own ecosystem of products with third party services that also hook into Google Docs via Google for Work offerings. Apple simply has no business suite to offer.

They are getting ready to abandon their iWorks users again it seems. That would make three times now that Apple has told everyone to switch from Office to iWork, only to abandon them down the line by removing all the developers and engineers working on the product and leave it crippled. To this day, the iOS version is *still* not "feature-complete" with the OS X version.

Are Office apps on iOS comparable to iWork? I wouldn't expect users to pay for Office 365 when iWork is free.

The Surface is a far more capable device than the iPad Pro. I wish Apple would focus on functionality and capability in the iPad Pro to TRULY compete with the Surface. You've got a full fledged desktop OS on the Surface and a mobile OS on the Pro. I like the iPad Pro but I don't like the marketing Apple is doing. It's not very genuine.

Instead of oishing MS Office, I wish Apple would work on making the iWork Suite more compatable with Office. The iWork suite fulfills all my basic needs, but it can be finicky at cross-platform compactability at times. I'd much prefer Apple put more resources in this and not in promoting the MS Office tithing approach.

This may or not be a good dead for Microsoft, we shall see - it's a better option than iWork, which is so bad, it's ceased even to be funny - but let's not pretend that Apple is going to lure people away from the Surface. The types of people looking for a Surface simply are not looking at iPads, and there aren't enough of them to significantly add to iPad sales anyway. Sent from the iMore App
Thank you for signing up to iMore. You will receive a verification email shortly.
There was a problem. Please refresh the page and try again.